Iran women are champions of west Asia
22 Feb. 2018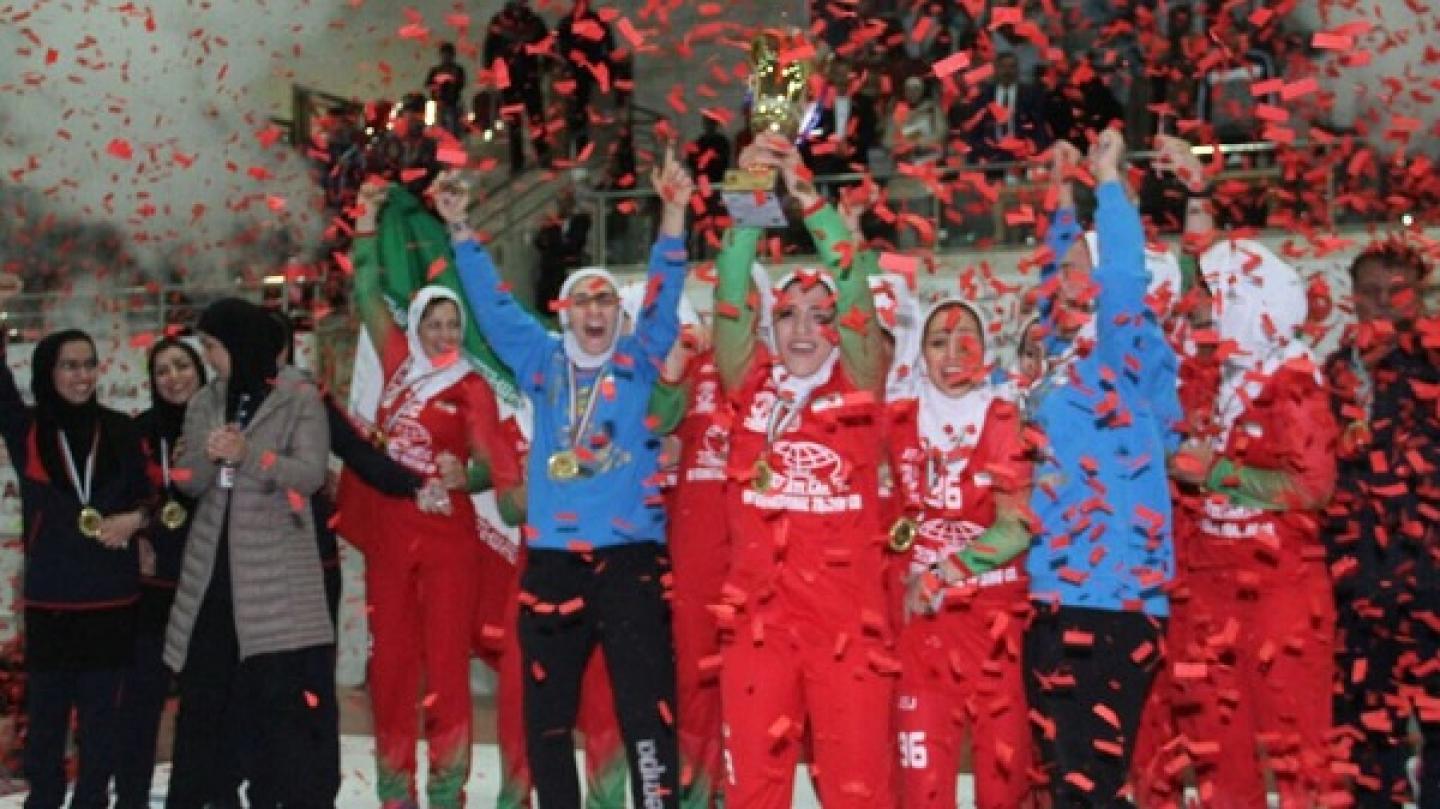 After 15 matches and 705 goals, the 2nd AHF West Asian Women's Championship concluded yesterday in Amman, Jordan, with Iran taking the regional honours.
Iran (IRI) were one of three debutants in the new competition for the west Asia region, along with Syria (SYR) and Lebanon (LBN), who were also appearing for the first time. Hosts Jordan, Iraq and defending champions Qatar had all appeared in the first edition, held in Qatar last year.
Jordan 2018 saw all six teams play each other once in a league format in the Princess Sumaya Hall and the team who finished top of the league were declared champions.
Unfortunately for Qatar, they could not defend their title, won last September in Doha after they beat Jordan in the final, and finished outside of the medals in fourth spot.
It was newcomers Iran who lifted the trophy after topping the group with 10 points thanks to five wins from five, having scored the most goals (161) and conceded the fewest (66).
Hosts Jordan finished in second place with four wins and a loss (8 points), Syria were third with six points thanks to three wins and two losses.
Qatar finished in fourth with one win, one draw and three losses, but despite having three points – the same as Lebanon in fifth place – the Qataris' goal difference was better.
In their debut tournament, Iraq lost all five games, scoring just 59 goals but will take a lot of experience from the competition as they look to continue developing their handball.
Highlights from the 15 matches included the 30:30 nail-biting draw between Lebanon and Qatar and the penultimate match for Jordan and Iran which was, ultimately, the title decider as the Iranians ran out easy 28:15 winners.
For more information about the Asian Handball Federation, visit www.asianhandball.org.
FINAL RANKING
1 GOLD – Iran (IRI)
2 SILVER – Jordan (JOR)
3 BRONZE – Syria (SYR)
4 Qatar (QAT)
5 Lebanon (LBN)
6 Iraq (IRQ)
FULL RESULTS
Thursday 15 February
IRQ vs IRI 8:43 (3:22)  
JOR vs LBN 34 23 (15:13)  
QAT vs SYR 24:27 (11:14)  
Friday 16 February
IRI vs LBN 29:19 (16:8)  
SYR vs JOR 19:27 (6:13)  
QAT vs IRQ 33:4 (13:2)  
Saturday 17 February
Rest Day
Sunday 18 February
SYR vs LBN 26:18 (13:11)  
IRQ vs JOR 14:29 (8:13)  
IRI vs QAT 38:16 (16:7)  
Monday 19 February
IRQ vs SYR 15:33 (6:21)  
LBN vs QAT 30:30 (12:13)  
JOR vs IRI 15 :28 (9 :16)  
Tuesday 20 February
Rest Day
Wednesday 21 February
IRI vs SYR 23:8 (8:4)  
LBN vs IRQ 25:18 (14:10)  
JOR vs QAT 32:17 (12:10)  
Photo: Asian Handball Federation