Handball Federation of India elects new President and Executive Committee Members
24 Nov. 2020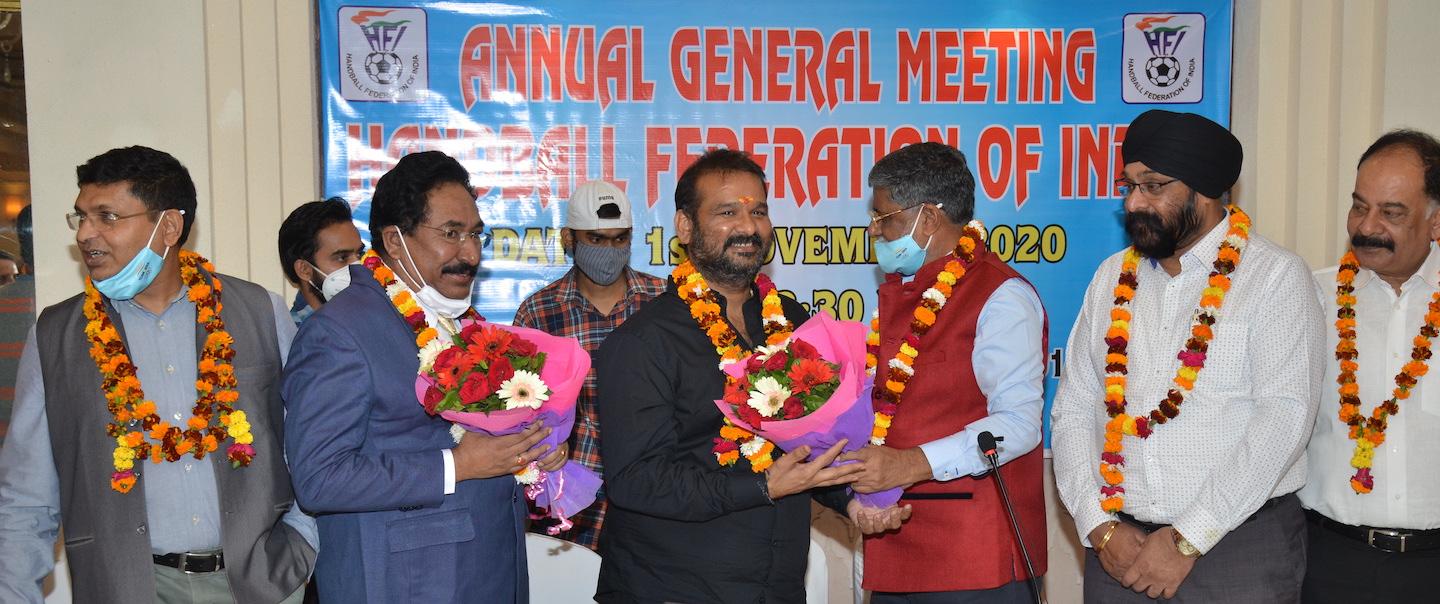 Earlier this month, the Handball Federation of India (HFI) held its Annual General Body Meeting in Lucknow, Uttar Pradesh, with 60 of its 66 members in attendance, the remaining members unable to join due to the travel restrictions and ongoing COVID-19 situation.
The meeting was led by outgoing HFI President Dr M Ramasubramni who praised the "cohesive working of the HFI in the last three years," which included "many successful national and international championships," conducted under the leadership of outgoing Secretary General Dr Anandeshwar Pandey.
Aside from many other points of order, the main focus of the meeting was to elect the HFI Executive Committee.
Jagan Monhan Rao (from Telangana state) was elected President, Dr Pradeep Kumar Balamuchu (Jharkhand) was elected Senior Vice President, Pritpal Singh Saluja (Madhya Pradesh/West Zone) was elected Secretary General and Vinay Kumar Singh (Gujarat/West Zone) was elected Treasurer.
In addition, a further four Vice Presidents, four Joint Secretaries and five Executive Members, including international players Ashwini Raina and Sneh Lata, were elected, and six, vacant Executive Committee posts were filled, with all elected unopposed. 
"I am truly grateful to all 29 state associations for electing me as HFI President unanimously," said Rao to local media. "I swear to work hard for the development of handball in the country. Handball is a very popular game in India, but it's highly overshadowed by cricket and badminton, so to cope with this problem, we came up with the idea of the Handball Premier League."
According to local media, Rao has excelled in the professional and corporate world and was a valued cricket, volleyball, kabaddi and handball player at school, college and university. He ran a team in the 2018 Telangana T20 cricket league and also established a sports academy.
As HFI Vice President previously, Rao had proposed, created and prepared the Handball Premier League, ready for launch, but COVID-19 delayed its start.
"Our nation lacks the necessary infrastructure for handball," added Rao after his election. "That's why we are focusing on developing handball infrastructure on a national level with the help of the sports ministry, IOA and Sports Authority of India (SAI). We will hunt for talented youngsters and help them get trained under expert coaches. We will train Indian athletes with the goal of winning medals at the Olympics."
In addition to the Executive Committee posts, the Chairman Handball League, Chairman Handball Development Committee and General Manager – Handball Federation of India posts were also elected and confirmed.
"Please accept my heartiest congratulations on your election as President," said Rajeev Mehta, Secretary General of the Indian Olympic Association in a letter address to the new HFI President Rao. 
"I am sure the Handball Federation of India will be immensely benefitted by your rich experience and the sport of handball will achieve new heights under your able leadership."
Newly-elected Senior Vice President – Administration, Dr Anandeshwar Pandey, told local media after the election, "…for the first time, the AGM saw representation from Leh (Ladakh) to Tamil Nadu and from Arunachal Pradesh to Gujarat," referring to the 35 participating states who participated, including two newly-affiliated ones and five without voting rights.
A number of observers were appointed for the meeting, including representatives of the Indian Olympic Association (IOA) in person, and the International Handball Federation (IHF) and Asian Handball Federation (AHF), who attended via Zoom video conferencing.
For more information on the HFI, visit their official website.