France through to fifth place play-off
17 Aug. 2019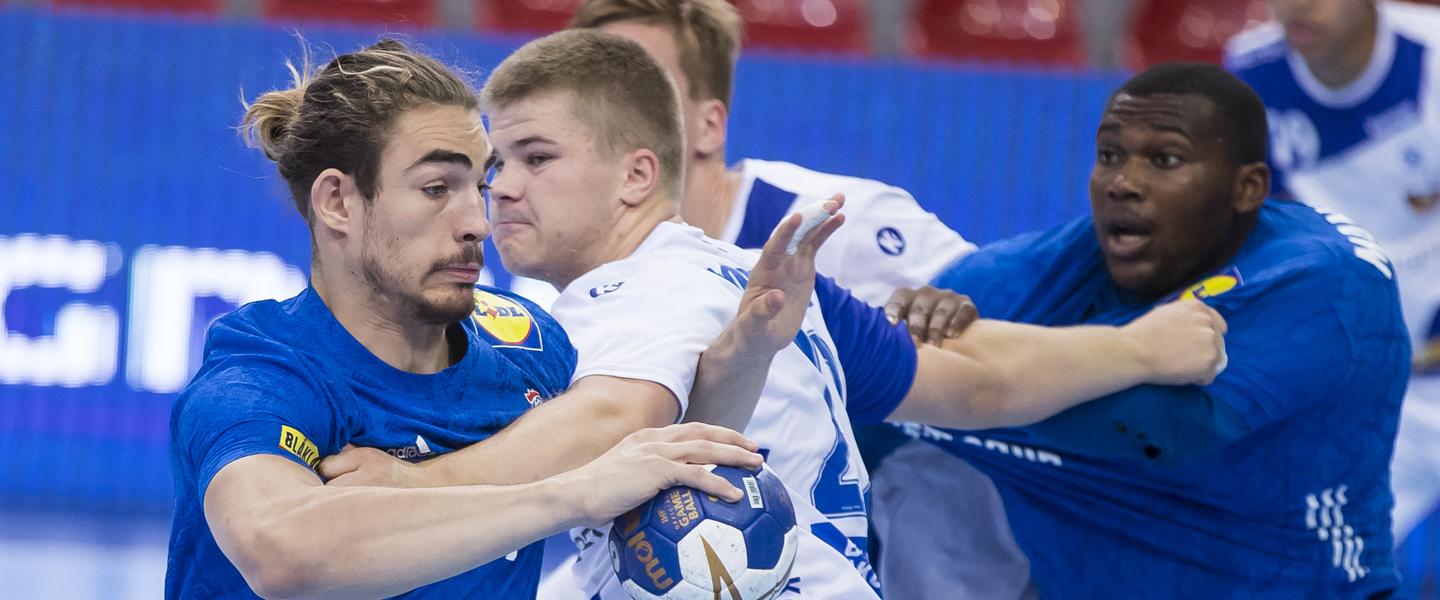 France defeated Iceland in the first match of the placement round 5-8 thanks to an impressive first half from French goalkeeper Valentin Gouy, who ended with 15 saves from 31 shots.
The result means France move to the 5/6 placement match tomorrow against either Spain or Hungary who play later today.
PLACEMENT ROUND 5-8
Iceland vs France 24:30 (10:16)
Boris Trajkovski Arena, Skopje
Iceland were severely depleted going into the game, naming just 14 players in their starting squad with only 12 registering court time.
Centre back Tumi Steinn Runarsson was missing, having left Skopje for a Swedish hospital, while left wing Stiven Tobar Valencia and key player, Haukur Prastarson, sat on the bench for the whole 60 minutes, due to injury. Finally, key goalkeeper Sigardur Dan Oskarsson stayed at the team hotel due to sickness.
And as the game started it became clear that Iceland would have their work cut out, as France goalkeeper Valentin Gouy was in blistering form, making six saves by the eighth minute already with his side 4:2 up.
Just five minutes later he was already on nine saves (from 13 shots faced), but his side could not make the work he was doing count up front as the gap stayed the same (6:4) until just before the end of the first quarter.
However, France finally started to control the game as they moved to 8:4 (16th minute) and then 12:7 in the 22nd minute before a six-goal lead at the half-time break (16:10).
The statistics neatly summed up the opening 30 minutes: Iceland had scored 10 times from 26 attempts on target while France had nine different scorers and Gouy had saved 13 times.
Despite a 3:0 run at the beginning of the second half (16:13 to France), Iceland could not move any closer and by the 40th minute, France captain Sadou Ntanzi had put his side five up (20:15).
France coach Eric Quintin could be heard telling his troops to be "serious" during a time out in the last quarter and they were, going into the last 10 minutes up by six (25:19).
A nice in-flight finish from Drevy Paschal highlighted the French seriousness, as both he, and his captain will be hoping to surpass the top-scorers of the tournament tomorrow as they sit on 42 (Ntanzi) and 40 (Drevy) goals, behind North Macedonia's Martin Serafimov and Bahrain's Mohamed Mohamed, both on 49.
"We are disappointed of course to not be playing in the semi-finals," said Ntanzi to IHF.info after the match. "But the team needed to concentrate not only for this game, but for the future generation – the U21. We need to be a team, a better team, to fight for the future years.
"For us, if we do something bad, he can do something and if he's good we know he is behind us and we can go on a fast-break," added Ntanzi about the performance from Gouy.
Best player of the match: Valentin Gouy (FRA)