Hungary's Lékai aims to repeat France 2017 shock against Denmark
25 Jan. 2023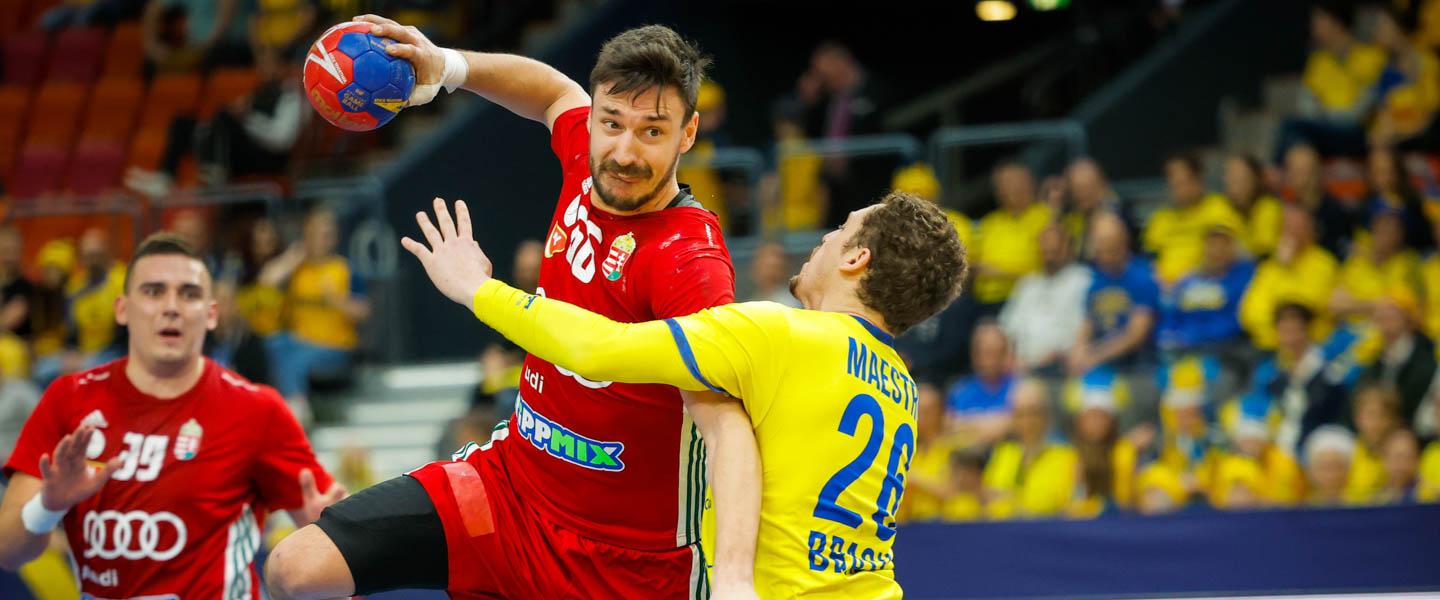 Since 2013, Hungary have been one of the most consistent teams at the IHF Men's World Championship, making the quarter-finals four times – in 2013, 2017, 2021 and now at Poland/Sweden 2023 – somehow always finding the right way to deliver in crucial matches.
They are still waiting for a semi-finals berth since Japan 1997, but they have always come close to upsetting the favourites, only for the powerhouses to bounce back and clinch the win in clutch time.
The common denominator of those four quarter-finals appearances for Hungary is centre back Máté Lékai, one of the most consistent performers in the squad, which is now featuring at the IHF Men's World Championship for the sixth time, a streak started in 2011 and interrupted only by Hungary's failure to qualify at Qatar 2015.
"I am getting old when I am asked this question, right?" jokes Lékai when questioned about his experience at the IHF Men's World Championship.
"To be honest, our objective was to get once again to the quarter-finals among the best eight teams in the world and to secure a chance for the Olympic Qualification Tournaments. It was not easy. We played some good matches, we had some bad moments, but the luck was also on our side," continues the 34-year-old centre back.
While luck will always be involved during a tournament, Hungary did lack it in the draw for the preliminary round at Poland/Sweden 2023, when they were handed a tough group against Iceland, Portugal and the Republic of Korea.
They finished the group with two wins and went on to the main round, where they also secured wins against Brazil and Cape Verde. The South American side's draw against Portugal helped Hungary, who finished second and earned the quarter-finals berth for Stockholm.
"We had a very tough path until here, so it is also about the way we have played. The thing we have lacked a bit, in my view, is consistency. We are able to produce a very high level of handball in some matches, but in others we drop this level and other sides benefit from this," adds Lékai.
Changes were made in Hungary's squad after a disappointing exit in the preliminary round at the EHF EURO 2022, when they were co-hosts. Once again facing Portugal and Iceland, Hungary went out after only three matches, which prompted a coaching change.
The assistant coach of that squad, Chema Rodríguez, was promoted to head coach, replacing István Gulyás. It proved to be a good move, as Hungary are now once again among the top teams in the world, challenging for silverware.
"Not a lot has changed, to be really honest. It is only that now the roles are more defined for everybody, Chema is the head coach, and we have a hierarchy put in place. I am not saying that this was not the case before. We still managed to have some pretty good performances in the last few years," says Lékai.
One of those performances came in 2017 in the Round of 16 at the IHF Men's World Championship, when Hungary faced Denmark. The Scandinavian side was one of the favourites to clinch the trophy, winning all five matches they played in the preliminary round. On the other hand, Hungary had lost three matches and finished in fourth place in their group, failing to win against Belarus, Croatia and Germany. 
However, with Lékai in prime form, who was his team's top scorer with six goals, Hungary shocked Denmark, taking a 27:25 win and qualifying for the quarter-finals. It was Denmark's last loss at the IHF Men's World Championship, with the Scandinavian side now boasting a 25-match unbeaten streak.
At Poland/Sweden 2023, it was either destiny or luck – as Lékai put it before – that Denmark could extend their unbeaten streak to a record 26 matches in a row against Hungary in the quarter-final scheduled for Wednesday at the Tele2 Arena in Stockholm.
"They are favourites, this is clear, even if we are the last team to have beaten them in the World Championship. They have so many great players in the squad. But this is handball. Everything can happen and if we find some luck and have a good day, why not? We can surprise them," says Lékai.
Hungary will have to deliver another good defensive performance, as they have conceded only 174 goals, one of the lowest numbers in the competition, so far despite facing tough opponents on their way to the quarter-finals.
Their opponents will have more experience at the highest level, more depth and the public behind them, as many Denmark fans are expected in Stockholm to cheer for their favourites.
But Hungary have done it once and can do it again, as they have six players from the 2017 squad back in action as well as a Spanish coach on the bench, with Xavi Sabaté being Hungary's coach back then.
"I will say it again, they are favourites, but surprises may happen. Why not here?" asks Lékai rhetorically.