Hungary snatch last-gasp win for keeping the dream alive
20 Jan. 2023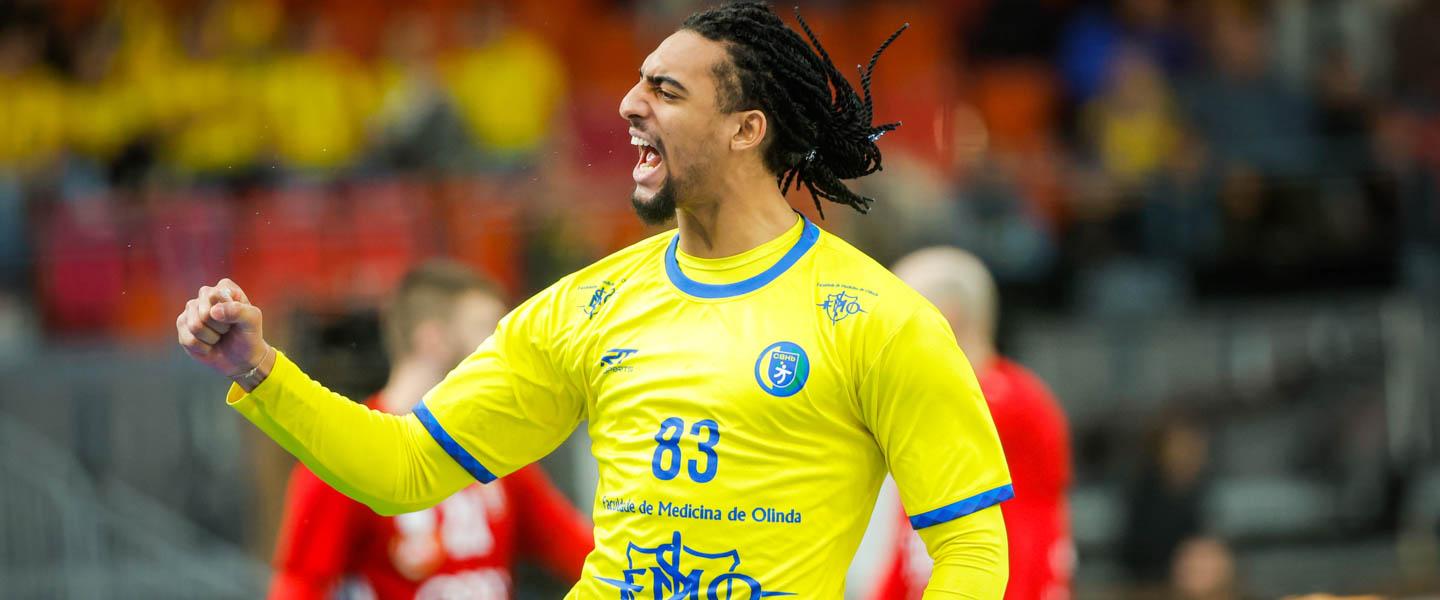 Hungary almost let the win slip through their hands as Brazil made two strong comebacks, jeopardising two important points for the Hungarians. Once again, the goalkeeper decided the match as Roland Mikler made a crucial save in the last five minutes and ended any possibility for a Brazilian surprise.
Main Round Group II
Brazil vs Hungary 25:28 (14:14)
Hungary started the match more determined than in previous ones, getting an early lead. Building on two of Roland Mikler's saves, they made a four-goal game in the seventh minute. Hungary's sturdy 6-0 defence was unbreakable for Brazil, while their 3-3 to 6-0 defence did not make enough trouble.
As the clock hit the 10th minute, Marcus Ricardo de Oliveira had to call for a time-out, but even a one-minute rest did not change anything, as Brazil seemed to be lost. Hungary were in a flurry as Zoran Ilić secured a 9:3 lead. Even when Brazil managed to find a hole in the Hungarian defence, there was Mikler with his 40% save efficiency in the 18th minute of the match.
As time passed, Hungary stopped looking that aggressive, allowing their opponents to narrow the gap. And if that was not enough, Hungary had to be careful about Adrián Sipos, as the key defender received a second two-minute suspension in the match, walking the line of another red card.
Playing without a goalkeeper only brought trouble for the Hungarian side. Three consecutive turnovers, five Leonardo Terçariol saves and Brazil's fast attack delivered a complete comeback as Gustavo Rodrigues scored for an equaliser (13:13). From having a 75% shot efficiency, Hungary dropped to 58% by the half time.
The problem with turnovers continued for Hungary in the opening minutes of the second half. Gothenburg saw Brazil take over the lead (16:15). Chema Rodríguez's team responded soon, taking over the lead (19:17), but their fear of losing Sipos came true as he got his second red card at this World Championship.
This time, they were not shaken by the outcome, as Gábor Ancsin netted his sixth goal of the day for a 22:19 lead. A few moments later, it was 24:19 and Brazil had to call for a time-out. You could only hear: "This is the moment now; this is the moment!" Chema Rodríguez gave his team an additional boost 15 minutes before the end, at the five-goal lead.
Brazil did not let go easily and kept the contest close; the defence made Hungary nervous and three missed shots soon saw Brazil make a 5-1 goal run, narrowing it to only 24:25. Patrik Ligetvári really took one for the team with a flying block, preventing Brazil from bringing the match to level. However, the Hungarian attack kept hitting the post, enabling the opponents to make a new comeback and ruin their dreams of still being in the contest for the quarter-finals.
In yet another drama finish, Mikler stopped Raul Nantes's fast break by making a crucial save and pushing his team to a decisive 26:24 lead only two minutes before the final whistle. Brazil could not do anything about it but congratulate the opponents.
"I think it was a difficult match, just like every match at the World Championship. Roland Mikler made a difference in the end and we managed to win. Brazil made a good match. We are happy as we are still in the run for the quarter-finals. I congratulate both Brazil and my players who were fighting for this win", said Hungarian head coach Chema Rodríguez after a thrilling match.
Marcus de Oliveira also agreed it was Mikler who decided the match: "Hungary played very well with a strong defence, but we also played well and made them sweat. Máté Lékai and Roland Mikler were the ones making a difference and Mikler, even with his injured hand, was great at the crucial moments. We were close, but that happens in matches like this, and unfortunately the luck was not on our side."
In two days, Hungary will face Cape Verde and Brazil will face Iceland in crucial matches of the World Championship. 
hummel Player of the Match: Gustavo Rodrigues (Brazil)