Co-hosts Sweden remain unbeaten
18 Jan. 2023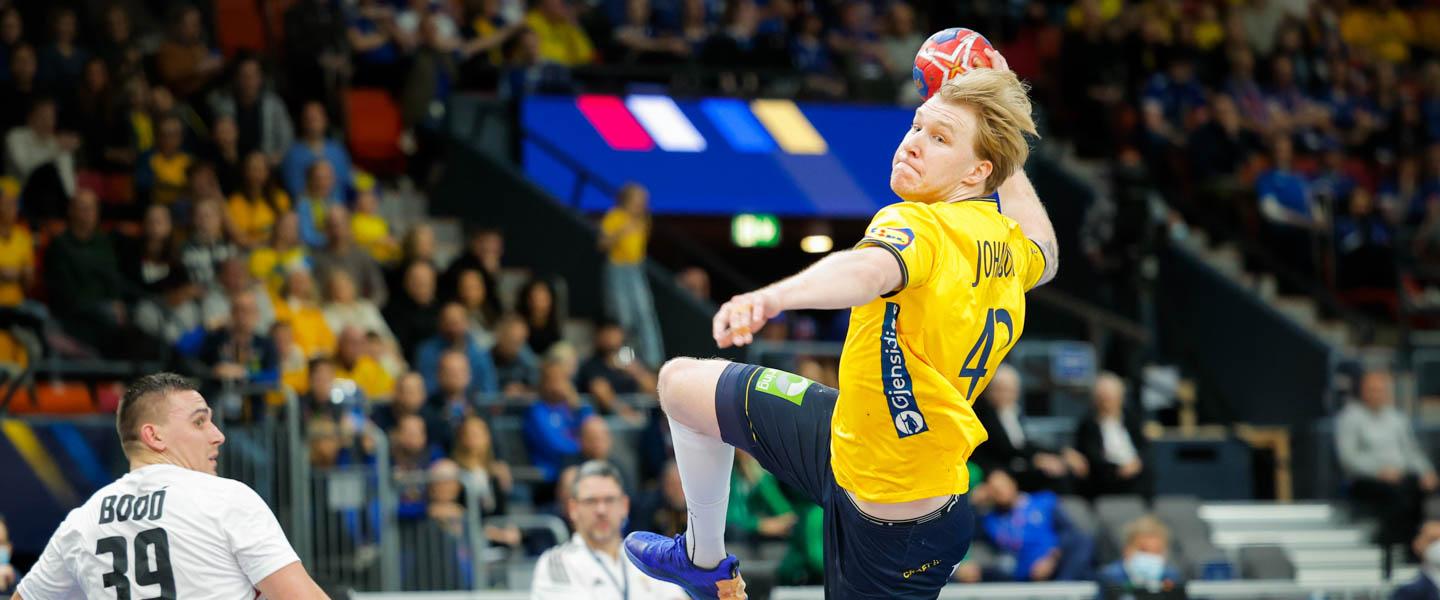 Sweden claimed their fourth win at the World Championship after defeating Hungary in an important match for both teams. The co-hosts were driven by the support of their fans, whose yellow shirts were the only thing you could see in the stands, and now hold the top of the group with a clear table. Hungary hoped for a turnaround but could not keep up with the Swedish pace.
Main Round Group II
Sweden vs Hungary 37:28 (18:14)
Chanting fans and an endless sea of yellow. Swedish fans enjoyed seeing their team claim yet another World Championship victory, defending their first place in the group.
After the first goal of the match by Bendegúz Bóka, Sweden soon saw a 3:1 lead with nice spin shots by Niclas Ekberg. Hungary had not taken a good opportunity to grab an equaliser and allowed Sweden to keep in front.
Gábor Ancsin was giving his best not to allow the reigning European champions to go in front by more than two goals. Ancsin scored three out of four Hungarian goals, showing that he must be better guarded, and narrowed the gap (4:5). However, Hampus Wanne netted everything his teammates assisted him, ending the first half with five out of five, only to raise it to nine out of 12 attempts after the final buzzer.
The simple movement of all and creating gaps to have a clear shot as the Hungarian defence was not agile and fast enough. That was Sweden's forte in the first half. They were responding to the Hungarian attack with depth in defence and Andreas Palicka stopped four attempts in 18 minutes.
The Hungarian side rotated more, trying different options for rebounding, but the co-hosts of the 28th IHF Men's World Championship were not letting their four-goal lead slip through their hands.
From trailing by five to trailing by three (14:17), it took them four minutes. Maybe Hungary would have closed the gap even more if it had not been for one man. Palicka! Palicka! was heard in the Scandinavium Arena, and soon Sweden saw a four-goal lead at half-time.
Hungary stepped up a gear in the opening minutes of the second half, coming close to Sweden and even having a chance to cut the lead to only one. But again Palicka was there with right-time saves, allowing a new goal run and reaching their biggest lead in the match so far (25:20).
Only six minutes later, three consecutive fast breaks following Hungary's turnover saw the co-hosts propel to a seven-goal lead, forcing Chema Rodríguez to call for a time-out. A little late, some might say. The Swedish goal run was decisive for the end result, as Hungary started to make more mistakes and hasty shots.
Wanne shone for Sweden tonight with his strong shots and brought his team's first double-digit lead as the scoreboard showed 35:25. Hungary could not change anything but to soothe the defeat by one last goal (28:37).
The big match of the Main Round Group III on Friday welcomes Sweden and Iceland, leader and runners-up of the group. At the same time, Hungary will try to redeem themselves after two straight defeats against Brazil.
hummel Player of the Match: Hampus Wanne (Sweden)