Main Round Group II: Sweden want to maintain perfect streak
17 Jan. 2023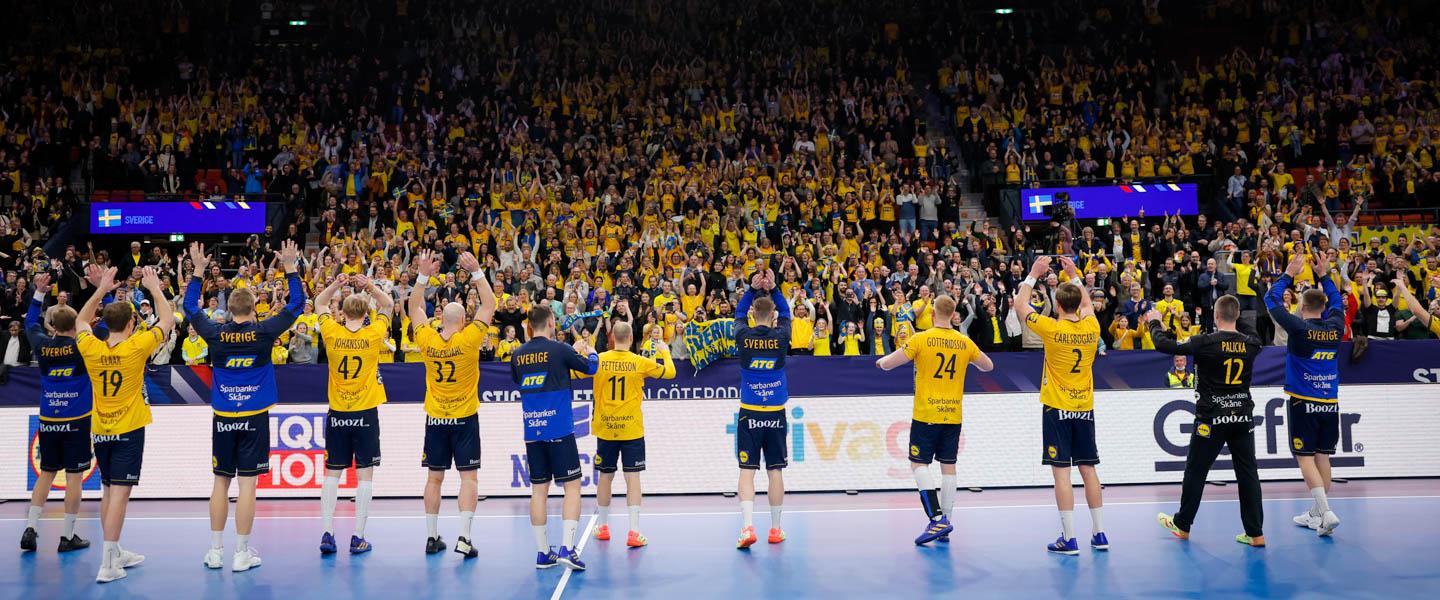 Co-hosts Sweden want to extend their run to four victories at the 28th Men's IHF World Championship. Right at the start, they face Hungary, who seek redemption after a tough loss against Portugal in the last match of Group D. Both Portugal and Iceland hope to win their first main round encounters to keep the positive streak, because only Sweden (4 points) and Brazil (0 points) did not enter main round Group II with two points.
15:30 CET Portugal vs Brazil
"Língua Portuguesa" will be heard on the court on the first day in Gothenburg. Both Portugal and Brazil are coming from their respective groups with two wins and two points taken. Brazil's only defeat in the group was by Sweden 18:26, while Portugal was defeated by Iceland 26:30.
Portugal showed excellent attacking skills with good transitions and fast breaks. You get a very strong team to beat if you add goalkeepers Miguel Ferreira and Manuel Gaspar to the mix. Paulo Pereira's team have been progressing since the first-round match against Iceland, easily defeating both the Republic of Korea and Hungary.
Brazil's goal is to show their best performance after a somewhat disappointing appearance at Egypt 2021. After finishing ninth at the 2017 Men's World Championship, the South American side took a step back and finished 18th with one win, two draws and three defeats. This World Championship started with an 18:26 defeat by Sweden, followed by a narrow win over Cape Verde, only to finish by outclassing Uruguay 35:24.
"We are going to face Brazil, Cape Verde and Sweden in that order. I think we are well positioned to reach the quarter-finals and now we have to go match by match to make this dream come true", said the left wing of the Portuguese team Alexandre Cavalcanti.
Portugal and Brazil met only once at the World Championship, back in the 1997 preliminary round. Brazil were defeated by 18:26. 
18:00 CET Cape Verde vs Iceland
Cape Verde welcomed their maiden berth to the main round at the World Championship and wrote history. After their debut campaign at the 2021 Men's World Championship, they had to withdraw from the competition due to COVID-19.
However, Cape Verde did not lose hope and, despite the setback, continued to work hard. And it finally paid off at the 2022 CAHB Men's African Championship, where they surprised everyone and finished second behind Egypt. At Poland/Sweden 2023, they continued on the same path and are a competitive squad.
Iceland are aiming high for this World Championship and their goals have been slightly changed after losing to Hungary in the last ten minutes after having a six-goal lead. Guðmundur Guðmundsson have a good starting point ahead of the throw-off against Cape Verde and will be boosted by thousands of fans. They will aim to claim yet another win.
Bjarki Már Elísson will be one of the crucial players to stop for the Cape Verdeans. The competition's top scorer is at 26 goals in their first encounter ever. On the other side, Paulo Moreno is the best goal-getter on his side with 16 goals in three matches. 
20:30 CET Sweden vs Hungary
Sweden are the only team to start the main round with all four points carried from Group C. After three convincing wins over Brazil (26:18), Cape Verde (34:27) and Uruguay (47:12), they want to extend their perfect streak.
However, Sweden's first test in the new main round group will be a tougher opponent, Hungary. Even though the Swedish team are playing at home and are in good momentum, they have to be careful against the Hungarian team, who will want to redeem themselves after losing to Portugal by eight goals, finishing third in the group. 
Hungary advanced with two points, just like Portugal and Iceland, but being third brought them a more challenging schedule in the main round. Only two days after Portugal, they need to come back stronger and stop the co-hosts of the World Championship.
The reigning European champions have a strong defence which allowed them to score almost half of their goals through fast breaks and breakthroughs, plus having EHF EURO 2022 MVP Jim Gottfridsson ready to lead.
It will be interesting to see how their attack will adapt to Hungary's defence, which showed against Iceland that they can make a comeback from trailing in less than five minutes. In a way, this will also be a clash of the great goalkeepers' duo: Andreas Palicka and Tobias Thulin on one side and Márton Székely and Roland Mikler on the other.
"There are three good teams. Hungary are big and tough, Iceland are fast-paced, and Portugal are skilled on the ball", said Swedish player Olle Forsell Schefvert to handbollslandslaget.se
Sweden and Hungary have a rich history of playing against each other. Since 1964, the two sides have met 23 times, ten of those at the World Championship. In head-to-head statistics at the world flagship handball competition, Sweden are in the lead with seven wins, with the most recent coming at the 2019 Men's World Championship when they defeated Hungary 33:30.