Japan seal maiden title at the AHF Asian Women's Youth Handball Championship
26 Jul. 2023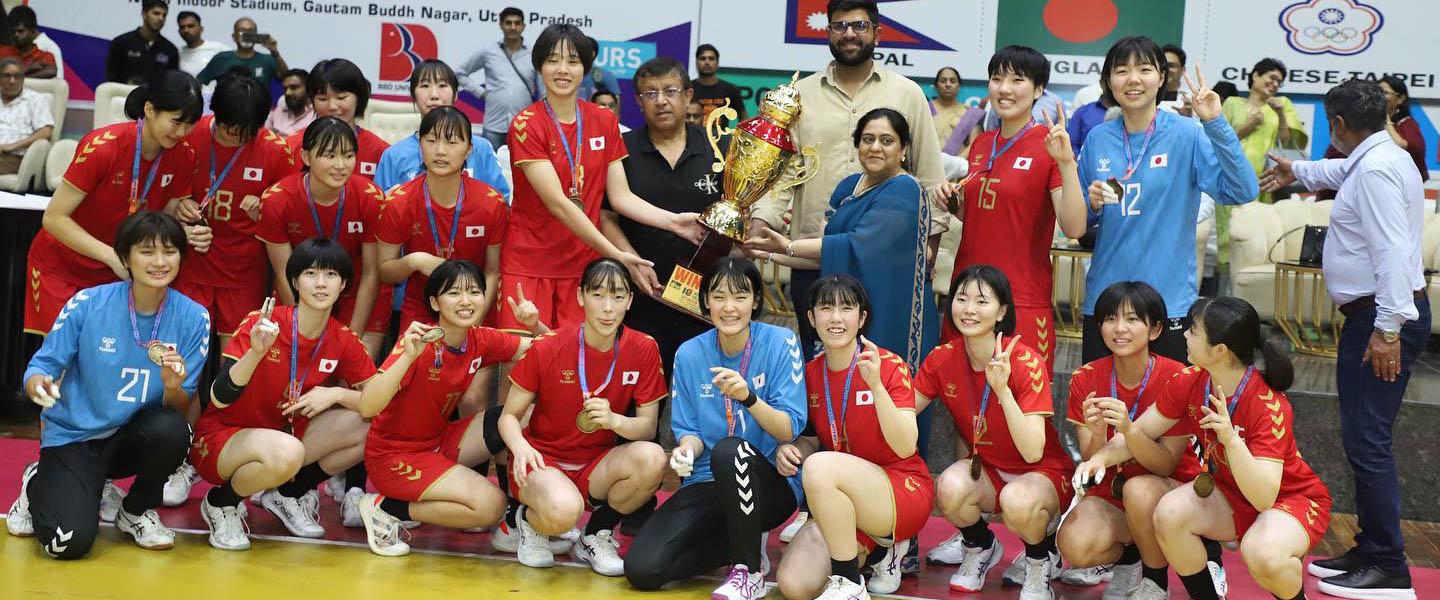 The 2023 AHF Asian Women's Youth Handball Championship produced a huge surprise, as Japan, who had previously secured seven silver medals and one bronze medal, sealed their first-ever title in the continental competition with a hard-fought win against archrivals Republic of Korea in the final.
Nine teams lined up at the start of the competition, which took place in the Noida Indoor Stadium in Noida, India, with the preliminary round seeing two groups, one of four teams and one of five teams, with the two best sides in each group progressing to the semi-finals.
In Group A, the Republic of Korea dominated their opponents with ease, sealing a 33:28 win over the People's Republic of China, a 46:14 win over Kazakhstan and a 65:4 win over Nepal, creating an easy path for themselves towards the final.
That path was replicated by Japan in Group B, who conceded only 38 goals in four matches on their way to the first place, sealing four wins out of four games. Wins against the Chinese Taipei (37:9), Hong Kong (41:8), Bangladesh (54:3) and India (39:18) highlighted Japan's potential in the competition.
The semi-finals were also a straightforward conclusion, with the Republic of Korea earning a 42:22 win over the Chinese Taipei, while Japan cleared their path towards another medal with a 34:22 win over China.
With Japan having previously come runners-up in all seven editions behind the Republic of Korea, their mission looked difficult and even more so after Korea jumped to an early 4:0 lead after five minutes.
Japan bounced back with a 5:0 run, and from that moment on, the two teams traded runs, with Korea finally getting a grip on the game late in the second half, leading by three goals, 20:17, with 10 minutes to go.
Powered by back Yui Yasugashira, who scored six goals, Japan bounced back and ended the game with a 7:3 run, which enabled them to clinch their first-ever title at the AHF Asian Women's Youth Handball Championship with a 24:23 win over their rivals, who lost the title for the first time in history when they entered the competition.
In the bronze medal game, the People's Republic of China had no issues taking a 28:14 win over the Chinese Taipei, sealing another medal.
The MVP of the competition was Korea's Shin Chaehyun, with two of Japan's players, centre back Mami Nakamura and left wing Kio Jurina, also making the All-Star team.
Photo: Asian Handball Federation