Spain secure top 10 finish with high-scoring win over France
29 Jun. 2023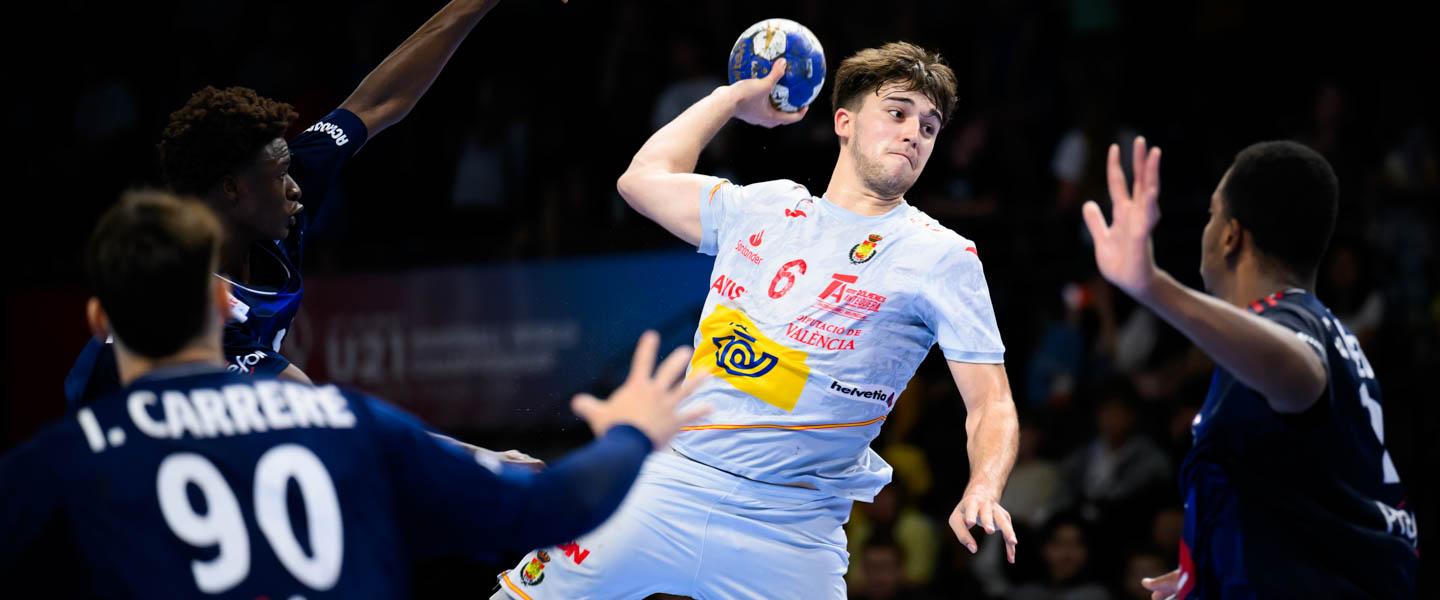 Spain ensured a place in the top 10 at the 2023 IHF Men's Junior World Championship with a 42:36 win over France in the highest-scoring match at Germany/Greece 2023 so far, a true feast of handball which duly entertained the thousands of children present in the Max-Schmeling-Halle in Berlin.
 
Earlier in the day, Tunisia delivered a superb comeback to secure a 26:23 win against Brazil in the Placement Matches 13-16, while Algeria used a 11:0 unanswered run to secure a 36:27 win against Kuwait in the Placement Matches 21-24, as Chile avoided finishing on the last place with a 27:18 win over Greenland, which is set to end up on the last place in the final standings.
 
Placement Matches 9-12
France vs Spain 36:42 (18:19)
 
The motivation was definitely high for both sides, as the winner of the tie between France and Spain was going to seal a place in the top 10 at the end of the 2023 IHF Men's Junior World Championship.
 
Therefore, it was a fast-paced game between two of the best sides in the world at this moment, whose mistakes along the way cost them a quarter-finals berth, yet with future stars on the court, the game turned into a true shoot-out, with 78 goals scored between the two sides.
 
Led by the same usual suspects, left wing Guéric Vincent and centre back Mattéo Fadhuile-Crepy, France jumped to an early 5:0 lead, which prompted a quick timeout from Spain, after only four minutes and 52 seconds.
 
In the next 12 minutes, Spain bounced back and managed to tie the game and even take a lead into the break, 19:18, after backs Jan Gurri Aregay and Gorka Nieto Marcos and right wing Carlos Alvarez Dominguez each scored four goals in the first 30 minutes.
 
Once again, France led the game in the second half, only for Spain to fight back and dominate in the last minutes, with Carlos Alvarez Dominguez being especially efficient. The pivotal moment of the match was Spain's 10:4 run which saw them take a 38:32 lead which proved to be unassailable in the end.
 
Gurri Aregay (10 goals), Alvarez Dominguez (7 goals) and Aleksandar Cenic (7 goals) were Spain's top scorers, with the former jumping to the second place in the top goal scorer standings with a 44-goal tally, as Spain and France produced the game with the largest number of goals at Germany/Greece 2023, beating the previous record, 76, set in the matches between Bahrain and Greenland and in the one featuring Saudi Arabia and Egypt.
 
Thanks to their 42:36 win, Spain are now assured of finishing in the top 10, while France will end up on the 11th or the 12th place depending on the result of the game between Sweden and Egypt, due to be played in the evening in Athens.
 
hummel Player of the Match: Jan Gurri Aregay (Spain)
Placement matches 13-16
Brazil vs Tunisia 23:26 (14:11)
 
A 10:3 run to end the game propelled Tunisia to a win against Brazil, as the two teams provided an exciting match, bowing out of Germany/Greece 2023 in style.
 
For 45 minutes, Brazil seemed to be in firm control of the game, taking an early lead and never looking back, despite a red card conceded by their top scorer in the competition, Hugo Bryan Monta Da Silva, for a hard foul in the first half.
 
Still, the South American team continued to deliver some excellent handball, keeping Tunisia at bay, with left wing Michael Da Silva Quintino scoring six goals, including two via fast breaks, while goalkeeper Luiz Felipe Araujo Vieira frustrated his opponents with some excellent saves.
 
Yet Brazil's legs started to get increasingly tired and this was where Tunisia stepped up in the last 15 minutes, with Kousay Ben Fraj and Yassine Ben Salem starting to be virtually unstoppable. Ben Salem scored three goals in quick succession to help his side tie the game and from that moment on, it was all Tunisia.
 
The South American side missed Monta da Silva, as no player stepped up to fill the void. Eventually, the African team clinched a 26:23 win, finishing the IHF Men's Junior World Championship on a high.
 
Tunisia will finish either 13th or 14th, depending on the result of the game between Greece and Bahrain, while Brazil end up either 15th or 16th at Germany/Greece 2023.
 
hummel Player of the Match: Kousay Ben Fraj (Tunisia)
Placement Matches 17-20
Poland vs Japan 28:22 (12:11)
Poland end the IHF Men's Junior World Championship victorious, taking their four straight wins at the competition, beating Japan 28:22 in the Placement Matches 17-20. Japan fought until the end to turn things around, but their four-game winning streak ended in Hanover.
For most of the first half, the two sides were level, with Poland being the one taking a slender advantage on a couple of occasions. The biggest Polish lead was by three (7:4) when they took most of Marcel Jastrzębski's 35% saving efficiency. However, Japan found the lost momentum and boosted with new goals by their top scorer, Naoki Fujisaka, they soon caught up with Poland.
Throughout the second half, nothing changed between the two sides. Poland maintained a narrow lead, mostly by one goal. Both sides had good goalkeeper performances. Jakub Ałaj replaced Jastrzębski and was at a 50% saving efficiency, while Japan tried all three goalkeepers and none was below 35%.
Mistakes in the attack were crucial for the end result and Japan were the team with ten turnovers, compared to Poland's five. When Dawid Molski scored his fifth goal in the game and set 24:21 five minutes before the end, Japan knew they did not have a chance. They were able to score only once before Igor Graczyk set the final score (28:22).
hummel Player of the Match: Paweł Stempin (Poland)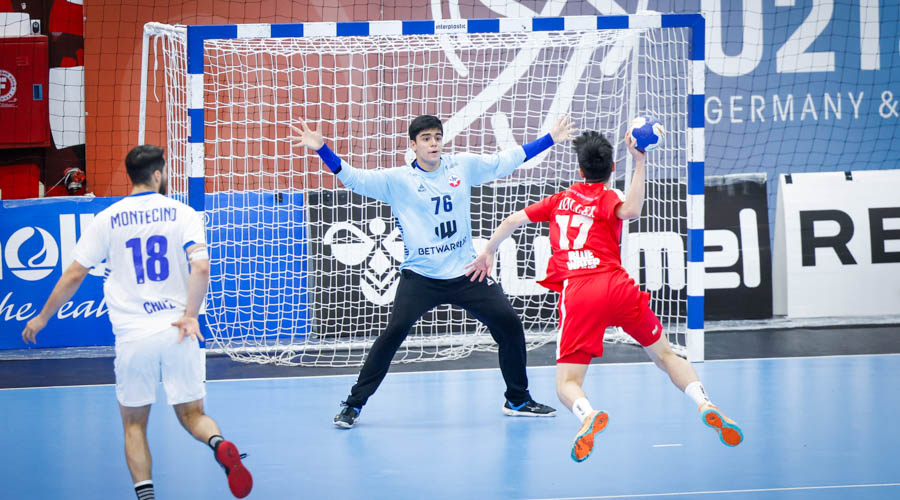 Placement Matches 21-24
Kuwait vs Algeria 27:36 (14:15)
More than 2,000 spectators in the Swiss Life Hall in Hanover, mostly children from local schools that were passionate fans during every first morning game in German venues, witnessed one of the biggest comebacks at the 24th IHF Men's Junior World Championship. Algeria miraculously compensated for the eight-goal deficit and took dominance over Kuwait.
Kuwait started off well, completely outran the opponent and with another five-goal outing by Ali Jaafar they were in front by five. Their blistering start lasted up until the 15th minute of the match when Abdulrahman Alenezi set 13:5.
While everyone thought the game was over and Kuwait set the decisive eight-goal lead, Algeria made a spectacular comeback. The hero behind the story was Algerian goalkeeper Mezaza Salim, who seemed to build a wall between his posts. Astonishing eight saves out of 11 attempts in the first half and he kept the same percentage (13/17 at 77%) until the 37th minute of the game, when he unfortunately had to leave the court due to a knee injury.
Algeria thoroughly dominated, Sidi Aissa Ramy and Meddahi Rabah Racim were able to score from almost every attempt, slowly building the 11-goal run. Kuwait looked hopeless as their team's attack and defence had problems.
Kuwait's bad luck lasted 16 minutes, from the 21st until the 37th minute they were not able to score and Algeria set 20:14. Without Salim in goal, Algeria lost impetus and Kuwait took that as a chance to close the gap.
When Faraj Alsalem netted his fifth goal for 22:25, Algeria realised their run could be over. They, once again, found energy and stepped up a gear to make a new goal run, deciding the winner ten minutes before the final buzzer. 
hummel Player of the Match: Mezaza Salim (Algeria)
Placement Match 25-28
Argentina vs Cuba 42:30 (22:15)
Argentina finished the tournament on a high, claiming their third straight win in the President's Cup. They will finish either 25th or 26th, depending on the result of the match between the USA and Angola, while Cuba will take either the 27th or the 28th position.
Argentina's top scorer Martin Nicolas Jung had a quiet day on Wednesday when he netted just twice against Chile. But he was on fire in the opening 30 minutes against Cuba, scoring nine goals before the break. And although Jung failed to add any more to his tally after the restart, missing a number of chances, he became the top scorer of the match. 
Cuba's best scorer Maiko Vazques also did a good job, ending the match with seven goals, just as many as his teammate Samuel Cordies. Two of Vazques' goals were scored already by the second minute, powering the Caribbean team to an early 2:0 lead. However, Argentina hit back soon and started to dominate, creating a 22:15 lead at half-time.
The Cubans seized the initiative early in the second half, reducing the gap to 23:26 by minute 41. Yet Argentina weathered the storm, as Tomas Garay stepped up and scored four goals in the next seven minutes, so his team used an 8:2 run to pull clear again and remove all questions about the winner. 
hummel Player of the Match: Ramiro Benacedo (Argentina)
Placement Match 29-32
Chile vs Greenland 27:18 (11:8)
In their seventh match at the World Championship, Chile finally took their first win, as they proved too strong for Greenland. The South Americans will finish 29th, as they snatched a point from Cuba earlier in the competition. At the same time, both Costa Rica and Libya, who will meet in the other Placement Match 29-32, lost all their encounters.
In turn, Greenland suffered their seventh straight defeat and are likely to take the last position (32nd), as they have a worse overall goal difference than Costa Rica and Libya.
Despite a nine-goal defeat, Greenland played their best game at the competition, as they had never conceded fewer than 43 goals in any of their previous encounters at Germany/Greece 2023. Against Chile, they had a good start and led for much of the opening 20 minutes.
The South Americans needed some time to find their rhythm before Luciano Scaramelli secured their first lead (7:6) in minute 21. After that, Chile gained more confidence and momentum, extending the gap to three goals at the break.
And in the second half, Chile took firm control of the match. Their goalkeeper Esteban Menanteau played another good match, stopping 14 balls for a 54% saving effiency. And Cristobal Oyarzun boasted 100% efficiency in attack, converting all eight shots.
A 7:0 run between minutes 39 and 45 powered the South Americans to a 25:10 lead, and although Chile scored only twice in the remaining 15 minutes, they had no problems clinching a long-awaited win. 
hummel Player of the Match: Esteban Menanteau (Chile)