France open up final days in Berlin with clear win over Brazil
28 Jun. 2023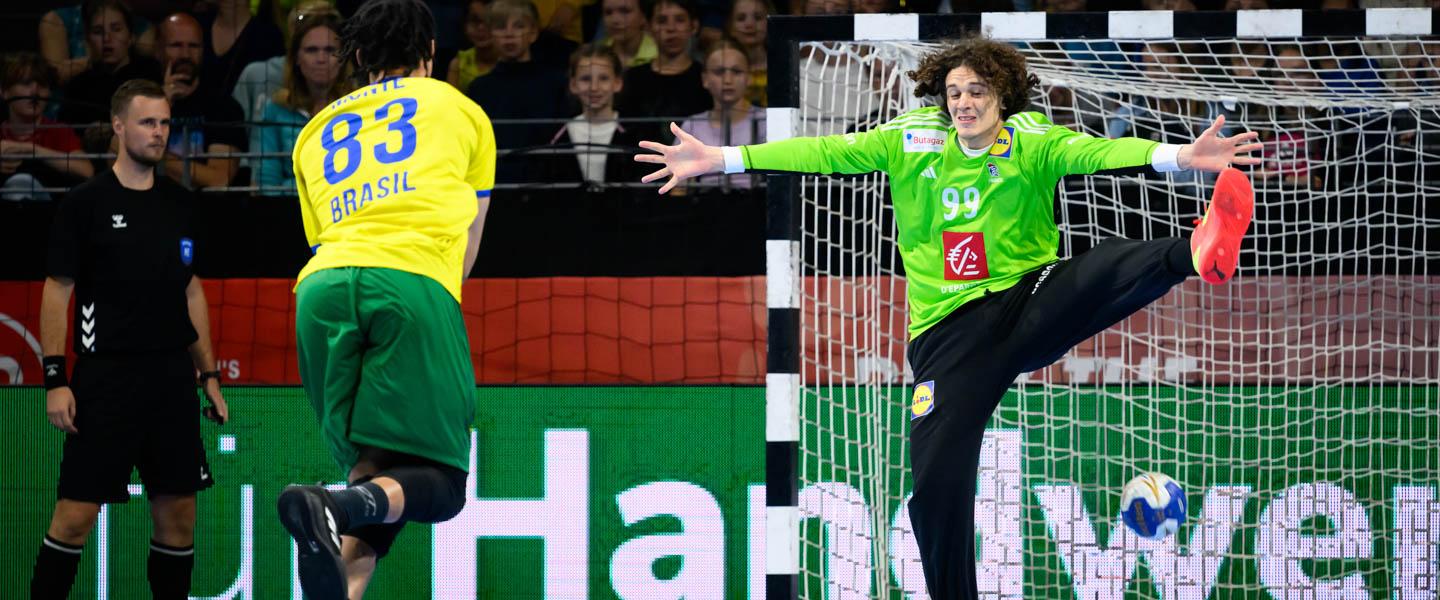 France built a two-game winning streak to extend their hopes for a place in the top 10 at the end of the 2023 IHF Men's Junior World Championship, opening the final days of the competition in the Max-Schmeling-Halle in Berlin with a 35:21 win over Brazil.
 
In other placement matches, Argentina secured a clear win against Chile (31:20), Kuwait stood tall but eventually faltered against Poland, with the European side clinching a 27:21 win, while Cuba dealt Greenland another loss (13:47).
 
Placement Matches 9-16
France vs Brazil 35:21 (17:9)
With over 5,500 children in the arena having a chance to watch the future stars of handball, Berlin opened the party in the Max-Schmeling-Halle with an excellent game between France and Brazil in the Placement Matches 9-16.
 
Cheering for their favourite side, the young fans enjoyed a well-balanced game in the first 15 minutes, with Brazil hanging tight around the reigning world champions, as left back Hugo Bryan Monta da Silva shined in the first part of the game.
 
In fact, the towering left back, who will move to French club Montpellier HB this summer, was the only player to score for Brazil in the first 22 minutes and 11 seconds, as he proved to be virtually unstoppable. 
 
Yet this also hampered Brazil's resilience throughout the game, as France, led expertly by left wing Guéric Vincent, who scored eight goals in the game, five of which came via fast breaks, used an 8:1 run to create an unassailable gap, 14:6, after 24 minutes.
 
The gap continued to grow in the second half, despite France rotating their players. However, Monta da Silva continued to put in excellent numbers. He finished the game with eight goals, jumping to a 33-goal tally in the competition, the tenth-highest total so far at Germany/Greece 2023.
 
Eventually, France secured a 35:21 win over Brazil and will continue in the Placement Matches 9-12, facing the winner of the game between Spain and Tunisia on Thursday in Berlin. Brazil will play in the Placement Matches 13-16 against the team which loses this game.
 
hummel Player of the Match: Guéric Vincent (France)
Placement Matches 17-24
Poland vs Kuwait 27:21 (14:8)
Poland got their hands on the fourth win at Germany/Greece 2023 and will have a chance to fight for the 17-20 placement on Thursday against the winner of the match between Japan and Angola. Consequently, Kuwait will take on the defeat for the placement match 21-24.
Poland thoroughly dominated the game and did not allow Kuwait to come close. Their half-time advantage was mostly secured by the great performance of the goalkeeper Jakub Ałaj, who had seven saves at an 46% saving efficiency. Poland had a five-goal lead already after ten minutes of the game, leaving Kuwait goalless for five minutes.
Kuwait converted only 33% of their shots and only Saif Aldawani netted more than once. Mid-first-half, left-wing Khalifah Almutairi welcomed his first minutes on the court at the competition and closed the gap, but it was short-lived.
Even though it was not their most impressive performance, Poland did just enough to stay in the lead in the second part of the game. On course to victory, all Polish players got their chance, and they were especially efficient from back positions, with Jakub Powarzyński leading the way with eight goals.
In Kuwait's rows, Saif Aldawani remained their only solution in the attack, netting 10 goals by the end of the game, and only three other players scored more than one goal – Fawaz Almashari, Abdulrahman Alshammari and Ali Jaafar.
hummel Player of the Match: Jakub Powarzyński (Poland)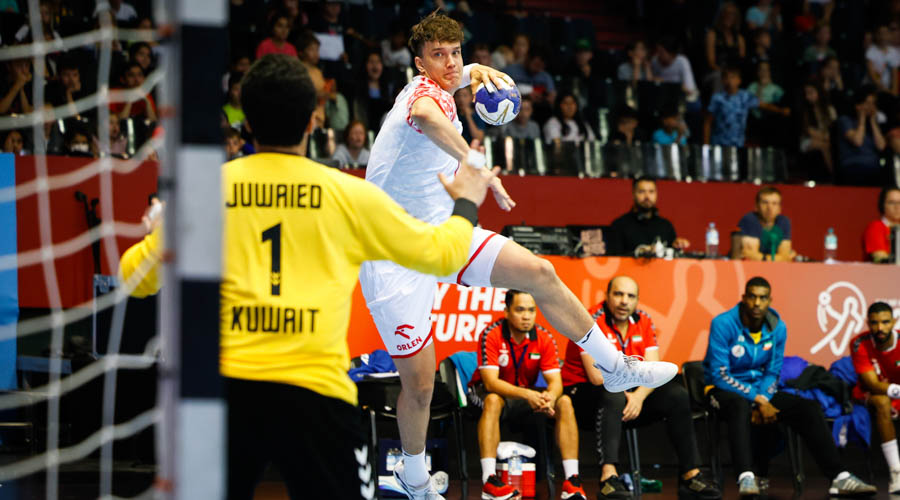 Placement Matches 25-32
Argentina vs Chile 31:20 (19:9) 
Argentina claimed their second straight win at the championship, comfortably beating Chile in a South American derby. Thanks to this victory, they proceeded to the Placement Matches 25-28, where they will face Greenland or Cuba on Thursday. 
In contrast, Chile are still without a win at Germany/Greece 2023, as Aitor Etxaburu's team suffered their fifth defeat in six matches and will go to the Placement Matches 29-32, where they will have a chance to celebrate a long-awaited victory tomorrow. 
While Chile pulled in front 2:1 in the third minute, it was their only lead during the encounter before Argentina took firm control of the match. They were particularly strong in the first half, enjoying a 73% shot efficiency compared to Chile's 41%.
The Argentines led by 10 goals at the break (19:9), which allowed them to somewhat relax their approach after the restart. However, their advantage was never in danger, and Argentina cruised to a well-deserved victory.
Their goalkeepers, Alan Nahuel and Gonzalo Guerra, did a good job, combining for 16 saves, which helped their team score eight goals from fast breaks. And in attack, Tomas Garay and Juan Reynaldo Saco led by example, scoring nine and seven goals respectively. 
hummel Player of the Match: Tomas Garay (Argentina)
Greenland vs Cuba 13:47 (6:24)
After two straight draws in their previous matches against Morocco and Chile, the World Championship debutants Cuba finally earned their maiden win at this level, beating Greenland by as many as 34 goals. On Thursday, the Caribbean team will now face Argentina in the Placement Matches 25-29.
Greenland lost their sixth consecutive match at the event and proceeded to the Placement Matches 29-32. In their last encounter at Germany/Greece 2023, they will face Chile.
The Cubans scored their highest number of goals (47) at the World Championship, as they got past Greenland's defence repeatedly, boasting an 82% shot efficiency. Back court players Rolando Mendez and Samuel Cordies became their top scorers, netting nine and eight times respectively.
Cuba used all their three goalkeepers in the match, and Esnel Negret, Dairon Giron and Luis Alberto Alazales all did an excellent job, combining for 22 saves and restricting Greenland to a 26% shot efficiency.
The game was close only in the opening minutes, as Cuba led by just one goal (4:3), before they enjoyed an 11:0 run to pull clear. At the break, their 18-goal advantage removed all questions about the winner, and the Caribbean team went on to take a historic win. 
hummel Player of the Match: Samuel Cordies (Cuba)