German Handball Federation celebrates 'HandbALL TOGETHER' premiere
09 Sep. 2021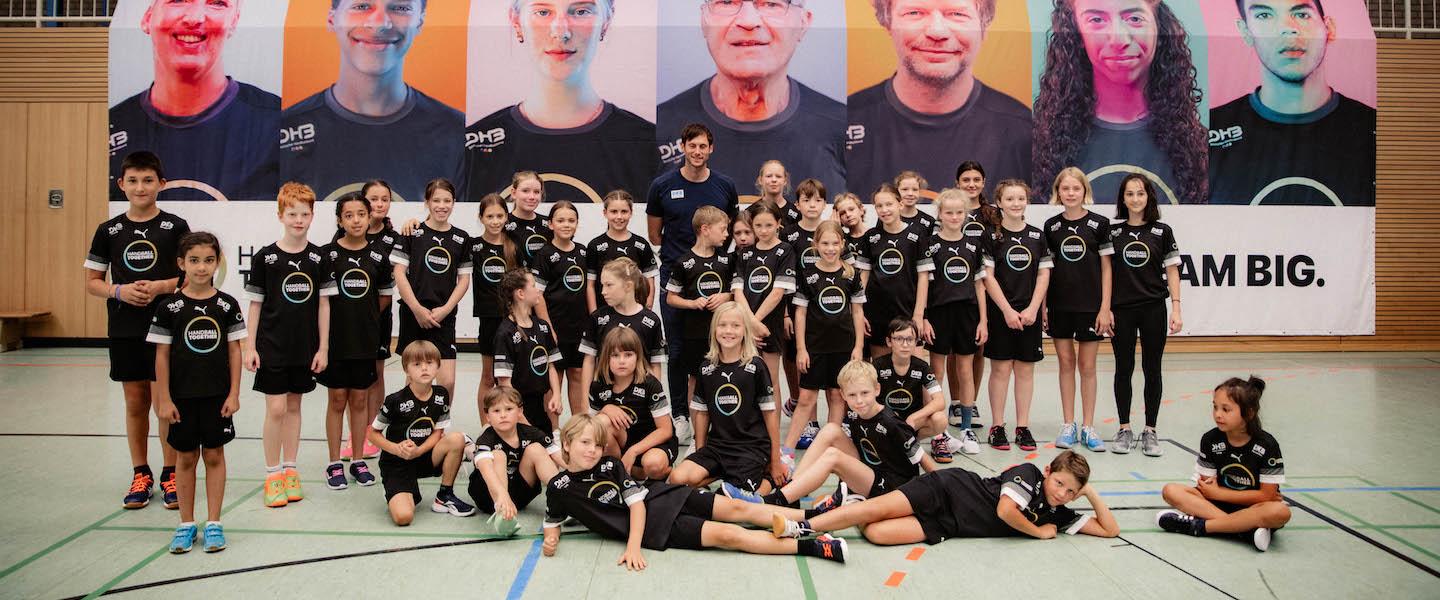 The first day of action by 'HandbALL TOGETHER', a joint initiative of the German Handball Federation (DHB) and Deutsche Kredtikbank AG (DKB) took place on Saturday 4 September. 
The goal of the initiative is to further promote integration, diversity and to open handball for everyone, thus making a lasting difference in society as well as sport. The ambassador of the initiative is left wing Uwe Gensheimer, former captain of the Germany men's national team, who has played 204 matches and scored 741 goals for the German side. 
36 young handball players between the age of six and 12 experienced a handball day full of highlights. They started with a two-hour training session, guided by women's youth national coach Gino Smits, DHB coach Zuzana Porvaznikova and two former Bundesliga players, Ace Jonovski and Robert Markotić. 
After a short warm up, the children completed the Hanniball pass, the official badge of the DHB. At five different stations, they tested their handball skills under the guidance of the trainers with exercises for throwing, bouncing or coordinating.
In the second part, Uwe Gensheimer came to visit. After a short Q&A session, Gensheimer gave the kids throwing tips as well as autographs and the opportunity to take selfies with him. 
"Such a day as part of HandbALL TOGETHER is very important because we promote youth work," said Gensheimer. "We also manage to bring handball closer to children and young people, even if handball does not play such an important role in their country of origin or in their parents' country of origin."
The first day of action of the HandbALL TOGETHER initiative ended at PSD Bank Dome in Düsseldorf for the Pixum Super Cup, where THW Kiel and TBV Lemgo-Lippe played for the first title of the season.
It was a successful premiere that will be expanded in the future and will inspire more children to play handball. More days of action are planned each year in combination with international matches to integrate national players and other well-known handball faces. 
For the future, the DHB and the DKB are also working on information materials, so that all clubs throughout Germany can organise their own days of action and, thus, carry the HandBALL TOGETHER initiative and its values to young handball players, where handball education begins.
As part of the project, a few activities have already been implemented in the last months such as the digital kids press conference, where young players could ask a few national players (Uwe Gensheimer and Johannes Golla, Phillip Weber and Paul Drux as well as Kai Häfner and Fabian Böhm) questions before the 2021 IHF Men's World Championship.
About HandbALL TOGETHER
'HandbALL TOGETHER', launched by the DHB and DKB in August 2020, aims to further promote diversity, community and integration in handball.
Further information about the initiative be found here. 
Photo: Lukas Mengeler