European sides aim to seal quarter-final berth in Group A
30 Jul. 2021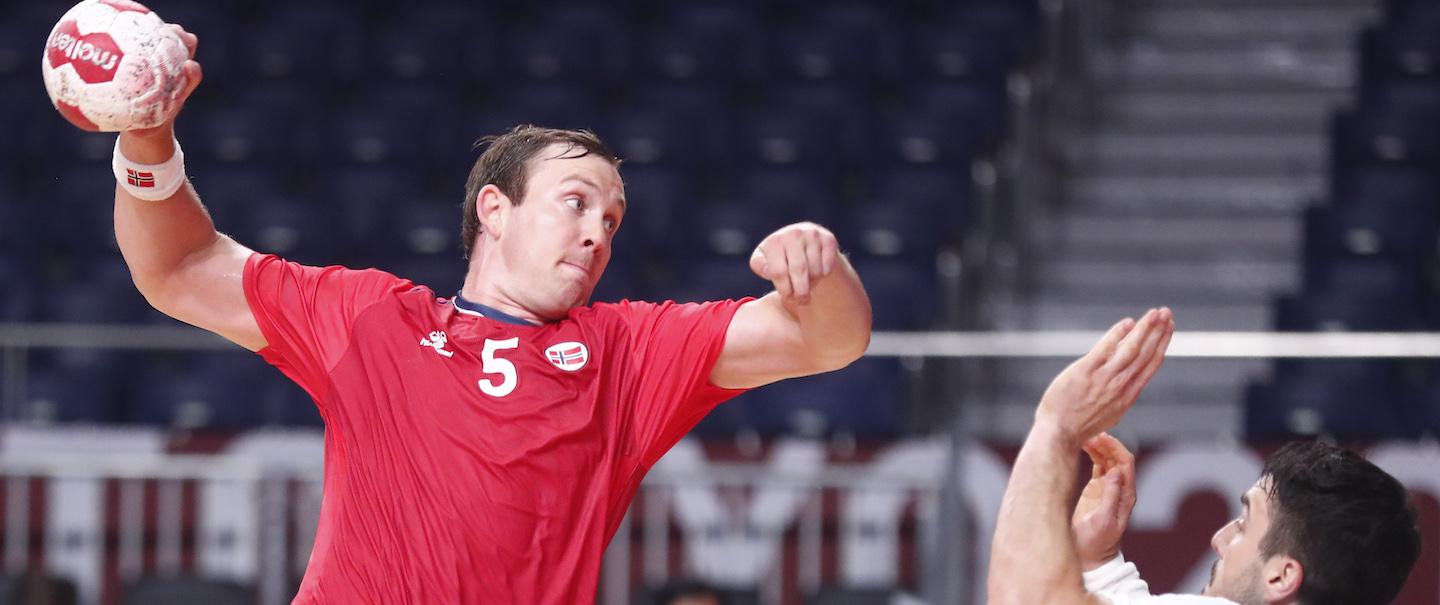 Running updates of Tokyo 2020 men's Group A – follow the action of the Olympic handball tournament live and stay always up-to-date. In a South American clash, Argentina mounted a great comeback but eventually lost to Brazil, while France claimed a win against Spain after a strong performance. Germany beat Norway in the last match of the day.

Round 4 of men's Group A at the Olympic handball tournament has arrived and crucial matches will determine the fate of the teams at Tokyo 2020.  
Today's matches:
09:00 JST: Argentina vs Brazil (23:25)
14:15 JST: France vs Spain (37:31)
21:30 JST: Germany vs Norway (28:23)

23:30 JST That's all for today

Group A can still move and shake between now and the final day of matches in the preliminary round so despite today's results, uncertainty remains.
Another day, another win for France. They make it four out of four with a big win against Spain and top Group A with eight points. Brazil picked up their first two points of the competition with a win against continental rival Argentina. Germany took another step towards the quarter-final with a crucial win against Norway.

23:00 JST FINAL WHISTLE Germany vs Norway 28:23

Germany stay mentally focused until the end and take a convincing victory against Norway. It's their second triumph at Tokyo 2020 and a big step in their hunt for a quarter-final pass.
Julius Kuhn scored only three goals tonight but his interventions were crucial. Norway were four goals behind but they came back to within one with eight minutes left on the clock. The German back scored two powerful shots in a row and gave his team a boost of oxygen.
Great win for Germany, who still have one more obstacle to make the next phase at the Olympics — their last preliminary round match versus Brazil in two days.

22:40 JST Germany lead Norway by three goals
Into the 47th minute, the Germans are still pulling the strings in a physically demanding clash versus Norway. The score is 21:18.
The main news in this hour is related to Sander Sagosen. The left back managed to get into pace after a slow start and has contributed five goals so far. His power might cause Germany a headache if they can't hold him.

22:10 JST HALF-TIME Germany vs Norway 14:11

Norway struggle to find their way through a good German defence. And it's precisely based on that strong defensive line that Germany develop their handball.
Except for Andy Wolff, no one in the team are standing out tonight but everyone are doing their job well — captain Uwe Gensheimer has come in to take the 7-metre throws and has scored all four of them.
Let's see how Norway react after the break.

21:50 JST Germany hold the upper hand

It's the most solid 20 minutes of handball for Germany at Tokyo 2020 so far. They lead Norway 9:6 with a good defensive performance and a formidable job from Andy Wolff. The German keeper is on seven saves at a 54% percentage.
Norwegian star Sander Sagosen hasn't scored on any of his three attempts and that's not a good thing for the Scandinavian side.

21:30 JST Germany are up against Norway to close day seven

Rio 2016 bronze medallists Germany look for their second victory at Tokyo 2020 in the race for a quarter-final ticket. Norway need a draw to advance to the next phase for the first time in their history. A small reminder, this is their first Olympic participation since the 1972 Games.
Let's see what the Germans have planned to beat Norway goalkeeper Torbjorn Bergerud — the top goalkeeper in the competition until now, holding a 37% overall save rate (31 saves out of 83 shots).
 
15:42 JST FINAL WHISTLE France vs Spain 37:31

There has been no question regarding the winner in this game and France duly took advantage of the great start they had. Playing from behind takes a huge toll mentally, with every mistake scrutinised and having the opponents ready to pounce and help the gap grow immediately. This is where France really won the game (37:31), in the mental battle, coming on the court and developing a great chemistry and understanding on the court.
They fired from all cylinders in the first half, especially from the back line, with Nedim Remili in particular superb form. Everybody contributed a bit, including experienced players like the Karabatic brothers, who bring a special hint of old-school handball with them and know how to motivate the younger guns, who are hungry for medals. If France can keep up like this, they are certain candidates for a medal, irrespective of the opponents they face on the way.
As for Spain, it has been a disappointing game. 'Los Hispanos' proved that they can bounce back from defeats before, but this has been a serious wake-up call. Surely, goalkeepers will perform better, yet the attack looks slow and predictable at times. Spain are big favourites against Argentina and probably will finish either second or third, courtesy of their win against Norway two days ago.
France lead the group now, with eight points from four games, ahead of Spain, with six points, and Norway, with four points. The Scandinavian side have a game in hand. France have not won the group yet, but they have a big advantage. The huge win today is also helpful if Spain win against Argentina and France lose against Norway, provided that the Scandinavian side also win against Germany later today. In that case, Norway will need a four-goal win against France to pass 'Les Experts'. Otherwise, France will win the group.
 
15:26 JST Nowhere to hide for Spain

Gonzalo Perez de Vargas saves a one-on-one against club teammate, Ludovic Fabregas, but Spain turn the ball over immediately, after a mishap of Figueras. This could really be the pivotal point of the game, as the Spanish side could have cut the gap to three goals. Instead, Hugo Descat expertly converts a penalty to take the score to 24:19. Spain have a more concerted and focus effort in this half, but their lack of urgency in the first half could be their undoing. Coming back from six goals against France is difficult, to say the least.
With Vincent Gerard making a pair of consecutive saves, France are now up by seven goals, 26:19, with 15 minutes to go. Remili has turned up in style in this game and has topped his previous efforts at Tokyo 2020, scoring eight times, one more goal than in the previous three games combined. This has been one of the key points of France's success in this game, with the goalkeepers being the other one. Gerard has a 32% saving efficiency, while the Spanish pair only saved 19% of their shots.
Stranger things have happened in handball, but right now, France are heading to their fourth win in a row, which would mark their best start at the Olympic Games since Beijing 2008. It's 27:20, with 13 minutes to go.
 
15:16 JST Spain try to erase the deficit

"I do not want to see a damn French smile on the court in this half." Jordi Ribera's words will surely resound in his players' ears, after an underwhelming first half for Spain, a big candidate for a medal at Tokyo 2020. And, at least in defence, Spain play their part beautifully. France changed their wings and also inserted Kentin Mahe as the playmaker, but Spain get a few stops, thanks to their aggression, with the defensive form shaping from 6-0 to 5-1 or 3-2-1 at times. Yet Vincent Gerard stopping two shots, including a penalty from Aleix Gomez, helps France stay in front.
Spain also changed their goalkeeper, with Gonzalo Perez de Vargas saving three shots in the first 10 minutes, as many as Rodrigo Coralles did throughout the first half. These small things can count a lot during a game and this is why Spain cut the gap to only three goals, 20:17. 
 
14:52 JST HALF-TIME FRANCE vs SPAIN 18:12

Jordi Ribera has been constantly experimenting at the nine-metre line and inserts Alex Dujshebaev on the centre back to bring Eduardo Gurbindo on the right back. That is not his natural position and this is on display as he turns the ball over two times. France duly take advantage and convert the fast breaks. In the first half, France have scored three times via fast breaks, a great source of easy goals, but also one which is wearing down the opponents, both mentally and physically.
As the gap balloons to 14:9, Ribera called another time-out, but France are unstoppable in this first half. They have converted 78% of their shots, close to many would call a perfect game. While their defence has been carrying the load, everybody clicked in attack to bring the score to 18:12 at half-time, a lead that could prove to be unassailable. It's definitely Spain's biggest challenge in this tournament, but Alex Dujshebaev scored twice in the dying minutes of the half to help ease it a bit.
Remember that France also started with seven wins in a row at the IHF Men's World Championship 2021 in Egypt, but lost their last two matches, including the bronze-medal game against Spain. Then, France were done physically, but right now they look to be cruising. This new generation of 'Experts' looks to be doing pretty well. However, Gille's penchant for changing his side could break the chemistry of this side. It is almost sure Luc Abalo and Michael Guigou will be replaced by Valentin Porte and Hugo Descat, but how will France look if they change their nine-metre line, who combined for 14 goals in the first half?
 
14:37 JST "Hey, calm down!"

Sure enough, a 3:0 Spanish run ties the game at 6:6. Yet, France are superb in attack. With two left-handed players, Dika Mem and Nedim Remili, they are constantly changing positions, sometimes confusing the Spanish defence. France reply instantly with their own 4:0 run, as Remili hits four goals, while N'Guessan adds three.
France are really good, especially in converting precious fast breaks. It's time for Jordi Ribera to call a time-out and calm down his players. "Hey, calm down, you need more patience in attack," said the Spanish coach. He also instructs his players to be more aggressive against the French backs, who scored nine goals in the first 16 minutes.
Remili, for example, had scored only seven goals in the first three matches, but burnt Spain for four in the first 14 minutes. But Ribera's time-out might have stopped France's run, as Spain cut the gap to only two goals, 8:10, with 11 minutes left in the first half.
 
14:28 JST France dominate the first 10 minutes

It has been a very good start for France on both sides of the ball, with Vincent Gerard making three saves in the first even minutes, while limiting Spain to only three goals and a meagre 33% shooting efficiency. In attack, however, France's backs are dominating, with N'Guessan, Remili and Mem combining for of France's six goals, as Guillaume Gille's side is leading, 6:3.
Spain have been here, though, and have always made their comeback. Their gritty attitude is part of what they are as a team and can always count on their superb experience – they have the most experienced roster at Tokyo 2020, with an average of 33,2 years old. Therefore, France might have started well, but they need to keep their rhythm flowing. And hope that Rodrigo Coralles, who had the biggest percentage of saves after the first three rounds, will not improve. Right now, the Spanish shot stopper saved only one shot.
 
14:15 JST Spain eye milestone ahead the game against France

France are the team with the second largest number of wins at the Olympic Games, 43 in 57 games, while also winning two gold medals, at Beijing 2008 and London 2012. Spain can now become only the third team to reach 40 wins in the competition, provided they beat France. Back in the competition after London 2012, Spain have never won the gold, securing only three bronze medals. They won, however, 39 games from 69, scoring 1,706 goals, and could now challenge for the coveted piece of gold.
This will be a crucial game and will shape their schedule for the next rounds, with the winner of this game taking a big step towards securing the first place in Group A.
 
13:55 JST France and Spain rekindle one of the great Olympic rivalries

This is one of the fiercest rivalries in Europe, with the two sides having met 37 times. France have won 21 games, Spain 12 times, while four matches ended in a draw. Their history is checkered and France and Spain have also met seven times at the Olympic Games. Since 1992, France have dominated Spain on the biggest of stages, winning six times, including in the quarter-finals at London 2012, 23:22. However, the only Spanish win in the competition came in the most important match, the bronze-medal game at Atlanta 1996, 27:25.
Spain have been hit by a serious injury to key defender Viran Morros, who had a muscular problem and is out for the Tokyo 2020 Olympic Games. Morros has been replaced by Miguel Sanchez Migallon Naranjo, a left wing who will be making his debut at an international competition for Spain. However, Spain have been showing grit in face of adversity, having won their first two games by the slightest of margins, 28:27 against Germany and 28:27 against Norway, proving to be one of the sides to beat this tournament.
Yet, France, with a new generation of 'Experts' have also been very good. Wins against the two South American sides, Brazil and Argentina, were followed by a 30:29 win against Germany, where right back Dika Mem shone again. Will Mem be able to dismantle a very good defence once again? It remains to be seen, but Spain really pride themselves on the effort they do on that part of the ball.
 
10:45 JST Another same-continent derby waiting to start in Group B

This game showcased why handball is exciting and a team should never be written off, even when they are down by 11 goals with 20 minutes to go. Brazil secured the win and live to fight another day, while Argentina are the first team to be out of contention for a quarter-final berth, after conceding a 23:25 loss against their South American rivals.
Brazil added to their head-to-head record, winning 16 games from 27 against Argentina now and they did it in emphatic fashion, bar the 12-minute letdown in the second half.
We'll move on to Group B now, where two other teams from the same continent, Bahrain and Japan, are in the same situation as Argentina and Brazil. Winner lives to fight another day, the loser is out of contention. Easy, isn't it?
 
10:34 JST FINAL WHISTLE Argentina vs Brazil 23:25

Credit to Argentina for not giving up, not even when they were 11 goals down, with 20 minutes to go. Also for Brazil for letting Argentina bounce back and give us a fantastic final of the match. However, an 11-goal deficit seems impossible to erase at the Olympic Games. It would have really been a comeback for the ages, but despite's Argentina's mighty attempts, Brazil sealed the game, which they probably won with their outburst from the first half.
Eventually, Brazil sealed the win, 25:23, despite Argentina's best tries to take something for the game. Manuel Cadenas even deployed an all-in strategy of seven-on-six in attack, yet turnovers started to flow after the pressure was really on Argentina, as they came back to cut the gap to only two goals. With 12 players, including goalkeeper Leonel Maciel, scoring at least one goal for Argentina, they really had something going, but the main take in their attack should be Diego Simonet failing to generate something in this game, scoring only one goal.
For Brazil, the win was only their sixth in 33 games at the Olympic Games, also their first in seven games since August 2016, when they won against Germany, 33:30. To progress to the quarter-finals, they will probably also need to win against the German side in their last game of the group phase, scheduled for Sunday.
With their fourth defeat in as many games, Argentina are out and will need to win against reigning European champions Spain in the last round to avoid their worst record ever at the Olympic Games.
 
10:21 JST … or not?

Okay, so this is getting really interesting. With 20 minutes to go, Brazil were leading 22:11 and the game seemed to be over. What happened was astonishing. The Brazilian side thought they were already winners and Argentina packed it in. Four turnovers later and six missed shots from Brazil, the score is now 22:19, with 10minutes to go, after Argentina embarked on an outstanding 8:0 run to give themselves hope and the sense of belief that such a comeback might be possible.
"We have to play, we have to play," are the shouts from the Brazilian bench, for a team that is looking in total disarray. A time-out has not been called, a strange decision. Maybe coach Marcus Oliveira is expecting his players to bounce back, but a 8:0 run should have been interrupted. Credit to Nicolas Bonnano (three goals) and Ignacio Pizarro (two goals) who sparked this run.

10:05 JST Game over for Argentina

These matches pitting teams from the same continent on the biggest of stages are always entertaining. It is clear that both sides are extremely eager to fight for the win, they are giving everything. Probably too much, at times. This is why there have been already eight suspensions in the game, four of which came in the second half. With Argentina two men down, including a red card for Pedro Cami Martinez, Brazil can wreak havoc and this is exactly what they are doing.
They have caught Argentina underprepared or a bit too tired for this game and are taking advantage. Of course, handball can always spring a surprise or two, but it's difficult to see how Brazil will lose this game. They are up 21:10 after 39 minutes, after Argentina missed another pair of one-on-one chances. It looks like Cadenas' side has already packed it in, prompting another time-out from him. "I know it's difficult, with the red card, but we have to play better," says the Argentinian coach. With this result, Brazil live to fight one more game, while Argentina will be out of contention with one game to go.

09:39 JST HALF-TIME Argentina vs Brazil 7:14

Argentina have been playing well in this tournament, but this is a half they will surely want to forget. And the fact that it came in their most important game, against their continental rivals, makes it even more bitter. They would be out of the competition if the result stays like this and the worse thing is that it does not look to make them even more ambitious on the court. Brazil are cruising to a 14:7 lead, after dominating the game properly on both sides of the ball.
In fact, this was Argentina's worst first half ever at the Olympic Games, the South American side having never scored less than eight goals in the first 30 minutes in their 14 games in the competition. Their record was eight goals scored, against Sweden, at London 2012, while also scoring nine against France at London 2012 and against Qatar at Rio 2016.
Having scored nine goals in the first three games, Joao Pedro Silva was unstoppable for Brazil in this game, having scored six times already, one goal less than the entire Argentinian squad. With the numbers not lying, Argentina have had a 33% shooting efficiency, missing 24 shots, while their goalkeepers saved only two shots for a meagre 13% efficiency. 
 
09:25 JST Brazil march on to five-goal lead

Manuel Cadenas, Argentina's coach, called a time-out and told his players that they have been performing well in defence, but there are still things to be corrected in attack. Right now, Argentina are slipping through the cracks, failing to properly exert pressure on the Brazilian defence, who is getting stops after stops.
After 20 minutes, Brazil have the upper hand, leading 10:5, and the game is not even close. Silva has one of the best games in his career for Brazil, having already scored five goals, with Haniel Langaro adding another three.
At this score, Argentina would be the first team to be eliminated from the competition. Cadenas knows this and calls for another time-out. "We have to be dynamic in attack. In defence, make the step ahead, we have not blocked a ball," he argues, holding the players responsible for the under par performance.
 
09:14 JST Brazil have the upper hand after 10 minutes

After the first 10 minutes, Brazil have the upper hand, chiefly because Argentina's attack does not work properly. The Brazilian defence has mainly stopped centre back Diego Pablo Simonet and the Argentinian attack has dipped to a meagre 33% attacking efficiency, turning the ball over twice. Brazil have not impressed, but their goalkeeper Leonardo Vial Tercariol has saved three shots for a 50% saving efficiency.
Brazil are up 4:2, but the advantage is fragile at best, with everything so fluid in a game between two South American sides. For Brazil, Joao Pedro Silva, who scored nine times in the first three games, already added two goals to his tally, starting the game brightly.
 
09:00 JST South American derby throws off round 4 at Tokyo 202

Another day of action-packed handball at the Tokyo 2020 Olympic Games is ahead of us. This time around, the men's tournament will be in full fledge, with several answers to be given to the more pressing questions regarding the teams who will be progressing to the quarter-finals.
First up? A South American derby, which will surely see some passion on the court immediately. Argentina and Brazil have both lost all their games in the competition, so the first win will be up for grabs. Moreover, the team to lose will likely be out of contention. Ready to watch handball?
 
08:45 JST Crucial day ahead

France and Spain have already sealed berths for the quarter-finals of the Tokyo 2020 men's handball Olympic tournament, but face off in the clash of the titans, with the winner likely to seal the first place in the group.
In fact, if Spain win, they will surely take the first place, as they have already won against Norway, 28:27, in the second round of the tournament.
The Norwegian side would seal their quarter-final berth if they do not lose another headliner of the card today, against Germany, a game which will start at 21:30 JST.
Meanwhile, Brazil and Argentina clash in the first-ever 100% South American match at the Olympic Games, yet the winner will not be sure of staying in the tournament, as their situation is not in their hands entirely.
After two rounds, France (+12 goal difference) and Spain (+9) lead the standings with six points, while Norway (+6) are third, with three points. Germany (+6) follow in fourth, with four points, with Brazil (-15) and Argentina (-18) are on the last two places, with zero points.
All the relevant statistics, the standings and the schedule for the men's Tokyo 2020 Olympic Games tournament can be found here.