European powerhouses aim for the quarter-finals
28 Jul. 2021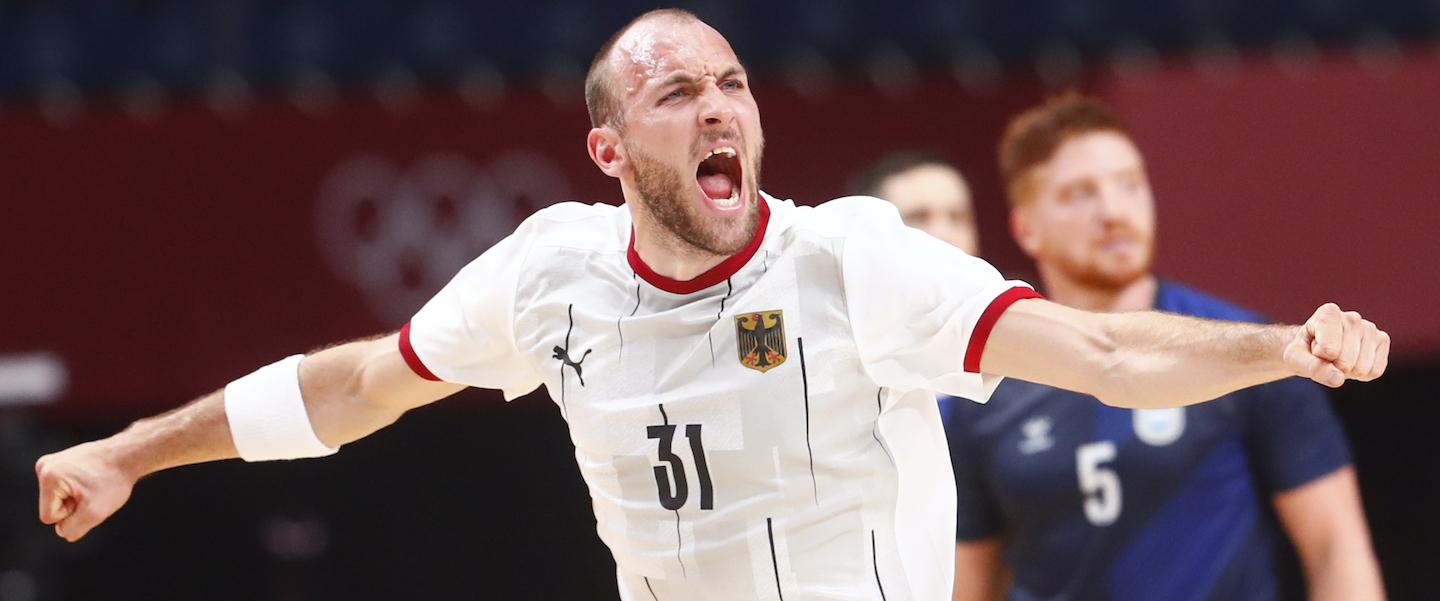 Running updates of Tokyo 2020 men's Group A – follow the action of the Olympic handball tournament live and stay always up-to-date. Norway and Argentina started round 3 of Group A earlier today which saw the Norwegians take a 27:23 victory against the Argentinians. Next up, in a World Championship re-match from earlier this year, Spain defeated Brazil 32:25. The main event of the evening saw France defeat Germany.

It's round 3 of Group A at the Olympic Games Tokyo 2020 men's handball tournament, with three matches scheduled that are surely promising.
Today's matches:
16:15 JST: Norway vs Argentina (27:23)
19:30 JST: Brazil vs Spain (25:32)
21:30 JST: France vs Germany (30:29)
23:30 JST France and Spain book quarter-finals tickets

And with that, today's coverage of Group A comes to an exciting end. With their wins today, France and Spain have qualified for the quarter-finals. But with two rounds of games left, the question now becomes, who will claim that third and final Group A spot to the next round? Who will join France and Spain? Well, just like us, you'll just have to tune in to the next two rounds of clashes.
Norway versus Germany on Friday 30 July could decide which team advances and which team goes home. We'll hopefully see you Friday!
 
22:55 JST FINAL WHISTLE France vs Germany 30:29

The final buzzer brought France a huge relief. A seven-goal edge in the first half wasn't enough to disarm the Germans, who made clear progress throughout the game and ended up losing by the slimmest margin — with right wing Timo Kastening as their most dangerous man and best scorer tonight with seven goals.
Six points for France to rank first in Group A. Germany's future in the competition is more complicated but they still have two games to play and a lot of useful conclusions to take from their poor performance in the first 25 minutes of today's match.
 
22:35 JST Germany come from behind to take the lead but France reclaim it

Germany show the initiative they were missing in the first period and come from behind to take the lead in the 39th minute with a goal from Hendrik Pekeler.
It looks like France struggle to find that composure they had but they suddenly score three quick goals — including an empty goal one — and move back into the lead. They make it look easy. Believe us, it is not.
The French are up 23:21 into the 46th minute.

22:05 JST HALF-TIME France vs Germany 16:13

France started off at a great pace and led by seven goals into the 24th minute. But Germany were determined to come back and cut the lead before the half-time break.
The Germans used the intelligence and capacity of Steffen Weinhold to put themselves on track again — in the last five minutes, the 35-year old back scored two goals and delivered two nice assists to Johannes Golla.
It's the last match of the day at Yoyogi National Stadium and nothing is decided yet!

21:50 JST France lead an inefficient Germany

France are up 9:5 in the 17th minute. Three goals for Dika Mem, another three for Michael Guigou — both leading the French stats.
Germany are not playing their best game in offence, with a low 40% efficiency so far. No success out of four 9-metre throws, a number that says it all considering that some of the world's best long-range shooters wear the German uniform.

21:20 JST France play Germany in a game full of history

A rematch of the 2016 Olympic semi-final between two teams with plenty of history between them, Germany and France, will wrap up round 3 of the men's Tokyo 2020 action.
France have won their first two matches at these Olympics and have serious intentions on collecting a third to secure a quarter-final pass. Germany's record includes one defeat and one victory. Time to battle!

21:00 JST FINAL WHISTLE Brazil vs Spain 25:32
The final result doesn't show the quality of handball Brazil played during the first period or how hard they fought for the points in the second half, but in the end they have to settle for a five-goal loss versus Spain.
The European champions make it three wins out of three games at Tokyo 2020. Their perfect run makes them one of the biggest contenders in the race for the Olympic medals. Undoubtedly.

20:40 JST The 'Hispanos' hold a three-goal edge

Disheartened. That's the best word to describe how Brazil must have felt at the half-time break. And the psychological effect of those two crucial goals from Spain in the closing minutes continues to harm them in the second period.
Gonzalo Perez de Vargas has improved and he's on eleven saves now. He deserves a monument for his recovery from a weak start to this incredible performance. Spain use his energy and hold a three goal edge with 15 minutes left on the clock. The score is 25:22 for Jordi Ribera's guys.
 
20:10 JST HALF-TIME Brazil vs Spain 16:18

Barça goalkeeper Gonzalo Perez de Vargas had only made three saves in the first 29 minutes of the game, in which Spain were always trailing. He remained focused and a pair of essential interventions in the last minute and a half  both ended in successful fast break goals and Spain go in front for the first time 18:16.
The Spaniards are patient and know how to build momentum. What a winning mentality! Let's see how Brazil react in the second half.
 
19:50 JST Brazil lead Spain in an attractive encounter

A brilliant Joao Silva pushes Brazil to a 13:11 lead into the 20th minute. Five goals and two assists for the playmaker so far. He is well-complemented by line player Rogerio Moraes and wing Fabio Chiuffa, who have scored three and two goals respectively — both are 100% efficient tonight.
Ferran Sole has been Spain's best man. Four goals for the winger as they try to level the game.

19:00 JST Brazil look for their first Tokyo 2020 win versus Spain
Eight of Brazil's players are with clubs in Spain — a proof of how much they know each other!
The teams drew 29:29 at the 2021 IHF Men's World Championship in January and are eager to battle once again in Tokyo. While Spain have accumulated two victories in Group A, the South American side is in search of their first points at these Olympic Games.
 
18:10 JST Norway are at the top of the individual standings

There will be a break until the next game, which is set to start at 19:30 JST and features Brazil and Spain, with the European side trying to secure their third win in a row, which would be their best start at the Olympic Games since Athens 2004.
Until then, Sander Sagosen just passed Mikkel Hansen and is sitting in second place of the top scorer standings with 21 goals, five less than the leader, Swedish left wing Hampus Wanne. Norway's Christian O'Sullivan headlines the assists standings, tied with Portugal's Fabio Magalhaes, each of them dishing 14 assists in the first three games of the competition.
If you were wondering who is the goalkeeper with the largest number of saves, Norway's Torbjorn Bergerud recorded 31 saves, three more than Argentina's Leonel Maciel. Bergerud, who did not play a part in Norway's win today, is second-placed in the goalkeeper efficiency stats with 37%, just behind Spain's Rodrigo Coralles (41%).
 
17:47 JST FINAL WHISTLE Norway vs Argentina 27:23

It is a small miracle that Argentina were even in the game to begin with, after having turned the ball over 16 times throughout the game. But when Norway duly started to punish the mistakes the South American side did, it was game over. A pair of goals scored by right wing Kevin Gulliksen via fast breaks put Argentina under serious strain and there was no answer from the Argentinian attack so late in the game.
Manuel Cadenas did call a time-out with four minutes to go, but it was too little, too late for his side, who conceded the third loss in as many games. Yet Norway certainly did not look as the force they really want to be. They were slow and predictable in attack, which affected their play during the match. Yes, Sagosen scored seven times, Jondal added six, but they will need to improve if they qualify for the knock-out phases of the competition.
They have missed too many shots – a 57% shooting efficiency – had eight turnovers, while their goalkeepers saved only six shots, albeit they faced only 24. In fact, it's a story about an average game for Argentina and an even more average game from Norway, who will be glad to have taken the two points after their 27:23 win.
Norway jumped to the second place, with four points, tied with France (+11) and Spain (+2), but with a better goal difference (+5). Argentina continue to remain on the last place, with zero points, but will be facing Brazil on Friday, in the game they circled before the start of the tournament. Norway face Germany in a European powerhouse battle in the next round.
 
17:35 JST Still nip and tuck between Norway and Argentina

Back Sander Sagosen and Harald Reinkind and left wing Magnus Jondal were responsible for Norway's last goals, which helped the European side open a 23:19 gap. Manuel Cadenas, Argentina's coach, felt the dip in his team's form and called a time-out, trying to weather the storm. But even Sagosen can make mistakes, which are immediately punished by Argentina's fast breaks, with Ignacio Pizarro scoring thrice in the second half.
It's now 23:21 with only 10 minutes to go and Norway definitely were not expecting this. Can Argentina spring a surprise?
Remember, they have only two wins at the Olympic Games in 12 games.
 
17:23 JST Argentina are keeping up with the European powerhouse
 
Argentina start the second half good, but are hit by two suspensions nearly simultaneously. This helps Norway build a three-goal lead, 17:14, with wings Gulliksen and Jondal scoring two unanswered goals. But there is no straightforward conclusion yet, as Argentina are really keeping up with Norway in this game. This could be another surprise on the cards.
It is especially impressive because they do not rely so heavily on Diego Simonet. And now a penalty save from goalkeeper Leonel Maciel, the third from five in this tournament for Argentinian goalkeepers. They are one of the best, if not the best pair in this situation at Tokyo 2020. Norway are up 20:18, with 20 minutes to go!
 
16:55 JST HALF-TIME Norway vs Argentina 13:12

After failing to score for more than six minutes, Norway are in trouble. Coach Christian Berge was not inclined to take a time-out, but he was forced to after Argentina used a 5:0 run to cut the gap to only one goal, 8:9. This fall from grace for Norway was truly unexpected, after their very strong start. But even after the time-out, the Scandinavian side was clueless and the score was tied, 9:9.
After nine minutes and three seconds without a goal, Sander Sagosen finally saves Norway by scoring. He recorded four goals in the first half, but Norway are only ahead by one goal at the break, 13:12, only after left wing Magnus Jondal scored in the last second of the game. All in all, it has been a very entertaining game, but only after the Scandinavian side collapsed entirely in the last 13 minutes.
Christian Berge will surely give a talking-to to his team and Norway are definitely poised to take another win here. A repeat of the scenario from the game against Brazil is maybe on the cards?
 
16:41 Argentina bite back

For the first 17 minutes of the game, Argentina had only scored three goals, as opposed to Norway's nine. It was both a great defensive effort from Norway, but also a meagre attacking outing from Argentina. But something did change, as the plucky Argentinian side scored three goals in a row through Simonet, Martinez and Ignacio Pizarro to cut the gap to only three goals, 9:6.
Turnovers, missed shots and a lack of solutions in attack for Norway really brought back Argentina into the game, as a 4:0 run really pumped up the Argentinian players. Is there a surprise coming? Or is it Norway's roller-coaster form on display once again?
 
16:30 JST Norway turn up in style in the first 10 minutes

Argentina lost influential right back Federico Pizarro to a muscle strain, rendering him unavailable to today's game. And the lack of options in their attack is there on display, as Norway had their share of trouble to start the game, but bounced back rapidly, with a pair of goals from Sander Sagosen, to take a commanding 5:1 lead. Norway are definitely paying much attention to Argentina's talisman, Diego Simonet, who recorded an assist and served a two-minute suspension. It will be tough for Argentina to bounce back from this.
Right now, Norway look like they learnt the lesson from the game against Brazil and are making this easy for themselves. It would be their second win in three games and this could be a big step for securing the quarter-final berth. But how high up will they finish in the group?
 
16:00 JST Group A throws off with Norway vs Argentina

Hey there! We had three games today at the Tokyo 2020 men's handball tournament, with Denmark taking a win against Bahrain, Sweden eking out a win against Portugal and Egypt steamrolling Japan. Denmark and Sweden are the first two teams who qualified for the quarter-finals.
France and Spain can follow today from Group A, but let's see what the future holds. First up are Norway, who will be facing Argentina, a team who lost both their games against European opposition at Tokyo 2020.
Norway had their share of trouble in the first match against South American opponents, when they faced Brazil and were down at half-time, but a good second half meant that the Norwegian team were able to take the win. The Scandinavian side will surely want to avenge the last-gasp loss against Spain, 27:28, as Aleix Gomez converted a penalty in the final moments of the game to seal the Spanish win.
Tune in at 16:15 JST and we shall watch this game together.
 
15:45 JST Ready for the Group A action to begin?

A serious gap would be created in the group if Brazil and Argentina lose today against Spain and Norway. The last three matches on today's schedule all feature Group A and these games could prove pivotal to the future of the competition.
If France manage to create a gap of at least five points ahead of Brazil and Argentina, by not losing against Germany and the South American sides losing their games, the French side could be the first qualified team to the quarter-finals from Group A.
The same situation applies for Spain, who can earn safe passage to the knock-out phases of the Tokyo 2020 Olympic Games, provided they win against Brazil and Argentina do not win against Norway.
The stakes are high and everybody is waiting for the crunch match which pits France against Germany (21:30 JST), a fiery rivalry which will be rekindled on the biggest of stages.
After two rounds, France (+11 goal difference) and Spain (+2) lead the standings with four points, while Germany (+7) and Norway (+2) are just behind with two points. Brazil (-8) and Argentina (-14) are on the last two places, with zero points.
All the relevant statistics, the standings and the schedule for the men's Tokyo 2020 Olympic Games tournament can be found here.