Sweden remain flawless, while Denmark hand Germany two losses in the EHF EURO Cup 2024
14 Mar. 2023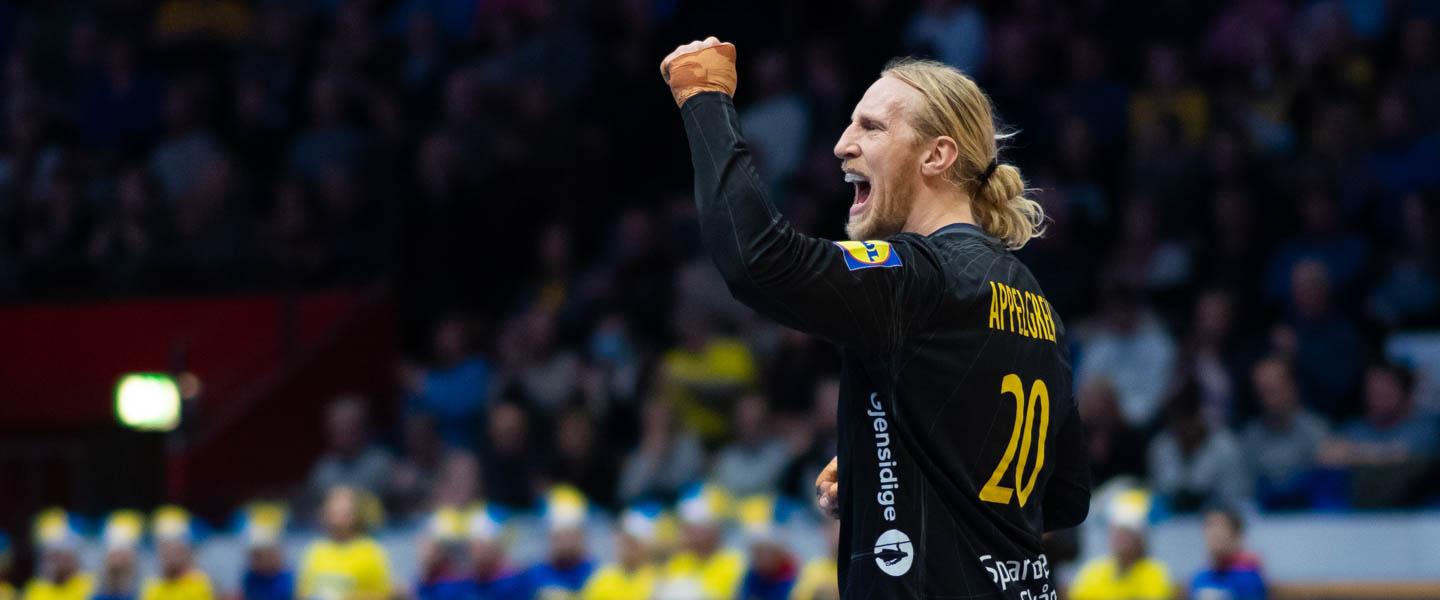 After the disappointing finish of the 2023 IHF Men's World Championship they co-hosted, where they narrowly missed out on a medal, Sweden have been getting back into full fledge in the EHF EURO Cup 2024, where Glenn Solberg's side has been sweeping opponents, winning the first four matches they played.
The last two matches scheduled for last week were a fine reminder of why Sweden should never be discounted. Back in January, a sold-out Tele2 Arena in Stockholm cheered for their favourites but could only see them concede a 36:39 loss in the bronze medal match against Spain.
Spain were also the first opponents for Sweden as the national teams were back into full fledge this week, and Glenn Solberg's side outplayed "Los Hispanos", who were missing captain Gonzalo Perez de Vargas, both in Linköping in the first match and in Jaen in the second match.
Sweden were without the MVP of the EHF EURO 2022, Jim Gottfridsson, and goalkeeper Andreas Palicka themselves, but still managed to put on a strong outing, displaying a free-flowing attack, which helped them seal a 33:30 home win and a 31:30 away win, despite Spain throwing all they had at Sweden.
Felix Claar, who was Sweden's top scorer with 15 goals over two matches, and Eric Johansson, with 11 goals over two matches, were the Scandinavian's side top two scorers, both displaying some excellent efficiency. 
Reigning world champions Denmark continued their excellent run of form displayed at the 2023 IHF Men's World Championship, where they extended their run of unbeaten matches to 28 in the world handball flagship competition, as they expertly navigated through a doubleheader against Germany in the EHF EURO Cup 2024.
Coach Nikolaj Jacobsen also had plenty of young talent at his disposal as players like Niklas Landin and Mikkel Hansen were out of the roster, with Simon Pytlick, Lukas Jørgensen and the reigning MVP of Poland/Sweden 2023, Mathias Gidsel, showing excellent flashes of form.
The hosts of the EHF EURO 2024, Germany, had little to show in the two matches as their attack was the main problem, despite line player Johannes Golla and the All-Star young player of the 2023 IHF Men's World Championship, Juri Knorr, being the top scorers of the EHF EURO Cup 2024 with 23 and 22 goals respectively.
Denmark clinched a 30:23 home win before doubling down with a 28:21 away win against Germany, raising all kinds of questions for Germany's coach Alfred Gislason as the EHF EURO 2024 is only 10 months away.
21-year-old centre back Thomas Sommer Arnoldsen was the top scorer for Denmark in these two matches with 10 goals, while Gidsel added seven goals.
Sweden are leading the standings in the EHF EURO Cup 2024 with eight points, followed by Denmark with six points, Spain with two points and Germany with zero points. Sweden will face Denmark in Herning on 30 April in what could prove to be the decider. In the first match between the two sides, the reigning world champions conceded a 32:34 loss against Sweden.
Photo: Viktor Källberg/Handbollslandslaget