112 saves and a great future ahead: Wolff finishes on a high note at Poland/Sweden 2023
30 Jan. 2023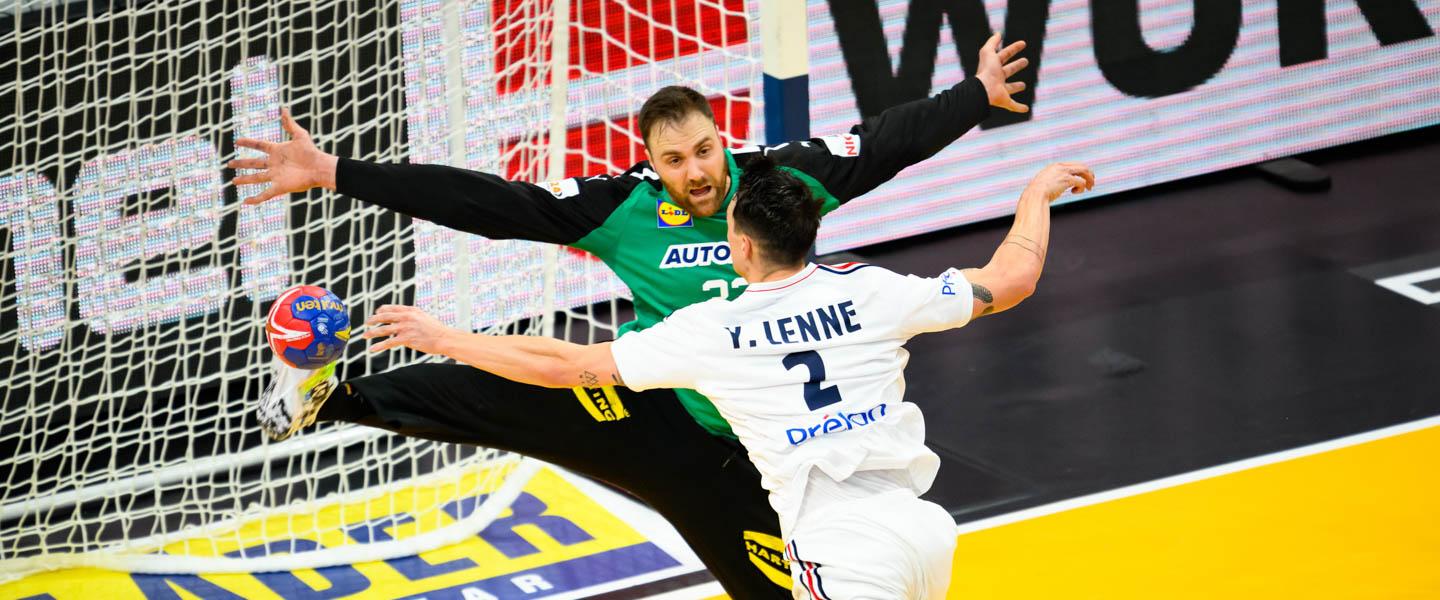 After their worst finish in history at the IHF Men's World Championship at Egypt 2021, when they ended up in 12th place, Germany made a statement of intent at Poland/Sweden 2023, finishing with seven wins and two losses to clinch fifth place in the 28th edition of the world handball flagship competition.
Much of their success has been due to an excellent defence designed by Alfreð Gíslason to stop the best teams in the world, but also due to some excellent matches from their left back Juri Knorr, who finished the championship with 53 goals and 52 assists, having a direct hand in 105 goals.
However, the player who shone on the other side of the ball for Germany was goalkeeper Andreas Wolff, who displayed excellent matches during the competition, being key to the success of his side at Poland/Sweden 2023.
After an 18-save display in the Placement Match 5/6 against Norway, which Germany won (28:24) in the Tele2 Arena in Stockholm, Wolff became the first goalkeeper in eight years to record saves in triple digits at the IHF Men's World Championship, ending up with 112 shots stopped in the competition. 
"I did not know that. To be honest, I wanted to go on the court and help my team win. Of course, it is an excellent achievement, but I could not have done it without the help of the defence in front of me. I also need to give props to our goalkeeping coach Mattias Andersson, who prepared every match excellently," said Wolff after Germany's win.
Since data for goalkeepers has been collected at the IHF Men's World Championship, the record number of saves for a shot-stopper in a single edition of the competition has been held by Denmark's Kasper Hvidt, who had 125 saves at Germany 2007. Another Denmark goalkeeper, Niklas Landin, also recorded 121 saves at Sweden 2011.
But since Thierry Omeyer's MVP performance at Qatar 2015, when he saved 105 shots, no goalkeeper managed to have a total of saves of at least 100 during an edition of the competition. Therefore, Wolff's antics were truly spectacular at Poland/Sweden 2023.
Wolff was also immense at penalties, with a 32% saving efficiency, stopping eight of the 25 penalties he faced, including three in the Placement Match 5/6 against Norway. Only Spain's Gonzalo Pérez de Vargas stopped more penalties at Poland/Sweden 2023, with Spain's captain saving 10 from 27, for a 37% efficiency.
"After so much time spent on the court, you get to know players, so there is no special preparation, I would say. Sometimes they get the best out of you; sometimes, you get the best out of them. But yeah, it is also nice to save penalties," added Wolff, who was selected for the All-Star team.
With a fifth-place finish, Gíslason's side can now get a morale boost before they embark on a trip which will see the EHF EURO 2024 and the 2027 IHF Men's World Championship hosted in Germany.
The ambitions will be high, as Germany became world champions when they last hosted the competition alone in 2007, winning nine matches out of the 10 they played.
"Few people expected us to do well. We were projected to be the disappointment of the tournament here. So we proved them wrong. We proved that we are a good team. I am satisfied with how we played here, we would have wanted a medal, but it is what it is."
"Our goal is to get better. I think we established ourselves as one of the world's best sides among world-class handball teams. We will have some important competitions ahead of us, so we want to be at the best level there," concluded Wolff.
With thanks to Birgitta Rittner