Debutants Cuba on hunt for final ticket
14 Jun. 2019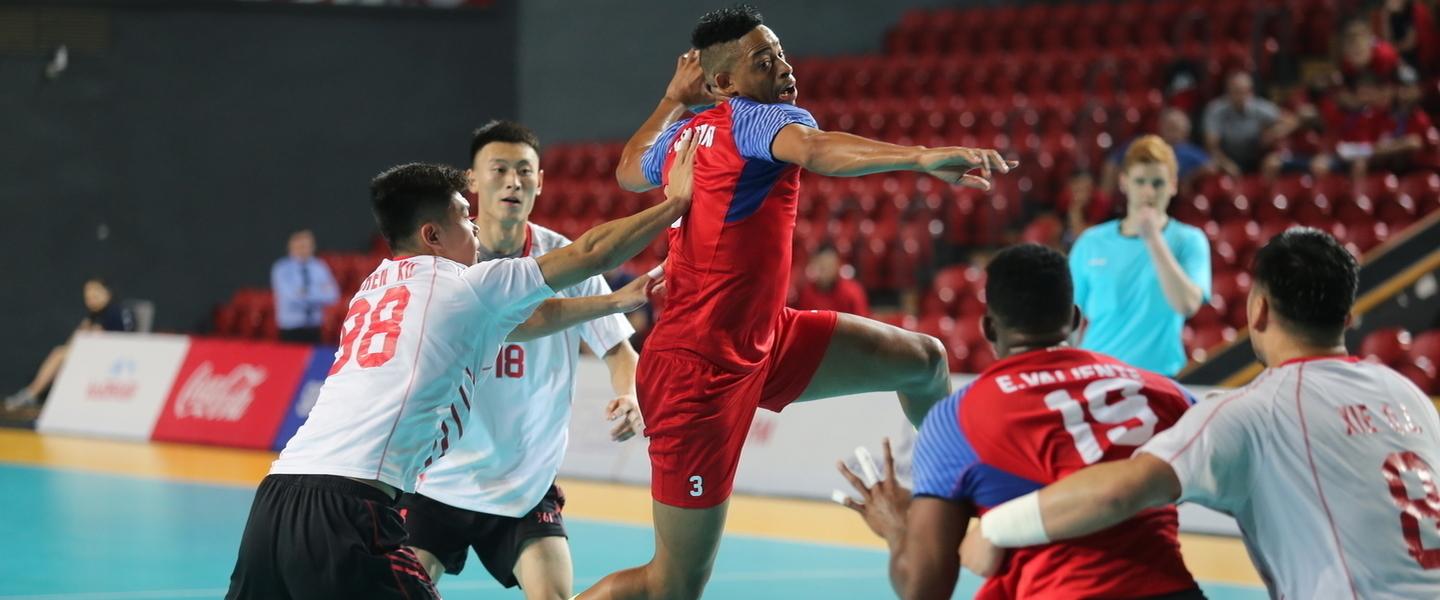 The 3rd IHF Emerging Nations Championship has reached the semi-final stage, with hosts Georgia to meet Great Britain in the battle for the first place in the final at 18:00 local time in Tbilisi on Saturday 15 June, before Cuba take on Bulgaria.
Prior to the semi-finals, the first round of 5-12 placement games will be played.
Semi-final: Georgia vs Great Britain
Tbilisi Sport Palace, 18:00 local time
Georgia have so far played a perfect campaign, not only taking five wins in five preliminary round matches, but five victories that were easy-going. With the home crowd on their side, Georgia appear to have the upper hand against Great Britain, who enter the semi-final after four wins and one defeat, to Cuba.
However, Great Britain have found a more cohesive game as the championship has progressed and also count two particularly strong individual weapons – the top scorer in the form of Sebastian Edgar, with 51 goals, and the top goalkeeper for number of saves, Owen Insou, with 67.
This semi-final promises an interesting contest between the posts, with Georgia's two goalkeepers recording the highest save percentage to rank first and second on this list after the preliminary round. Zurab Tsintsadze has the highest rate, at 48% after 34 saves, while Shota Tevzadze is second with 47% after 43 saves.
Semi-final: Cuba vs Bulgaria
Tbilisi Sport Palace, 20:00 local time
They are playing their first IHF Emerging Nations Championship, but Cuba have shown no sign of any weakness or unfamiliarity with such a competition, making their way to the semi-finals with a perfect record of five wins that earned them first place on the Group A table.
What is more: It seems Cuba have hardly had to use their full power yet, but it is clear that the semi-final is no time to hold back. Bulgaria should be prepared to face a powerful, fast team supported in defence by the overall statistically best goalkeeper in the competition, Magnol Suarez Fiss.
Bulgaria are certainly no strangers to such opponents, with far greater international experience than Cuba gained through European competitions – mainly in qualification stages. They have also played both editions of the Emerging Nations Championship and were the highest ranked of the current participants at the 2017 edition, where they placed fifth.
While Cuba have won all their games at Georgia 2019 so far, Bulgaria's record of victories came to an end in their last preliminary round match, when they were heavily defeated by Georgia, 19:35. However, it was clear Bulgaria coach Nikola Vasilev Karastoyanov decided to rest his key players in the second half rather than try to win a match where there was already an eight-goal difference, 11:19, at the break. Cuba also prepared for the semi-finals by resting their starting squad in round five, with the first line-up only taking the court for around 15 minutes in the second period.
5-12 placement battles begin
Rankings five to 12 will be decided through two rounds of placement matches. Based on their position in their respective preliminary round groups, the eight teams are divided into two mini groups for the placement round.
Azerbaijan, Malta, Ireland and India will play for places nine to 12, with Azerbaijan meeting Malta in the opening clash at 10:00 local time before Ireland take on India at 12:00. Ireland have the strongest preliminary record among these teams, with three points after one win and a draw. The winners of each of these matches will play for ninth, while those defeated will meet in the 11/12 placement game.
Places five to eight will be contested between People's Republic of China, Nigeria, the USA and Colombia. China and Nigeria will start the round at 14:00 local time, and the USA will play Colombia at 16:00. As with the ranking from ninth to 12th ranking, the victors in Saturday's matches will progress to the 5/6 game.