Colombia and French Guiana through to IHF Trophy South and Central America – Continental Phase
20 Aug. 2019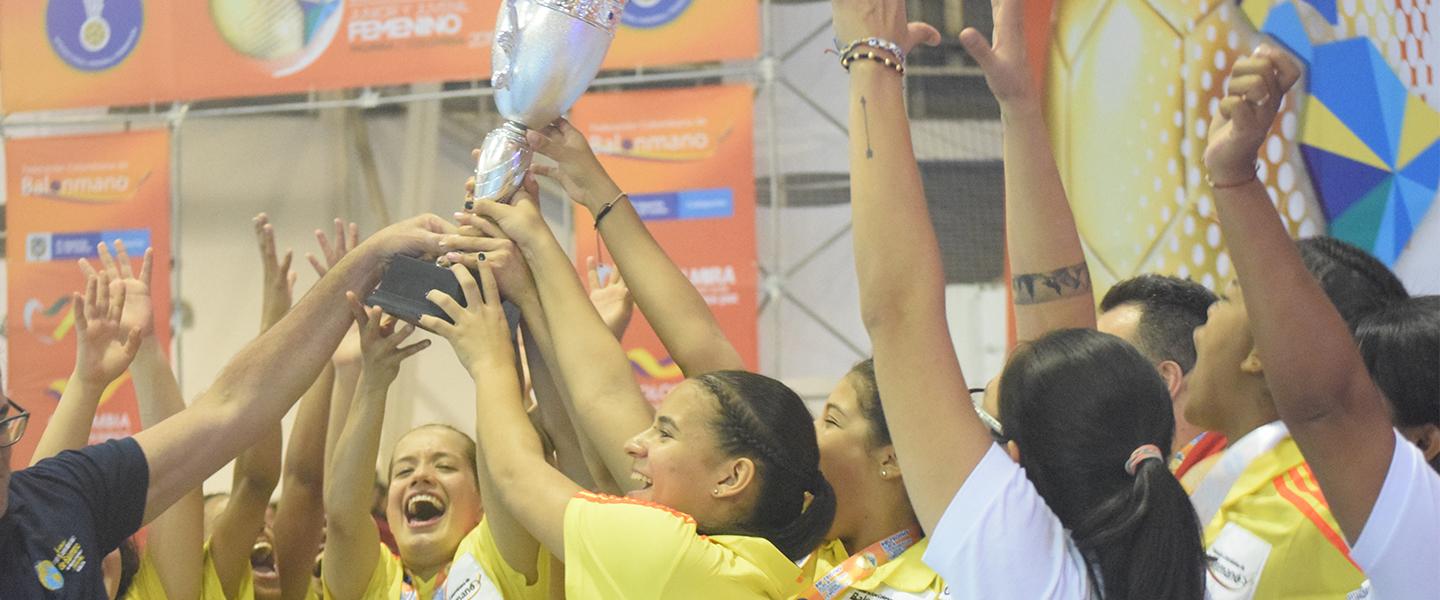 The South American Zone tournament of the IHF Trophy concluded on Sunday in Palmira, Colombia, with the hosts clinching the title in the U17 competition and French Guiana taking the trophy in the U19 championship. 
YOUTH COMPETITION
Following their win on day one and a rest day for the hosts in round two, Colombia added comfortable victories over Peru (26:17), Ecuador (35:1) and Venezuela (32:15) to finish with the maximum eight points. With that result, Colombia topped the table in the round-robin competition and claimed the title. 
French Guiana placed second, with their one-goal defeat to Colombia proving the only blemish on their record. Following their clear win against Peru on day two, French Guiana beat Ecuador 26:9 and Venezuela 36:20, earning six points in total. 
After starting their campaign strong, with two wins in the opening rounds, Venezuela's losses to French Guiana and Colombia decided their fate and settled them into third place. Peru placed fourth following one victory, over Ecuador, who ranked fifth in the U17 category. 
The top scorer in the youth championship was Colombia's Sara Arcila, with 32 goals in the four matches. 
Both Colombia and French Guiana advance to the IHF Trophy South and Central America – Continental Phase. 
JUNIOR COMPETITION
French Guiana came agonisingly close to the title in the youth competition, but could at least celebrate one trophy, as they clinched the gold in the U19 tournament. On top of their win on the opening day in Palmira, French Guiana recorded a 28:19 victory over Colombia and a 20:15 result against Peru. A defeat to Venezuela, 19:25, in their penultimate match, saw French Guiana finish on six points. 
It was enough to take the title, however. The critical win ended up being their result against Colombia, as Colombia also secured six points when they added a third win, versus Venezuela (31:22), on the final day. That victory, combined with their two opening wins, meant the hosts matched French Guiana's record – but the victory for French Guiana in their mutual clash saw them raise the trophy. Both teams qualify for the IHF Trophy – Continental Phase. 
The U19 competition was remarkably close, as the teams that placed third and fourth also collected the same number of points. With two wins each, Peru and Venezuela both finished on four points. Peru's victory in the direct encounter on day two ended up earning them third place. 
Behind Venezuela in fourth, Ecuador rounded out the junior tournament in fifth position after four losses. 
Venezuela's Milangela Tovar finished as the top scorer in the U19 event, with 40 goals. 
FINAL RANKING
Youth competition
1. Colombia
2. French Guiana
3. Venezuela
4. Peru
5. Ecuador
Junior competition
1. French Guiana
2. Colombia
3. Peru
4. Venezuela
5. Ecuador
RESULTS
Participants: Colombia (COL), Ecuador (ECU), French Guiana (GUF), Peru (PER), Venezuela (VEN)
Youth competition
PER vs VEN     23:26
COL vs GUF     18:17
GUF vs PER     37:10
VEN vs ECU     34:10
ECU vs GUF     9:26
PER vs COL     17:26
GUF vs VEN     36:20
COL vs ECU     35:1
ECU vs PER     11:25
VEN vs COL     15:32
Junior competition
GUF vs ECU     31:5
COL vs PER     22:20
PER vs VEN     29:23
ECU vs COL     7:23
VEN vs ECU     49:8 
GUF vs COL     28:19
GUF vs VEN    19:25
ECU vs PER    12:55
PER vs GUF    15:20
VEN vs COL     22:31
 
Photo: Handball Federation of Colombia