Argentina and Brazil claim titles in Buenos Aires
14 Nov. 2022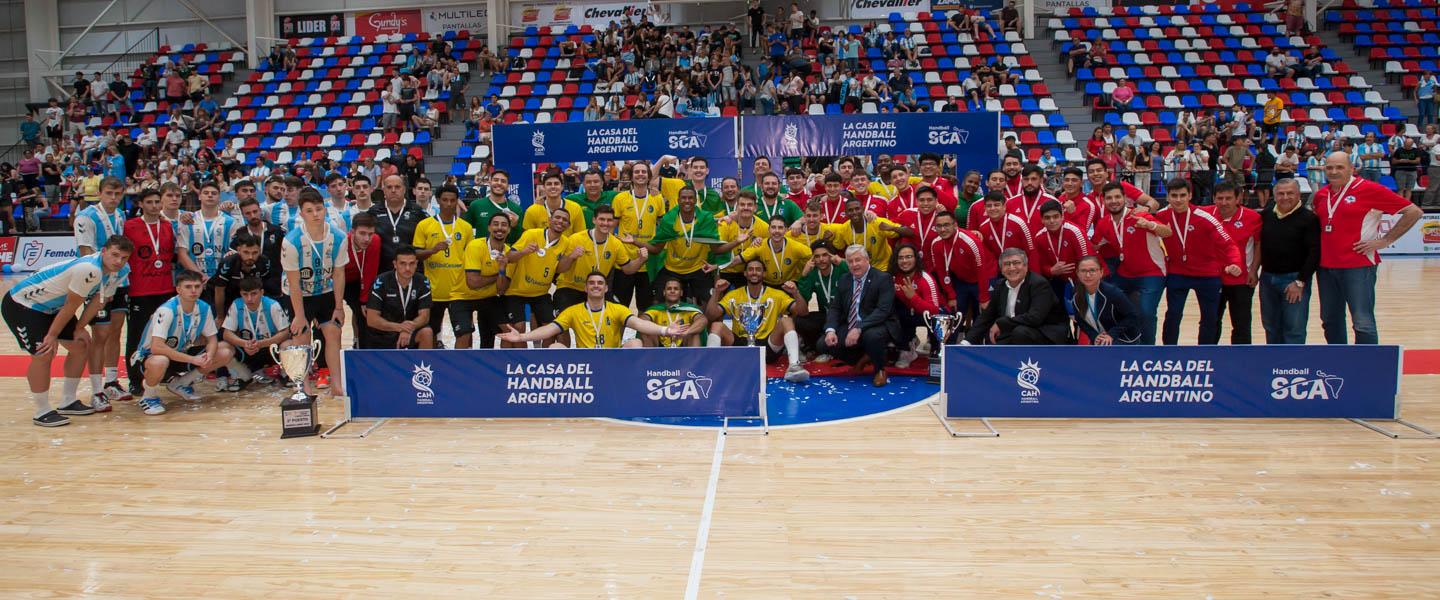 The Continental Championships of South & Central America, which took place in Buenos Aires between 8 and 12 November 2022, came to an end with the finals and the placement matches having been played on Saturday. While home side Argentina claimed the title in the youth age category, Brazil won the junior competition.
In the youth (U18) event semi-finals, Argentina defeated Uruguay 34:20, and Brazil had the upper hand against Chile (39:18). In the final, the hosts were dominant and won 26:19, as they played well in defence and the duo of Nicolas Barcelo and Lucas Obregon combined for 13 goals.
Chile earned bronze after defeating Uruguay 23:19 in the third-place encounter. Nicaragua finished fifth following a 41:37 win in a high-scoring match against Venezuela, and Guatemala took the seventh position as they narrowly beat Paraguay 29:28.
Brazil and Argentina also faced off in the junior (U20) final. In the semi-finals, Brazil defeated Chile 27:17, and Argentina proved too strong for Costa Rica (40:11). 
The decisive match on Saturday was tight, as both rivals were level at 14:14 at half-time. However, after the break, Brazil had an advantage to earn a 27:25 victory and a title. Chile claimed bronze, beating Costa Rica 26:15.
Paraguay and Uruguay fought for the fifth position, and the Paraguayans won the match 30:23. French Guyana defeated Guatemala 30:24 to finish seventh. 
The best three teams in the youth category – Argentina, Brazil and Chile – and Thebes four in the junior category – Brazil, Argentina, Chile and Costa Rica – qualified for the 2023 IHF Men's Youth (U19) and Junior (U21) World Championships, respectively. 
The events also served as qualification tournaments for the Intercontinental Phase of the IHF Trophy for both teams of Guatemala and Paraguay, as well as for the youth teams of Nicaragua and Venezuela and the junior teams of French Guyana and Costa Rica. The best-ranked teams – Nicaragua (U18) and Costa Rica (U20) – were able to book their tickets. 
Final ranking
Youth (U18)
1. Argentina
2. Brazil
3. Chile
4. Uruguay. 5. Nicaragua 6.Venezuela 7. Guatemala 8. Paraguay
Junior (U20)
1. Brazil
2. Argentina
3. Chile
4. Costa Rica 5. Paraguay 6.Uruguay 7. French Guyana 8. Guatemala
Photo: Coscabal/CAH