England Handball asks to #ReclaimTheCourt
04 May. 2021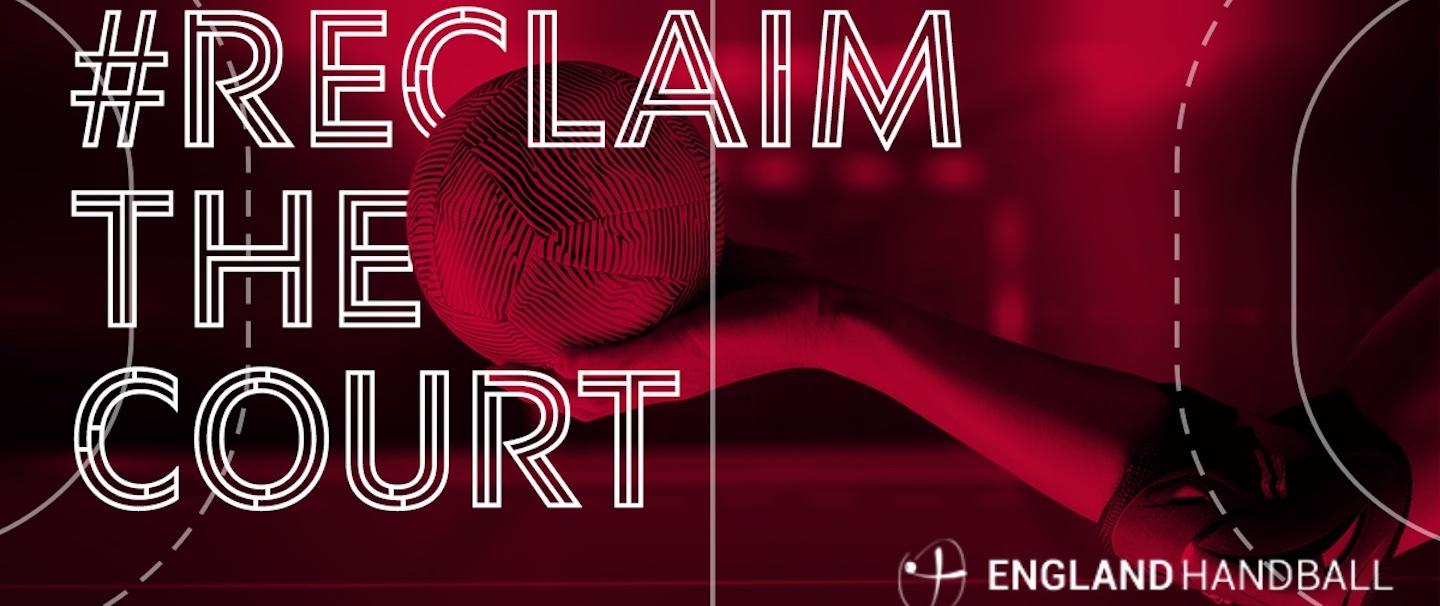 As handball begins to live alongside COVID-19 around the world, England is the latest country looking to get back to full action, with the England Handball Association (EHA) releasing a 'Return to Play Roadmap', featuring four steps towards all restrictions being removed.
Return to Play 
After more than one year since almost all handball activity in England was paused, Monday 29 March 2021 saw Step 1 on the Return to Play Roadmap reached with the return of team training and contact, but only in outdoor settings. 
Step 2 was reached on 12 April with indoor facilities, team training, contact and competition allowed indoors for U18 (juniors) and various other guidance in place for seniors. 
Step 3 which will allow seniors to train and play with contact indoors in front of limited spectators, with face mask and social distancing restrictions removed, is set for 17 May while the final step is set to be reached on 21 June as Step 4 sees all remaining restrictions in place removed.
All steps are confirmed by the EHA ahead of the official change and are based on the UK Government advice and guidance, which is subject to review and change.
#ReclaimTheCourt
Along with reaching Step 2 in April, the EHA launched their #ReclaimTheCourt campaign on social media. 
"Right across the handball community, it's been fantastic to see so many players and clubs playing the sport again," said the EHA on their website when the campaign was announced.
"12 April sees team indoor training and contact return for U18s, which is another important milestone for us to celebrate. We've all missed handball so much over the past year. The shots. The saves. The drama. The teamwork. But we're optimistic about the future and are continuing to look forward to when adults can return to indoor training and competitions.  
"That's why right across the country, we think the time is right to start preparing for the day when we can all #ReclaimTheCourt," it added. "UK Government guidelines suggest it will be 17 May when adults can play and train indoors again, and limited spectators are allowed, so we're keeping everything crossed and counting down the days until we get there. 
"While we wait, what we can do is remind ourselves – and the rest of the country – about all the things that make handball such a fantastic sport.
"But we can't do this on our own. We also need your help to support our campaign and promote the sport of handball across the country and to new audiences. So, we're calling for everyone to get involved, and share our upcoming content to help #ReclaimTheCourt in 2021."
Since the campaign launched, players, coaches and clubs have posted their activities via a variety of social media, adding to the buzz surrounding a – hopefully – imminent return to full action.
??‍♀️ It's been amazing to see handball return with such a bang and to finally see clubs get back to training outdoors!

So this #TBT we're sharing all of your best handball pictures from the past month ? #ReclaimTheCourt #ThrowbackThursday pic.twitter.com/PBHqkX83va

— England Handball (@englandhandball) April 29, 2021
Working towards gender equality
Last week, the EHA hosted an online workshop/forum to encourage women who are passionate about handball to join together to discuss the sport and encourage new female coaches in the sport.
According to the EHA, 40% of their board, management team and registered players in the country are female, but the percentage of female handball coaches is lower.
This reflects a trend in other sports in the UK, with approximately just 10% of coaching positions within the high-performance community held by women, according to the UK Government agency for investment in Olympic and Paralympic sport, UK Sport.
If you're a female who is passionate about #handball, we want to hear from you! ?

We want to encourage new female coaches within our sport, and need your help and feedback to make it happen!

Join our online forum on Weds 28th April at 7pm ??https://t.co/jE3ivKfExW pic.twitter.com/MDOwhZuaOY

— England Handball (@englandhandball) April 27, 2021
According to their own research, the EHA discovered that the number of females applying for coaching roles on the EHA Talent Pathway was low with just 22% of female handball coaches surveyed saying they had pursued an application.
Therefore, the online workshop/forum, led by Stacey Andrews (EHA National Partnerships Manager - Development & Workforce Development) and Ricardo Vasconcelos (EHA National Coaching & Workforce Development Manager) was held and which was a success, discovering how female coaches felt about coaching, the opportunities and barriers in becoming a coach, and what things would encourage them or others to think about becoming a coach.  
In addition to the workshop/forum, the EHA and UK Coaching Level 1 Award in Coaching Handball has been relaunched for 2021 with the new and improved course teaching key skills, knowledge and behaviours needed to become a great handball coach. 
The fight against online abuse
The EHA, along with the Scottish Handball Association and British Handball Association observed a social media boycott from Friday 30 April to Monday 3 May to show solidarity with all those subjected to discriminatory abuse online and to add to the lobby asking social media companies to do more to stop online abuse with proactive, significant action. #enoughisenough
This weekend we'll be joining forces with the sporting community to stand united against all forms of online discrimination and abuse.

Therefore, we will be taking part in a social media boycott from 15:00 today until 23:59 on Monday 3 May.#NoRoomForRacism #StopOnlineAbuse pic.twitter.com/PgzX9tOFYE

— England Handball (@englandhandball) April 30, 2021
For more information, visit www.englandhandball.com.
Photo: English Handball Association