A weekend full of cup action in England
11 May. 2018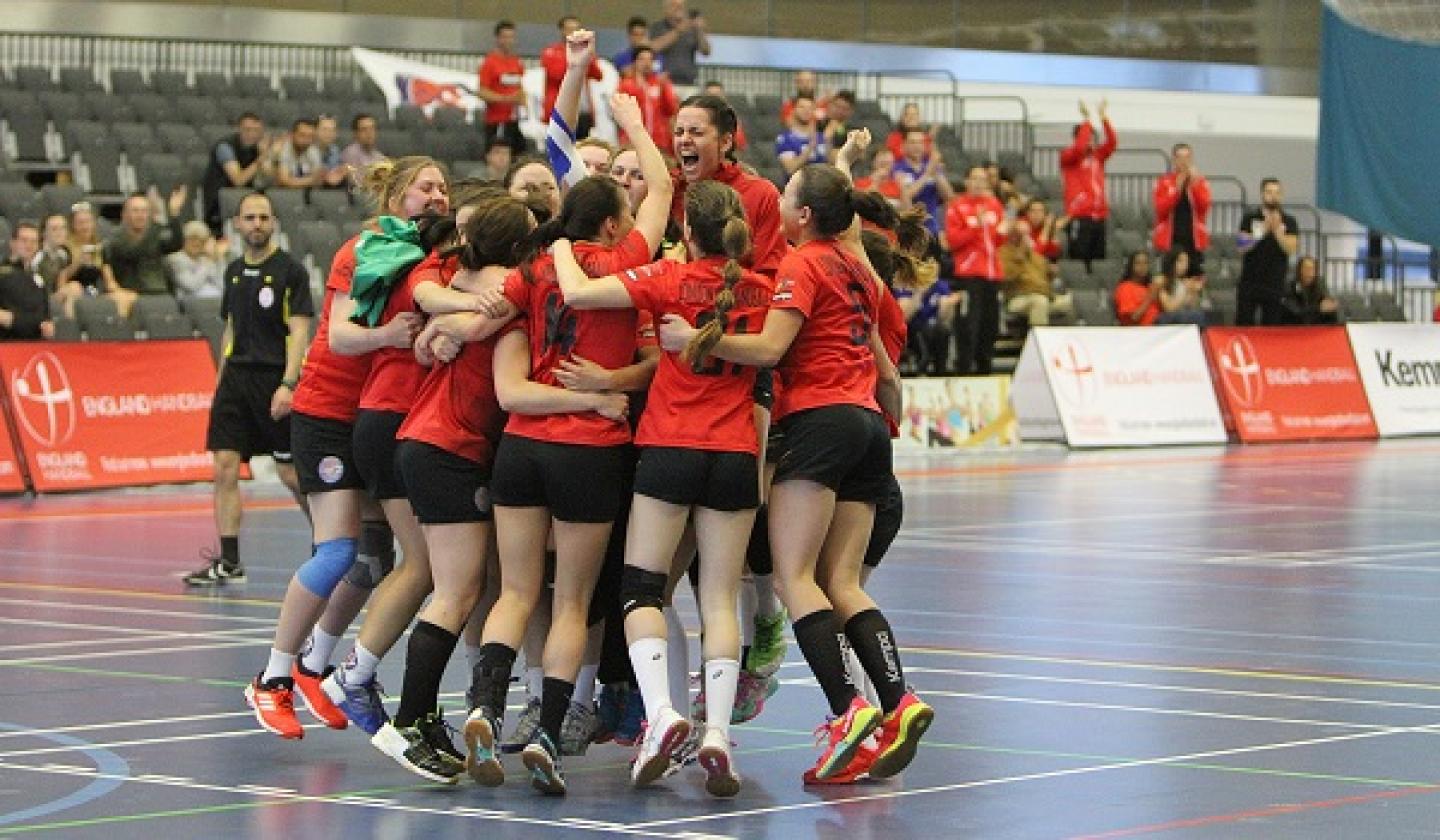 Last weekend saw eight cup finals in England as the England Handball Association held its 'Cup Finals Weekend' at the Derby Arena in the centre of the country.
The weekend was split into two days of competition. On Saturday 5 May the Men's and Women's National Shield matches along with the U19 Boys and Girls Cup Finals took place and on Sunday 6 May it was time for the U16 Boys and Girls Cup Finals and Men's and Women's National Cup Matches.
Those last two games - the men's and women's national cup finals - were streamed live on national broadcaster BBC, helping to further widen and stretch the knowledge and fanbase of handball throughout the country.
On the opening day, Coventry Sharks overcame Guildford in the Men's National Shield 28:19, while in the Women's National Shield Reading easily beat Loughborough University 24:10 with Alina Popescu scoring nine for the winners and being awarded MVP.
In the U19 finals, Warrington Wolves saw an MVP performance from their goalkeeper Jack Booth help them to a 37:23 win over NEM Hawks and in the girl's competition, Olympia Cannock held on long enough to squeeze past Stroud 24:23, thanks to nine goals from Athalia Ibanga.
The second day of competition saw an extremely tight opening match in the U16 Boys Cup Final with Shropshire eventually overcoming Poole Phoenix, coached by London 2012 Olympian John Pearce, 24:23. Shropshire had their goalkeeper William Slingsby to thank for a strong display in the nets and he was awarded the MVP for his efforts. In the girl's competition Stroud beat Ealing, coached by London 2012 GB Women's Handball Manager Melanie Chowns,13:10. Stroud's Holly Luke was rewarded for her top-scoring performance with the MVP award.
The final two matches of the weekend were broadcast live on the BBC Sport website and, like all previous matches, featured live commentary from ehfTV Commentator and Ireland international Chris O'Reilly, assisted by London 2012 GB men's handball player Mark Hawkins, who, most recently was the lead analyst with the China women's national team at the 2017 IHF Women's World Championship in Germany.
The Women's National Cup Final saw Coventry Sharks dispatched by London GD 23:17 to make it a Women's Premier Handball League and National Cup double for the team which were set up back in 1976 by Danish expatriate students in England and originally called 'Great Dane (GD)'.
Their men's team swiftly completed the double as they won 31:24 in their match against NEM Hawks to also complete the English league and cup double and continue London GD's dominance in England as the senior handball team to beat.
"The handball finals weekend was a great success," said England Handball Association Chief Executive David Meli. "All the games were really competitive with many going down to the wire.
"It was also great to have games streamed live on the BBC which was a first for England handball and the sport in this country. There are a whole host of people to thank, including all the teams and their supporters, the staff at Derby Arena, the referees, the streaming and commentary team, and the England Handball Events staff."

RESULTS
Saturday 5 May           
         
Men's National Shield
Guildford vs Coventry Sharks 19:28
 
Women's National Shield
Reading Lionesses vs Loughborough University 24:10 

Under 19 Boys Cup Final
Warrington Wolves vs NEM Hawks 37:23
Under 19 Girls Cup Final
Stroud vs Olympia Cannock: 23:24
 
Sunday 6 May 

Under 16 Boys Cup Final
Shropshire vs Poole Phoenix 24:23
Under 16 Girls Cup Final
Ealing vs Stroud 10:13

Women's National Cup Final
Coventry Sharks vs London GD 17:23

Men's National Cup Final
NEM Hawks vs London GD 24:31
 
For more information about handball in England, visit www.englandhandball.com.
 Photos: England Handball Association