Croatia and Poland qualify for the 2023 IHF Men's Junior World Championship
09 Jan. 2023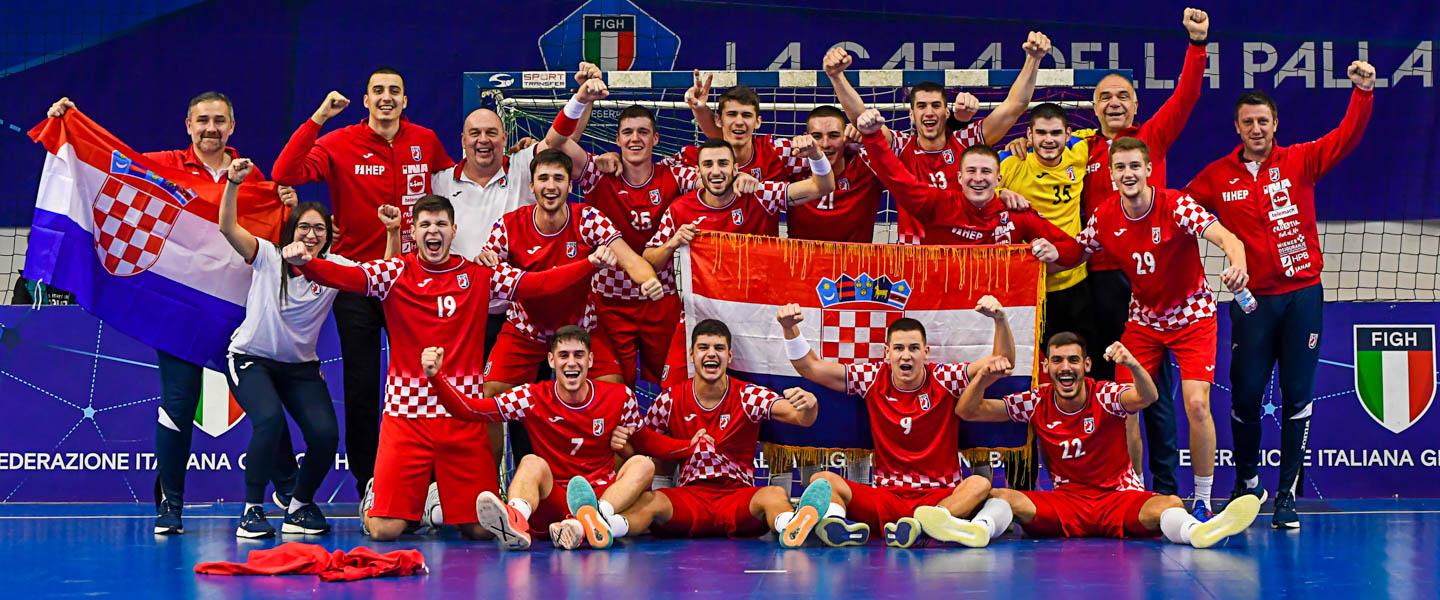 29 of the 32 teams that will take part in the 2023 IHF Men's Junior World Championship have now been decided. Croatia and Poland earned their tickets to Germany/Greece 2023, winning their respective Qualification Phase tournaments, which took place in Chieti, Italy, between 6 and 8 January 2023.
Croatia, the runners-up at the previous edition of the competition held in Spain four years ago, failed to punch their ticket at the M20 EHF EURO 2022 but were flawless this time around, pulling no punches.
They started with an excellent 36:25 win over Israel, took a clear 37:24 win over Montenegro and finished everything off with a flawless 33:16 win over Italy.
After two strong wins, Croatia were virtually through but started the first half against Italy on Sunday evening with a bang, boasting a 17:6 lead at the break. As Petar Lulić and Karlo Jurić each scored six goals, Croatia were unstoppable, eventually sealed a 33:16 win and secured first place in the group, which meant a ticket for Germany/Greece 2023.
Israel, who boasted the top two goal scorers in the Qualification Phase, as Or Refael Levi and Nadav Cohen each scored 23 goals, finished in second place with wins against Italy (34:27) and Montenegro (42:30), while the hosts ended up in third place, failing to weather the storm against Croatia and Israel after a strong 29:23 display in the first match against Montenegro.
Croatia qualified for the final tournament of the IHF Men's Junior World Championship for the ninth time in history and for the third time in a row after securing their first-ever medal at Spain 2019, when they took the silver medal after conceding a 23:28 loss against France.
The second tournament, which had a three-team line-up, was even more balanced, with a dramatic finish that enabled Poland to celebrate their return to the IHF Men's Junior World Championship for the first time since 2003.
A 33:25 win over the Czech Republic on the first day of the tournament was crucial for Poland's ambitions, as their main rivals Norway could only muster a 25:20 win against the Czech side on the second day, which meant that Poland needed only a draw against the Scandinavian side to clinch a berth by virtue of their superior goal difference.
Everything was set for an excellent match between Poland and Norway, and the two sides did not disappoint. Poland took a 15:10 lead at the break, only for the Scandinavian side to mount an outstanding comeback in the second half, which they started with an excellent 13:7 run.
With an eight-goal outing from Johannes Gurich, Norway led by three goals with 115 seconds to go, and the berth looked to be clinched. Yet handball is an unpredictable sport and Poland's Marcin Gluszczenko scored his two goals in quick succession to tie the match, 28:28, and hand his team the berth for Germany/Greece 2023.
Croatia and Poland join 12 other European sides – co-hosts Germany and Greece and Denmark, the Faroe Islands, France, Hungary, Iceland, Portugal, Serbia, Slovenia, Spain and Sweden – in the final competition, due to take place in Germany and Greece from 20 June to 2 July 2023.
Four Asian sides – Bahrain, Japan, Kuwait and Saudi Arabia –, four African sides – Algeria, Angola, Egypt and Tunisia – and four sides from the South and Central American Confederation – Brazil, Argentina, Chile and Costa Rica – have already made it through.
Last but not least, Cuba and the United States will represent the North American and Caribbean Confederation, while Australia will also make the trip after winning the IHF Trophy Oceania.
Photo: Vanni Caputo/FIGH