Three berths for Poland/Sweden 2023 play-offs awarded last weekend
10 Jan. 2022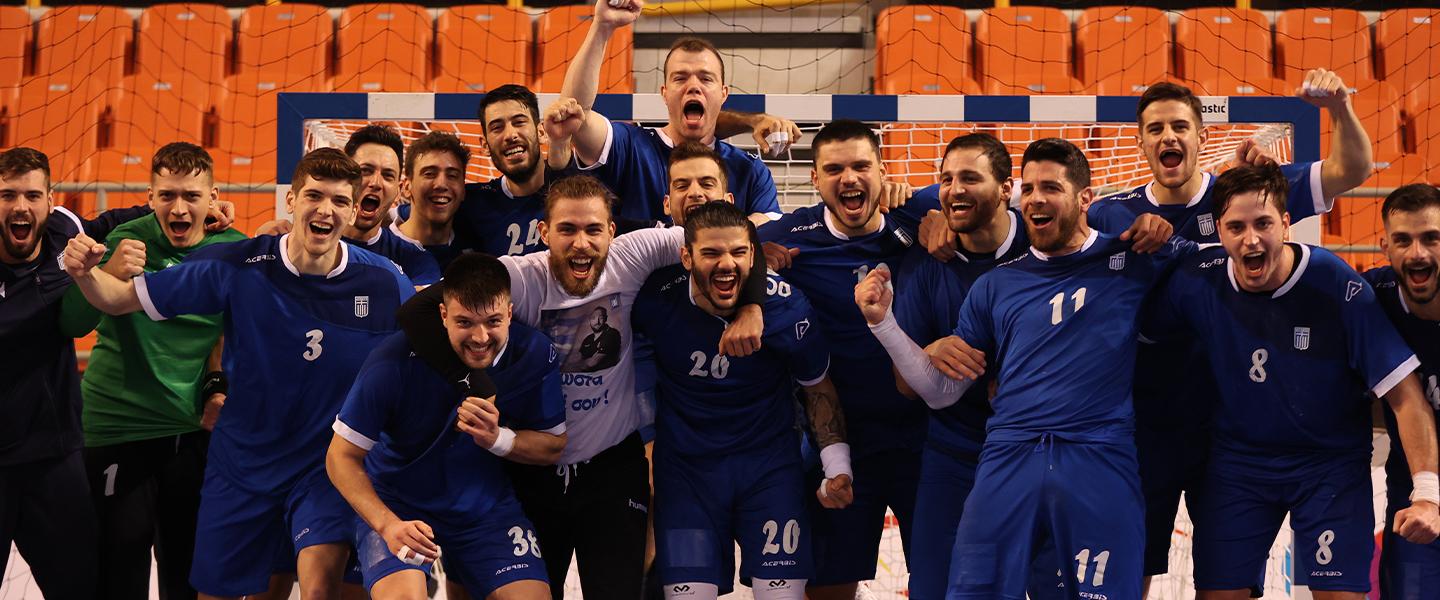 Just over a year is separating us from the start of the 28th edition of the IHF Men's World Championship and the qualification phase of the tournament is well underway.
With hosts Poland and Sweden and reigning champions Denmark having already secured their berths, 29 places are still open, as the Qualification Phase 1 for European teams is slowly drawing to a close.
Three more berths for the next phase of the European qualifiers were awarded last weekend, after Greece went four for four in Group 1, while Romania and Israel progressed from Group 3.
Playing at home in Cluj-Napoca, Romania swept their opponents Israel and Moldova, after Cyprus, a team that was eyeing a play-off berth, did not travel to play in Group 3 due to several positive COVID-19 cases in their squad.
The inexperienced Moldova team, who took part in this phase of the competition for the first time ever, had little chance against both Israel and Romania, conceding two heavy losses, 31:42 and 23:33, respectively.
Therefore, Romania and Israel, who finished on the top two places in the group, clinched the play-off berths, with the hosts securing first place after taking a 33:30 win against Israel in the first game.
"We need time and matches with strong opponents to keep the rhythm for the whole game. Now, we will be facing difficult opponents in the next phase, but I believe in the team," said Romania's coach, Xavier Pascual.
Four matches were also played in Group 1, the only one which is played in a round-robin format rather than a three-day tournament, as Greece clinched the first berth for the next phase of the competition after two wins against Kosovo, 21:20 and 26:25.
Greece are sitting in first place in the group with eight points, four more than second-placed Turkey and five more than third-place Belgium, with only two matches to go.
"The best is still ahead of us. We must keep our head down and work harder in the next months," said Greece's top scorer in the last game against Kosovo, Charalampos Malios.
The battle for the second berth will be a treat, though. Turkey are now in second place with four points, one more than Belgium and three more than Kosovo.
Turkey will face Kosovo on 12 January and will host Greece on 16 January, while Belgium travel to Greece on 13 January and host Kosovo two days later, as the two teams will battle for the second berth.
Last week, Turkey took a 30:25 home win against Belgium, but failed to secure their berth in the away game, which they lost 28:37.
The remaining two play-off berths will be decided in Group 4 in a round-robin tournament, which will take place in Torshavn from 14 to 16 January. Hosts Faroe Islands will lock horns with Latvia, Italy and Luxembourg, looking for their best-ever result in the IHF Men's World Championship Qualification Europe – Phase 1.
Visit eurohandball.com for more information on the IHF Men's World Championship Qualification Europe – Phase 1.