Perfect record earns Croatia top of Group A
12 Aug. 2019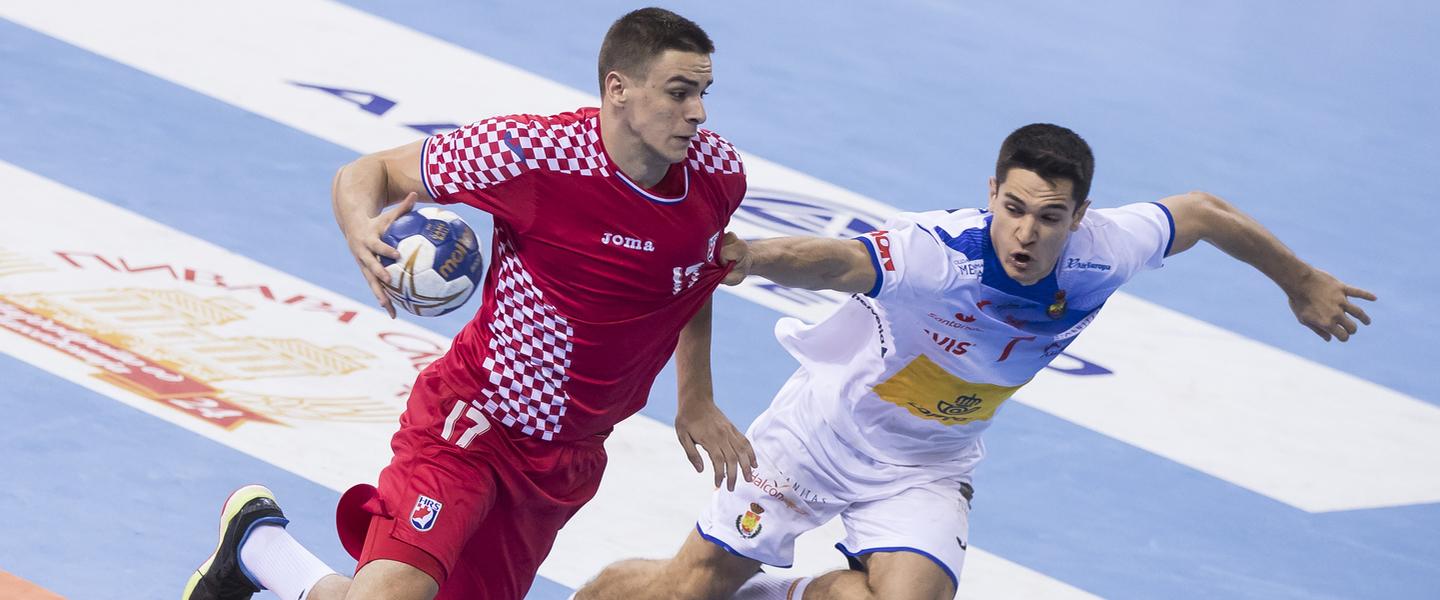 The 2019 IHF Men's Youth World Championship preliminary round in Jane Sandanski Arena concluded with a spectacular match between Croatia and Spain, which ended with Croatia securing their fifth victory in five games and taking their points tally to the maximum 10. 
The result means that Croatia place first in Group A, while the four-goal difference means Norway move to second and Spain drop to third. Slovenia round out the group's eighth-finalists in fourth position. 
GROUP A
Croatia vs Spain 26:22 (13:11)
Croatia entered round five with a perfect record of wins, while Spain were unbeaten but had drawn in one game, versus Norway. Both sides had the opportunity to top the group with a victory, and a draw also would have been enough for Croatia. The result was an outstanding showcase to close the first phase of the 2019 IHF Men's Youth World Championship. 
Croatia were expected to be the stronger side, but Spain proved a worthy adversary. Croatia came out stronger, taking a 3:1 lead by the eighth minute – a distance that proved important as the minutes ticked on. As Spain started to match Croatia's speed and their offensive defence picked up, they played on more level footing, and the score line thereby remained the same two goals at the break. 
Both goalkeepers – Stipe Puric for Croatia and Roberto Rodriguez Lario for Spain – made some impressive saves, but they were not the stars of the opening half. Scoring progressed slowly, however, as each side had to work long and hard to create clear shooting chances. 
The opening half was dominated by the back courts, with Spain centre back Ander Izquierdo Labayen scoring four goals and Croatia's Ivan Rukavina causing havoc in the defence he faced, tallying five goals in the opening 30 minutes. When the match resumed, it seemed Croatia coach Sinisa Markota was quite confident of his team's ability to collect the victory, as Rukavina and ever-reliable wing Fran Mileta sat on the bench. 
Markota seemed to be correct, as Croatia pulled ahead to 16:12 by the 38th minute, and their comfortable lead stayed around that same distance for the remainder of the game. Just inside the last quarter, the score board showed 19:15, and when Croatia's second keeper Fran Lucin came in to face a penalty shot in the 50th, his save kept the score at 20:16. 
Spain never gave in and pushed the match right to the dying minutes. Croatia certainly felt the pressure, as their rivals closed the gap to just two goals, 23:21, in the 58th. But the match was won in the 59th minute, when Veron Nacinovic pulled Croatia to a three-goal advantage that Spain could not counter so late in the game. 
Player of the match: Veron Nacinovic, Croatia