Top scorer Cupic turns back time with outstanding performance
14 Mar. 2021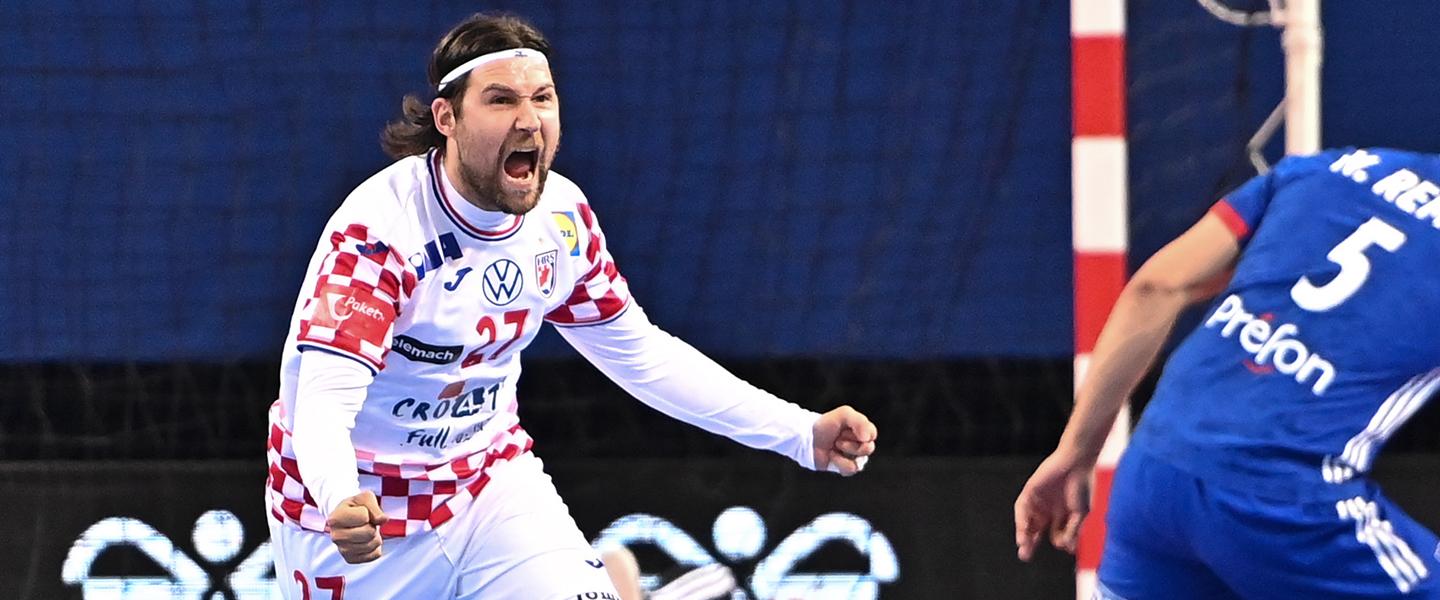 13 years ago, Ivan Cupic was breaking through the ranks as one of the top right wings in Europe and would have been a member of the Croatian team at Beijing 2008.
However, an accident meant that Cupic was not able to join his side at the Olympic Games, at which Croatia finished fourth after losing the bronze-medal game against Spain.
Stumbling near a fence, Cupic tried to regain his balance, but grabbed the fence, which pierced his left ring finger. It meant that his finger was amputated and the Olympic dream was gone.
Fortunately, it did not mean the end of what proved to be an illustrious career for Cupic. 
A three-time EHF Champions League Men winner, the 34-year-old right wing also became an integral part of Croatia's challenge for medals, winning a bronze at the Olympic Games in London 2012, a silver medal and a bronze at IHF Men's World Championships and two silver medals and bronze medals each at the Men's EHF EUROs.
Now, Cupic is turning back time at the Tokyo Handball Qualification 2020, trying to pursue his Olympic dream for what could be the last time in his career.
Croatia are by no means an attacking juggernaut, relying on their defence to win games, as displayed against both France and Portugal.
Their 51-goal tally in the first two matches at the Tokyo Handball Qualification 2020 is the second lowest of the 12 teams that take part in the three tournaments in Podgorica, Montpellier and Berlin – only one goal more than Brazil.
If the Croatians are still in with a chance to progress to Tokyo, though, it is all down to Cupic.
No other player has scored more goals this weekend than Croatia's right wing, with the RK Vardar player putting 19 goals past the opponent goalkeepers, seven more than Germany's Marcel Schiller, who is currently second top scorer with 12 goals.
With an outstanding 95 percent efficiency, missing only one shot against France and converting all 10 penalties, Cupic might be Croatia's answer to a misfiring back line, with Domagoj Duvnjak, Luka Cindric and Igor Karacic combining for only 13 goals from 25 shots.
Indeed, Cupic singlehandedly kept Croatia in the game against France on Friday and fueled the comeback against Portugal on Saturday.
The 34-year-old right wing is turning back the clock, donning vintage games one after another. It might be retribution after a below-average performance at Egypt 2021, where he scored 16 goals in five games. The stakes look higher and Cupic knows it.
"We lack continuity, we are not competitive throughout the whole games. Rest is an issue, but we need to be better. We should play exactly like we did in the second half against Portugal in all games," said Cupic after the win against Portugal.
His 19 goals took him to a 572-goal tally for the Croatian side, up to the seventh place in the all-time scoring list, passing Blazenko Lackovic and Vedran Zrnic, both Olympic champions at Athens 2004.
Cupic needs only ten more goals to top teammate Zlatko Horvat, who did not take the court in the first two games. Mirza Dzomba's record of 719 goals, which will probably be toppled by Domagoj Duvnjak, currently at 714 goals, is still a long way.
Yet Cupic lives in the moment, not fazed by the fact that Croatia's fate is out of their hands. Portugal can end the Croatian dreams with a win against France.
"We must win against Tunisia and then we will see what happens. After we win, we can see if this is enough for Tokyo," concluded Cupic.
Photo: FFHandball / Icon Sport