Group I and Group IV to decide four last quarter-finalist
07 Aug. 2023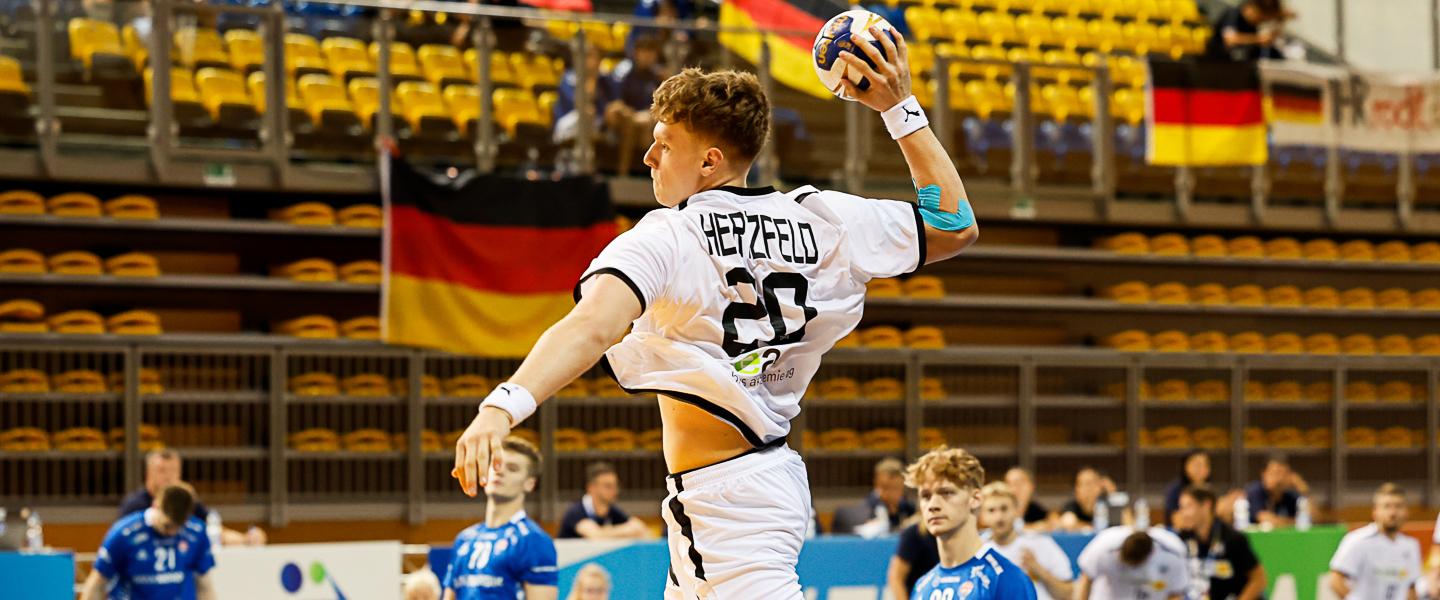 Koprivnica and Rijeka found out their quarter-final participants after the first day of the main round – Egypt, Spain, Denmark and Norway will fight for the first place in their respective groups. Hosts Croatia have a strong starting point in Group I, with almost both feet in the quarter-finals as they take on Hungary, who have a chance of progressing further, just like Portugal and Slovenia. The most alluring matches of the main round are in Opatija, where all four countries - Germany, the Faroe Islands, Saudi Arabia and the Islamic Republic of Iran have a chance to qualify for the knock-out stage.
Group I
17:30 CEST Portugal vs Slovenia
Portugal came into the main round without points, just like their opponents Slovenia as both failed to beat the favourites of the group. However, after an amazing comeback against unbeaten Hungary, Portugal stayed in the run for the quarter-finals and will have to conquer Slovenia.
The Portuguese side has one of the most efficient attacks in the competition, scoring 37.25 goals on average per game and Nuno Oliveira and Tiago Sousa will go head-to-head against Slovenia, whose defence is in the top six with 22.75 conceded on average. Slovenia, with zero points in the group, have almost low chances for the quarter-finals and need a win by at least seven goals and wait for Croatia to beat Hungary, but it wasn't just once handball produced the most amazing stories.
"The game against Slovenia is extremely important. Let's see if we manage to recover because we didn't change much in the team and almost all players were subject to a great physical and mental effort during the match against Hungary. I think that Hungarians have better players, but Slovenia's team is more combative, so we'll see how we will cope with them," said Portugal's head coach Nuno Santos for portal.fpa.pt.
Slovenia are coming in after two straight defeats at the competition, and lastly, against hosts Croatia and will have to produce their best offensive display if they want to keep the dream alive. Their leader on the court is still Luka Kačičnik, with 20 goals scored in four games as Nejc Hriberšek follows him.
19:30 CEST Croatia vs Hungary
Hosts, Croatia lived up to their expectations so far, having a perfect streak at the competition. The second-best attack of the competition and the third-best defence have the best chance of progressing to the quarter-finals but winning over Hungary would just seal the deal and place them on top of the group.
Led by centre back Vito Glivetic, Croatians, with the great help of their fans, managed to break Slovenia in the second half of the game. Without the rest day but with nothing much to lose, they will continue their hunt for the medal.
They know Hungary very well, and goalkeepers with strong defence in front of them could be another crucial link in their win. Not only they met through friendly matches in the past year, but they also entered the fray at the M18 EHF EURO 2022 when Croatia were the victorious side (28:25).
Hungary are still on the hunt for their best placement ever, which is fifth place in 2019, but they will have a hard time. While their defensive forces are up for the task and have conceded only 21,75 goals per game on average, if they want to beat Croats, they must produce more easy shots and breakthrough Croatia's defence while stopping their fast breaks and steals.
Group II
17:30 CEST Czechia vs Brazil
Czechia and Brazil are out of the quarter-final race after their defeats against Spain and Egypt, respectively. Debutants from Europe will try to get back to winning to secure the battle from 9th to 12th place and send Brazil into the ranking from 13th to 16th place.
M18 EHF Championship 2022 winners made good progress at Croatia 2023 and won all the games they could. Taking on powerhouses like Spain is still a dream, but they never backed down and were giving their maximum on the court. Czechia can count on goalkeeper Pavel Dufek who has an average of 34% save efficiency, but also on the attacking duo Filip Matouš and Jonáš Josef.
Brazil clinched the main round spot with a 28:22 win over Bahrain and a lucky 31:30 win against the Republic of Korea. Against Egypt, Brazilians couldn't keep up from the start as their opponents needed only eight minutes to make a decisive goal run.
Now, Brazil have to redeem themselves against Czechia, but even if they fail, they are still on the course of topping the country's two last results at the IHF Men's Youth World Championship. Mikael Lopes Candido remains their best player on the court, now with his tally at 22.
Egypt and Spain both confirmed their quarter-finals spots after extending their winning streak at the competition. Now, they will decide who will win the first place in the group. Reigning world champions did not break a sweat against Brazil, beating the South American side 38:23. Egyptians, so far, looked powerful in both ways and were delivering just enough to get by. The only tight game they had was against Iceland in Group C.
Play based on strong back shooters, good goalkeepers and fast-paced handball when needed, Egypt have five players who have scored ten or more at Croatia 2023, giving them a wide choice of tactical choices. They are going against the Spaniards, who were equally successful in Group D with the latest victory over Czechia.
Spanish strongest link of the attack is Victor Romero Holguín, who was more than successful in penetrating his opponent's defences. However, Spain have a slightly less effective attack than the Egyptians, but they do have the fourth-best defence of the competition, giving them a good starting point in the game where they don't have anything to lose.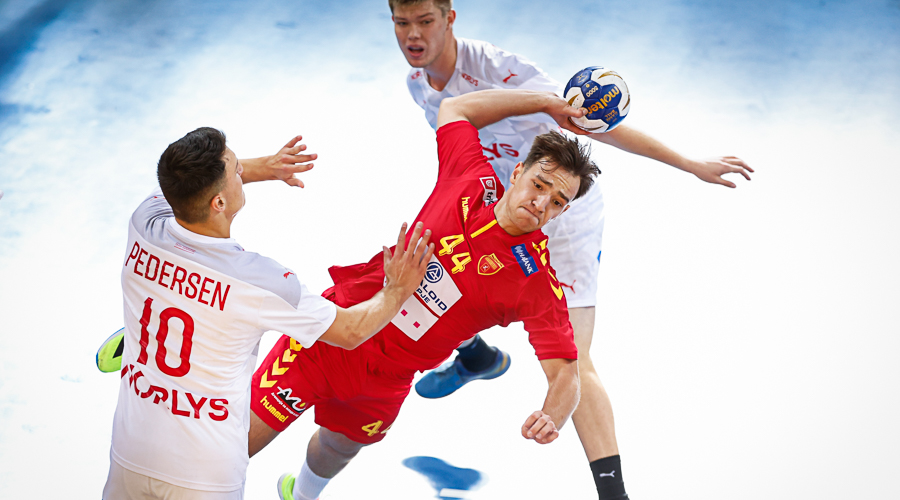 Group III
17:30 CEST Austria vs North Macedonia
Scandinavian countries were too much of a task for North Macedonia at the 10th IHF Men's Youth World Championship. After a 25:27 defeat against Norway but a great battle, Denmark didn't have a problem overrunning Macedonians and sending them into the placement matches. Despite losing against stronger opponents, North Macedonia are looking forward to the game versus Austria.
The country of many handball talents hopes they will again show their fighting spirit. Mirche Kalajdijeski and Nenad Belistojanovski were the main power outlet for the Balkan side so far, but to win against Austria and go into the hunt for ninth place, they need their goalkeepers to repeat the strong performances they had in the first two games of the group phase.
Austria, who just like their opponents, qualified for the competition by winning their respective M18 EHF Championship 2022, also aim to go into the upper placement matches. If they succeed, they will set their new best placement at the World Championship after ranking 16th in 2019.
Austria's game relied not only on back shots but also on producing fast breaks, especially producing them for Elmar Böhm. Linz AG's left wing is Austria's top scorer with 22 goals scored, 12 from the fast breaks.
Alongside Egypt and Spain, two Scandinavian sides also confirmed their quarter-finals spots already after the first game of the main round. The two sides will clash in Rijeka with nothing to lose but only to gain, without pressure on their backs.
As the third attack of the competition, Denmark will clash against the team with the same defence. With a similar style of play and recognisable fast-paced handball, the Scandinavians are aiming not only for a win but for a more tactical approach and maybe resting the best players. However, Lasse Sunde Lid and Marius Olseth, both with 24 goals scored so far, will most definitely be inspired to add as much to their tally as possible.
Danish and Norwegian players also met at the M18 EHF EURO 2022 in the group phase, with Norway winning by the narrowest of margins (32:31). Centre back Emil Oxenvad Tonnesen scored seven in that game while at Croatia 2023, he's on 13, so far. The Danish attack is led by Frederik Emil Pedersen, who has an average of 6,75 goals scored per game, and the team has an almost entirely new squad for this competition, so far is living up to the expectations.
Group IV
17:00 CEST Saudi Arabia vs Faroe Islands
In the most challenging group of the main round at Croatia 2023, Saudi Arabia and the Faroe Islands are the first ones to step onto the scene in Hall Marino Cvetković in Opatija. Both sides are coming after spectacular wins against favourites on the paper, Germany and the Islamic Republic of Iran. Boosting in confidence, it is yet to be seen which side will drive on that fuel.
The Faroe Islands have two consecutive tough wins. They eliminated Sweden from the main round and inflicted the first defeat to the perfect Germans after a strong offensive display backed by goalkeeper Aleksandar Lacok. Winning over Saudi Arabia would see debutants of the competition in the quarter-finals. Maybe even a tie will be enough, depending on the outcome of the later game between Germany and Iran.
The current competition's top scorer Oli Mittun is the main threat to the Asian side. An instrumental player for the remarkable result has scored 12,5 goals per game on average. However, he will clash with his first contender, Hussain Furaij, who is on nine goals.
Furaij was the key player in Saudi Arabia's path to the main round, especially against their long-time rivals Iran, when he netted 12 times. With a win against the USA and a draw against Argentina, they already made a huge step forward after placing 20th in their first-ever flagship competition in 2019.
19:00 CEST Germany vs Islamic Republic of Iran
Germany looked unbeatable as they cruised to each win, but they stumbled upon the Faroe Islands at the start of the main round. Emir Kurtagic's team had trouble with the opponent's defence while trailing by seven. However, the Germans showed their character when they returned to the game near the end. Still, Germany remains on the top regarding goals conceded and will try to break Iran's main weapon - Amirhossein Karami.
Even though it wasn't his best day at the office in the last game, Marvin Siemer is still leading the German's attack with 27 goals scored, while his teammate Fritz Haake is among the top 5 players by the number of assists.
"We have to regenerate quickly and put this game behind us because we don't have much time for analysis either. Against Iran, it's a new game, a new luck. We must keep our heads high, and we have to give 100% again," said German head coach Emir Kurtagic for handball.net.
The Islamic Republic of Iran were the surprise of the competition when they came into the main round with two points, and they had everything in their hands while leading by seven against Saudi Arabia. However, their rivals managed to make a great comeback leaving them empty-handed and with a more complicated situation.
Photos: Croatia 2023/Kolektiff images