Engineering a dream: Filip Glavas
23 Jan. 2023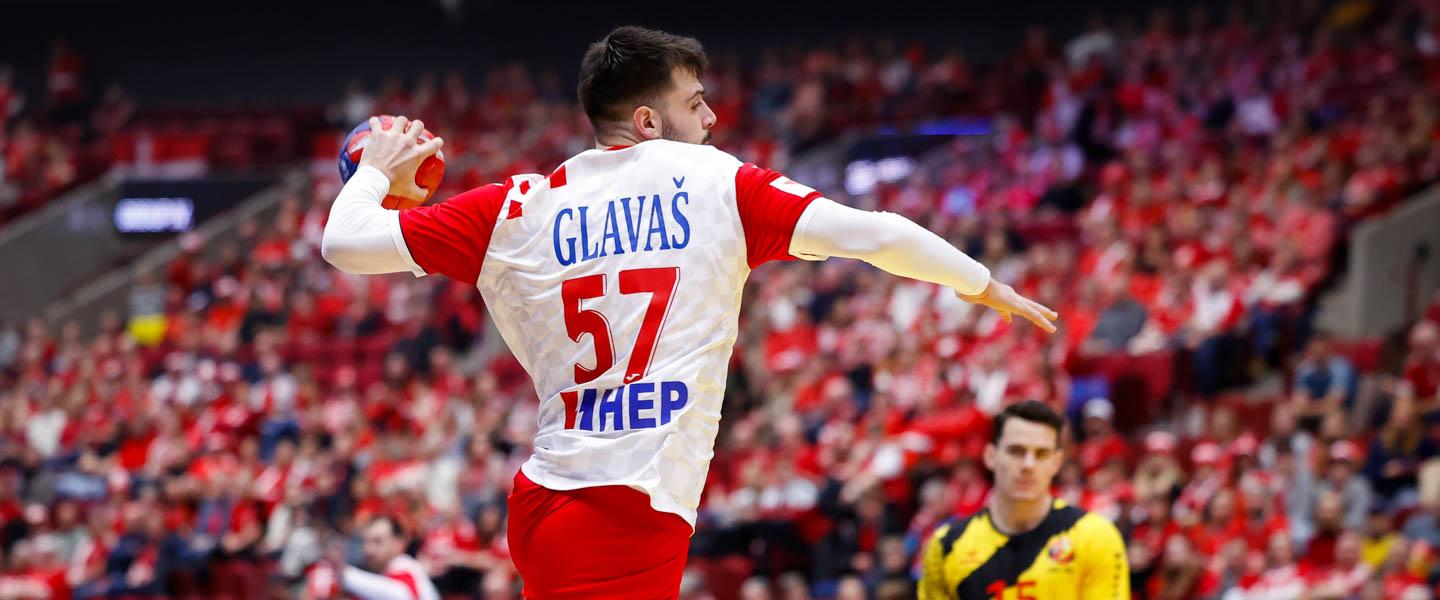 "'Let it Be', as The Beatles said."
That is not your usual answer in a handball interview, but Croatia's right wing Filip Glavaš is not your usual handball player.
He is the only player in the Croatian 35-man squad to play in Slovenia (for RK Trimo Trebnje) and the only one who holds a Bachelor's degree in Mechanical Engineering and Shipbuilding.
But more on that later.
The 25-year-old was quoting lyrics from the world-famous English band for a reason – he and his teammates have a crucial final main round match against Bahrain on Monday (22 January) night.
They can still progress to the quarter-final of the 2023 IHF Men's World Championship, but they need to win against the Asian side and hope for Egypt to beat Denmark in the next match. And then look for some mathematical turnaround.
It is unlikely, but not impossible. More likely is the possibility to qualify for the Paris 2024 Olympic Games handball qualification tournaments.
Officially, the winner of Poland/Sweden 2023 qualifies directly, with places 2-7 going into the tournaments. However, with France as hosts and Egypt potentially taking a direct place as continental winners, qualification places could move down a little.
"Even before the championship, our goal was at least ninth place, because that would mean qualification for the Olympic tournaments," said Glavaš to ihf.info.
"We need to win against Bahrain by, I think, a 22-goal difference. We are dreaming. We are ready. We will give it our best. Let it be, as The Beatles said. If you don't dream, what do you have?"
While Glavaš, his team and fans of Croatian handball have dreams, they have to focus on facing Bahrain next.
"They're a very good physical team who play a lot of one-on-ones, but hopefully not on the wing," said the Rijeka native, smiling.
"That's their main focus, their main strength; they play a lot of one-on-one. They are not running that fast, but we still need to be careful. It will be a very tough, energetic game from our side. We need our transitions to be good, because then we can solidify in defence."
Croatia's experience so far at Poland/Sweden 2023 can best be described as inconsistent.
A 22:31 opening-day defeat against Egypt was a disaster, but it was quickly followed – if not forgotten – by expected wins against the United States of America and Morocco.
Then came Denmark in their opening main-round clash. A team which have won back-to-back titles and at that point gone 23 IHF Men's World Championship matches unbeaten.
What followed next was perhaps the most exciting, high-level match of the championship – a 32:32 draw, with Croatia leaving the court wondering what might have been if Luka Cindrić's last-second shot had not gone over the bar.
"That first match? It was on Friday the 13th and I still can't get over it. It's a bad feeling, but it will pass; it's fine, we have to go on," says a candid Glavaš about the defeat to the north African side.
"It's been a roller coaster of emotions here, definitely. Bittersweet. Against Denmark, we gave it our all. It was a wonderful feeling and a wonderful match. Maybe we are a little bit empty emotionally right now, but I've been dreaming about this all my life, so I put that in my mind and then there's no obstacle that I can't surpass."
That dream is to play for his country, and Poland/Sweden 2023 represents the first time he has represented Croatia at an IHF Men's World Championship. It also marks the first time Hrvoje Horvat leads the side as head coach, having been assistant to Lino Červar at Egypt 2021.
"I have to give him a huge amount of respect for even inviting me, for giving me the opportunity to play for the national team," says Glavaš about his relationship with Horvat.
"I can only thank him. Our relationship is awesome. We're always joking when we can and then serious when we need to be. We are giving 100% from both sides, analysing and improving every day.
"Every day we have the possibility to learn something new; it's an awesome relationship with an awesome coach in an awesome atmosphere," he added.
"It's his first World Championship as head coach and the main focus was to get to the Olympics because we missed that competition and we don't want to miss it again. I think tomorrow that goal will be achieved, so for me, he has done a good job and I have all the best wishes for him."
After impressing, especially in the Denmark match, with 8/8 goals to shots, Glavaš quickly dispelled any personal praise to Croatian media, instead urging them to focus on the team as a whole. However, a look at his own individual statistics highlights an impressive number.
With 15 goals from 15 seven-metre shots, Glavaš has a perfect record from the spot. So what's the secret to his 100%?
"It puts a smile on my face; it's nice to hear that I have 100% from the seven-metre," says Glavaš when made aware of his record.
"I shoot the seven metres in my club, so that's the first thing where my mental toughness comes from in these situations, but I also like the one-on-one versus the goalkeeper. I train, of course, every day, analysing, improving and learning how your body is feeling when you're focused and locked in."
You get the feeling that Glavaš enjoys the mental side of the duel with the goalkeepers, locking eyes and winning the psychological contest.
"Yeah, of course," he says when asked this very question. "I don't know why. Actually, a lot of guys here in the squad play chess. I was really surprised. It's a tough game."
Some of those guys have as many or fewer previous appearances than Glavaš, who sat on 13 ahead of Poland/Sweden 2023.
But as soon as they joined up with the squad, they were made to feel at home by those more experienced after understanding what it means to put on the famous Croatian shirt.
"I can only take my hat off for them," said Glavaš about players such as captain Domagoj Duvnjak (229 appearances), Jakov Gojun (166), Željko Musa (146) and Igor Karačić (98), amongst others, who have helped them settle in.
"They have welcomed us; they lead us, they're always motivating, and they're joking; it's crazy. But it's a real pleasure and a dream come true.
"They teach us how to wear the national game jersey. As Croatia, we are a very, very proud country. Everybody here knows why, how and what it means to wear this jersey. When we go out into a match wearing it, it's like going into a battlefield. It's a proud moment. It's joy; it's everything that you dreamed of as a little kid.
"There are a few younger guys from my generation and even younger here," he added. "We make a pretty good squad. We're supporting each other and giving our best. As Croatians, we enjoy the tough times; we enjoy the good times, but we keep on grinding."
'Grinding'. That is an apt word for someone who has graduated with a bachelor's degree in Mechanical Engineering and Shipbuilding.
"I graduated three years ago from the University of Rijeka, Faculty of Mechanical Engineering and Shipbuilding in my hometown," explains Glavaš, who made seven appearances at the 2022 Men's European Championship.
"I got myself a plaque at home. It's engineering more than shipbuilding or ship construction, but it has its pluses. That work is not out of the equation, but firstly it's engineering. I can go around the boat and I know some firms where I can work, or I can go on a ship. I have many possibilities other than handball, but currently I'm living the dream."
And following him on his dream are the Croatian fans, heard above the 10,000 or so Danish fans last week in the arena and through their support from back home.
"I know I speak in the name of the team when I say I want to thank all the fans from the bottom of our hearts," said the winger, who has played in all five matches at Poland/Sweden 2023 for Croatia and scored 25 goals.
"It's been an incredible support, even when they are in small numbers in the arena. They're still cheering for us, even when we are not doing our best. They're still there for us and they pick us up."
Glavaš and the rest of his squad will be hoping the fans have something extra special to cheer on Monday night.