Australia take double continental honours on the beach
25 Apr. 2023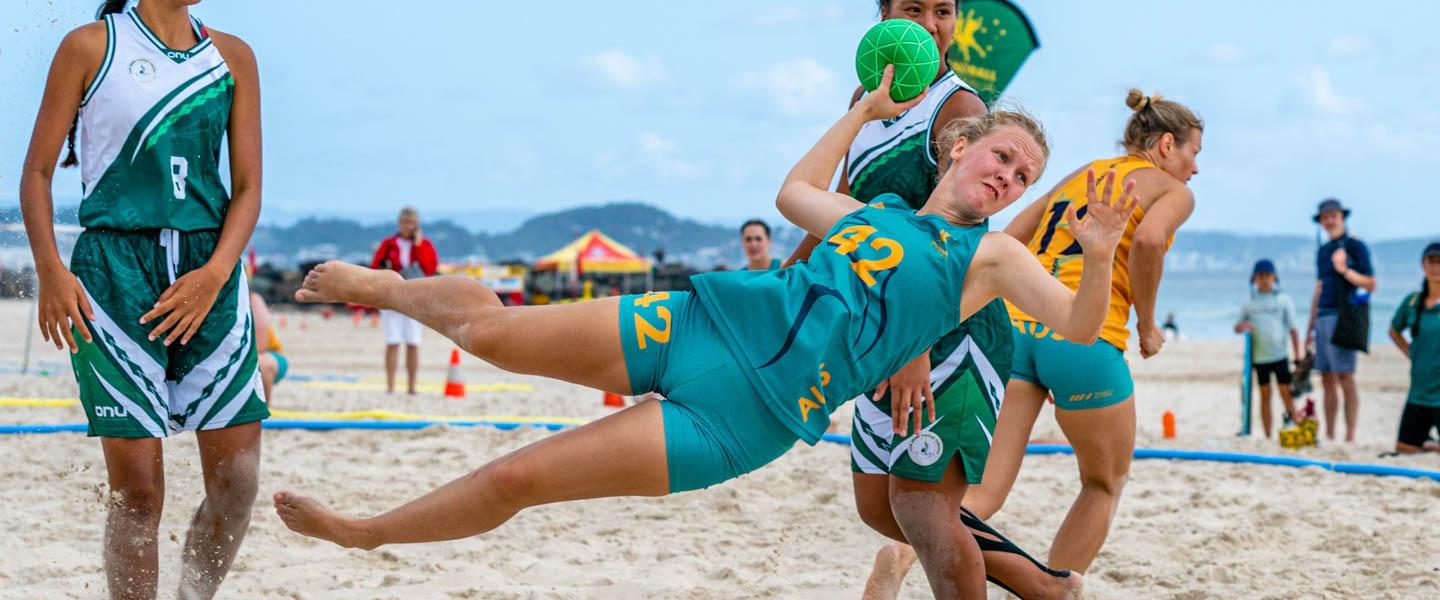 Host nation Australia have won both the Oceania Continent Handball Federation (OCHF) Men's and Women's Oceania Beach Handball Championships.
The championships were played on Coolangatta Beach in Queensland last weekend (21-23 April) and the double gold medal haul marks a return to the dominance of Australia, who have won nearly every championship since they began back in 2013.
Australia (AUS) were joined on the Gold Coast sand in the men's and women's competitions by the Cook Islands (COK) and New Zealand (NZL), with American Samoa (ASA) also in the women's event.
In the men's competition a total of seven games were played, with each team playing each other twice in the group stages and the top two teams then going directly through to the final.
After winning the title in 2022, New Zealand opened their campaign in 2023 with a shoot-out win against the hosts, who were taken to the same stage in their opener against the Cook Islands.
New Zealand then finished the opening day trio of matches with a 2-0 win over the Cook Islands to end in a strong position. Day two was a different story, though, as the hosts powered back to win both their games 2-0, and with New Zealand taking another 2-0 victory over the Cook Islands, the final match-up was confirmed – New Zealand finished top, followed by Australia in second.
The final was extremely tense, eventually going to a shoot-out. Australia took the first set 18:16, but the visitors struck back in the second to take it 20:18 and even the score up. It could not get any tighter in the shoot-out. With Australia taking a 12:10 lead, New Zealand had to score to stay in with a chance of winning, but they hit the bar and the title stayed in Australia.
In the women's competition, Australia won all three of their group games 2-0 to confirm the group title. New Zealand finished as runners-up after being taken to an opening game shoot-out win against the impressive Cook Islanders and then defeating a young American Samoa side.
American Samoa, who used the championships to gain valuable experience for their team full of debutants, lost all three group games to finish fourth, behind the Cook Islands.
The semi-finals saw Australia beat American Samoa and New Zealand defeat Cook Islands 2-0 to set up the final, which was taken by the host team, who retained their 2022 title with a 2-0 win thanks to 16:8 and 20:8 set wins. The Cook Islands won bronze, beating American Samoa 2-0.
With their titles, both Australian teams have booked their tickets through to the 2023 ANOC World Beach Games which will get underway in August in Bali, Indonesia.
Every match was livestreamed via the New Zealand Handball Federation's YouTube channel and can be watched again here. 
Rankings
Men's Competition
1. Australia 
2. New Zealand 
3. Cook Islands 
Women's Competition
1. Australia 
2. New Zealand
3. Cook Islands
4. American Samoa
Photo: Handball Australia