Cook Islands return to international action as beach handball continues to grow back home
21 Apr. 2023
Today (Friday 21 April) saw the 2023 edition of the Oceania Continent Handball Federation (OCHF) Men's and Women's Oceania Beach Handball Championships get underway on the Gold Coast in Australia.
Seven national teams are competing, with the Cook Islands, Australia and New Zealand in both the men's and women's competitions and American Samoa fielding a team in the women's competition.  
Situated around 5,000km from Coolangatta Beach, where the continental championships are taking place, the Cook Islands have been developing their beach handball culture in recent years across the various islands which make up the South Pacific Ocean nation.
Coolangatta 2023 is just the second time the predominantly Cook Islands Māori-populated country have appeared in the continental championships after their debut back in 2019.
ihf.info caught up with Janna Kimiora Pureau (captain – women's national team), Paul-Luiz Van Eijk (captain – men's national team) and Maureen Katoa (player/coach – women's national team) from the Cook Islands teams currently in Australia to hear about what the championships mean for them and how the sport is developing back home.
ihf.info: Oceania countries have had a long break from competition due to COVID-19 restrictions, but now you are back playing. What does it mean for you to represent your country, wear the shirt, see the flag and hear the national anthem being played?
Paul-Luiz Van Eijk (PE): It has been four years since we took part in an international beach handball competition. Our team is looking forward to the opportunity and the challenge that is in front of us. We have many new players and we are all ready and hungry to represent the Cook Islands.
Janna Kimiora Pureau (JP): I am proud and honoured to be wearing the Cook Islands uniform as it represents who I am. It's important to me as it shows who I represent and where I am from, which is the Nga-Pu-Toru Islands Mauke/Mitiaro/Atiu/Mangaia.
Maureen Katoa (MK): It feels meaningful and purposeful to represent our country; showing who I am and where I'm from: 'I am out here and I'm a proud Cook Islander'. 
Handball to me is like a family: knowing who we are and where we are from – it's what we call in our language our akono'anga (family). Handball means a lot more than just sport or building relationships. It's very emotional for us, watching our flag being raised, hearing the anthem and seeing our families supporting us on social media.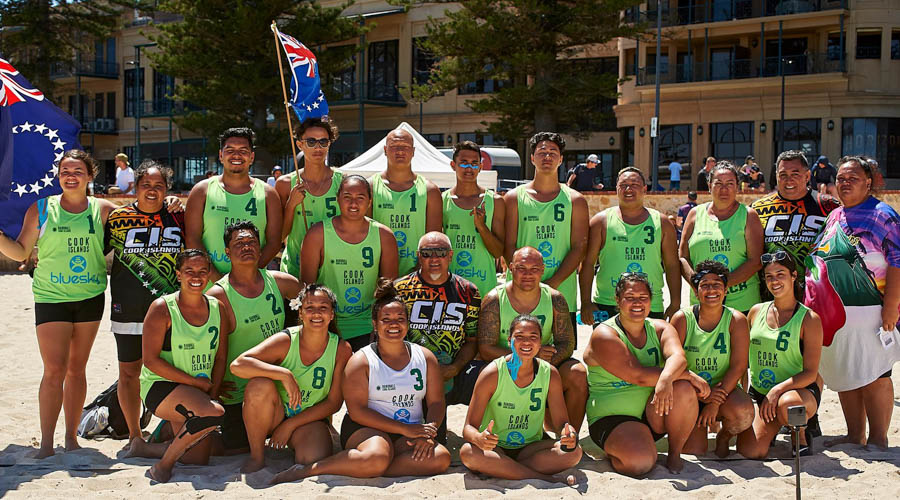 ihf.info: What do you want to achieve on the Gold Coast?
PE: We want to showcase our talents and skills and hopefully close the gap between us and the other teams.
MK: We see the championship as a great opportunity for countries like us to get as much exposure of this sport, so it will be a great experience for all of us [as] all teams are tough. We have high expectations of ourselves; we want to be successful and perform well.
ihf.info: What do you remember from the Cook Islands OCHF Championships debut in 2019? What has changed since then?
JP: The sport is getting more recognition in the Cook Islands with a lot more people joining and loving it. We also have the Cook Islands Beach Games held on a yearly basis and the Cook Islands Games held every two years. Handball is now on a new level from when I first joined.
PE: The biggest change is that we have local competitions every year now. The Cook Islands Beach Handball championships are open to local teams and hopefully one day an international team may come and take part. It keeps getting bigger and better. Also, the Cook Islands Games allow you to represent your island with a far more intense level of competition.
Two of us from the 2019 men's team are returning to action this year and we are really looking forward to seeing how we stack up now. We know we have improved, but by how much [we're not sure].
ihf.info: How important have the Cook Islands Beach Games and Cook Island Games been for not only developing players and the sport at home, but also for raising the profile and helping people understand it?
JP: They help us to put our country on the world map of handball as not many people have heard of our little country. It also helps with our youth development in terms of skills, technique, fitness and creating a handball family bonding.
MK: They are very, very important. Handball has definitely built up a profile [through them]. Keeping little social competitions leading up to these bigger events is what we needed to keep the sport going. It also helps the federation to look more on the development side. They are pushing our youth athletes and helping them play more competitively against the senior sides. We want to encourage the future to rise to the occasion.
Ihf.info: More and more nations from Oceania are becoming involved in beach handball, how important is that for region?
JP: It creates more competition as well as exposure to different cultures. Beach handball has a lot to offer and has great opportunities for everyone. 
MK: Representing who we are, where we are from and showing our culture is what I believe in and with more competitions and teams it means more culture. Bringing different cultures from the Oceania region means not only better competitions, but also better development and better pathways for our people; our brothers and sisters from other countries.
PE: The more teams involved, the more we can learn, improve and help each other. We are still new to this, but we have something to offer and hopefully it will show. 
ihf.info: How did you discover beach handball and what do you love about the sport?
MK: It's a funny story. I was called by a friend. I thought it was all for fun, you know nothing serious; just going to go and see what it was all about. After three hours of training, getting to know the rules and how to play, the next 24 hours saw us playing against other countries in a big event in Rarotonga. 
This was back in 2017 when beach handball was first introduced in the Cook Islands, at the 2017 OCHF Youth (U17) Oceania Championship. I didn't know the training was towards these qualifiers.
Ever since then, I've been in love with handball, hooked on it and everything back at home for me was all about handball. Not only did I love the sport, but also the people I have built relationships with and the family that built themselves around me.
JP: I was asked if I could represent the Cook Islands in 2017. It was the first time I had heard of it and with only three hours of training, we were playing against Australia, New Zealand, Kiribati and American Samoa. But I enjoyed every bit of it. I love handball and I am glad I was asked to play because I would never have known how amazing this sport is. 
PE: I discovered the sport back around 2018 through my wife. Her workplace entered a mixed team in a competition and she registered me to play for them. This meant we could play together and we enjoyed it. There are not many sporting codes that you can play with your spouse at a high level. We both found the game very technical but simple and just really fell in love with it and haven't looked back.
ihf.info: What are your hopes for the future of beach handball in the Cook Islands?
JP: I hope more Cook Islanders can get involved and learn to love the game as much as I do. I want to help train and develop younger Cook Islanders to represent our country and to be proud to wear our colours. It would be a great opportunity for them and myself. I want to make handball the number one sport in the Cook Islands.
PE: That we just keep improving. Keep having fun and maybe one day be the team that represents Oceania on the world stage or even make it to the Olympic Games.
Photo: Cook Islands Handball Association / Jun Talayco