Oceania set for beach extravaganza
20 Apr. 2023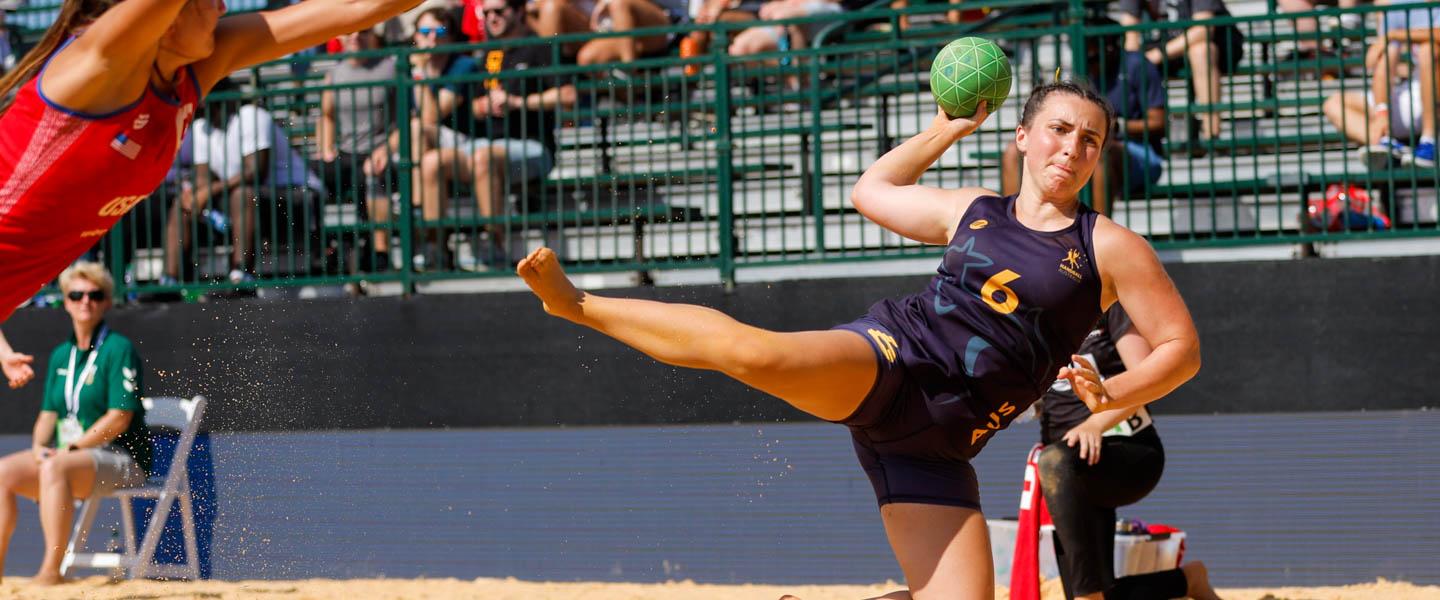 The beautiful Coolangatta Beach on the Gold Coast in Queensland, Australia, will be the setting for the 2023 edition of the Oceania Continent Handball Federation (OCHF) Men's and Women's Oceania Beach Handball Championships this weekend (21 to 23 April 2023).
Australia (AUS) will be joined in the men's and women's competitions by the Cook Islands (COK) and New Zealand (NZL), with American Samoa (ASA) also in the women's event.
The men's competition will feature a total of seven games, with each team playing each other twice and the top two teams in the group going directly through to the final on Sunday at midday.
The four teams in the women's competition will play 10 games in total. An initial group phase will see each team play each other once and the standings in the group will then determine the semi-final pairings ahead of the bronze and gold matches on Sunday at 13:00 and 14:00 local time respectively.
Away from the match action, the opening ceremony will take place at 14:00 on Friday, the traditional social barbecue on Saturday afternoon and the closing and awarding ceremony on Sunday at 15:00.
In addition to the continental titles up for grabs, the winners in each gender will also book a direct ticket to the 2023 ANOC World Beach Games in Indonesia in August.
In the spirit of Oceania cooperation, the entire championships will be livestreamed via the New Zealand Handball Federation's YouTube channel. Each match will have its own individual link.
You can watch here.  
Host nation Australia have traditionally dominated the championships since they began back in 2013. However, in recent years that dominance has started to be challenged as the continent sees more nations taking up the sport and providing more competition.
American Samoa's women pushed Australia hard before the COVID-19 break in 2018 and 2019 to finish second, and in the last continental event, held in April 2022 in a reduced format due to COVID-19 restrictions, New Zealand's men overcame their rivals to take the title and qualify for both the 2022 IHF Men's Beach Handball World Championship and The World Games.
Match Schedule
*all times local
Men's Competition
Friday 21 April
09:00    COK vs AUS
12:00    AUS vs NZL
16:00    COK vs NZL
Saturday 22 April
09:00    NZL vs AUS
12:00    NZL vs COK
15:00    AUS vs COK
Sunday 23 April
12:00    Final
Women's Competition
Friday 21 April
10:00    NZL vs COK
11:00    AUS vs ASA
15:00    NZL vs AUS
Saturday 22 April
10:00    AUS vs COK
11:00    ASA vs NZL
14:00    COK vs ASA
Sunday 23 April
09:00    Semi-Final 1
10:00    Semi-Final 2
13:00    Bronze
14:00    Final