Group F: Tunisia and Congo seek first points
04 Dec. 2021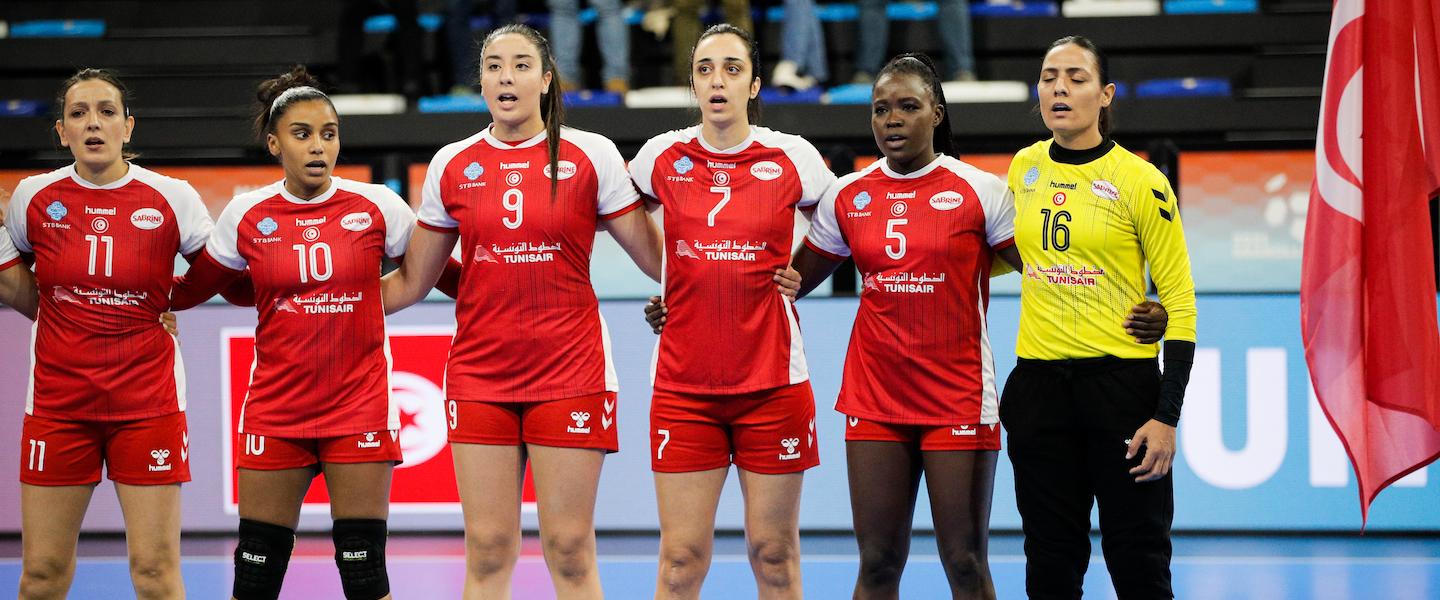 The opening day in Group F of the 2021 IHF Women's World Championship handed Tunisia and Congo heavy losses against Denmark (16:34) and Republic of Korea (23:37), respectively.
While the results were expected, giving their standings in the world, both African sides know they have more to give and will be raring to go and put things right in their second Group F matches on Saturday night in Granollers.
However, wins for Korea, who face Tunisia, and Denmark, who will play Congo, will ensure their qualification through to the main round – leaving the mouth-watering prospect of a continental clash for the third and final main round place from Group F on Monday.
Republic of Korea vs Tunisia 18:00 CET
Korea captain Lee Mig-yeong oversaw a business-like performance against Congo on Thursday (3 December) as the Asian champions opened their Spain 2021 journey with a win and they face their second African competition in two matchdays when they take on Tunisia, something which Lee is certain can help them prepare for tougher clashes ahead.
"Normally, the first match is very important because European teams are very strong and we are physically weak," explained the centre back who plays in Japan with OMRON. "By winning the first matches against other teams maybe we get better and better, and we will then show our best performance against European teams [when we face them later on]."
The 14-goal victory over Congo was extra-special for Lee who led her country out for the first time as captain of the senior side after Gyor-based Ryu Eun-hee passed it over to her pre-Spain 2021 with the blessings of coach Yang Il-ik and Lee told ihf.info the story behind the momentous event in her career.
"In 2019 in Kumamoto, at the world championships in Japan, at that time I was in the middle age of players, so I had to do my best to reach my goals, but [Spain 2021] is the first time after 10 years where I am captain," she explained to ihf.info.
"I really feel some difference now because I have to take care of young players, take more responsibility. You also have to help the older players, especially (Ryu) Eun-hee. She's a little older than me, but she's helping a lot to make a balance in our team.
"Also, our interim manager, Coach Jang, he's quite different from traditional, typical Korean coaches. We feel more fresh, new and also very free. We actually are getting more confidence at the moment."
Korea and Tunisia have never met in a World Championship.
Congo vs Denmark 20:30 CET
Jesper Jensen and his Denmark side had mixed feelings after their opening day 34:16 win over Tunisia. While they were happy with a solid start to their 2021 IHF Women's World Championship campaign, there were feelings of shock and sadness when centre back Mia Rej fell to the floor, injured and in agony, early in the second half.
Rej went for a scan on Thursday on a possible knee injury, before updating on her condition via social media on Friday. 
"The scan shows that there is damage to my inner ligament on my right knee, but no damage to the cruciate ligament or meniscus," said the player who travelled back to Denmark on Friday night.
"I am relieved by that message, because it immediately occurred to me that it could be the cruciate ligament, but it means goodbye to the world championship. I wish the girls all the best."
With five player replacements allowed in Spain, Jensen has room for manoeuvre but used a late registration to bring in Team Esbjerg full-back Michala Moller to boost his squad to the full 18 allowed with Moller brought in initially to cover Rej before the extent of her injury was known.
Against Tunisia, Jensen was happy at being able to rotate his entire bench, calling it "a good thing" and will be looking to do that again at a Congo side finding their feet in Spain after a 12-year break from the World Championship.
"We are a young team," said Congo's line player Sharon Dorson to ihf.info. "It's not a long time we have been together as a team like Korea have, but we had a good preparation and it's hard to describe what we feel like [after this loss].
"We just need to win one game to go to the second round and Denmark will be harder than Korea, but we think about everything for the last game against Tunisia."
Congo coach Younes Tatby reiterated following the Korea loss that his team were in Spain to gain international experience and Dorson is in no doubt about the challenge ahead.
"Personally, I just wanted to play handball and do what I like even if the Korea game was really hard," she said. "It's my first experience with the national team at a world championship so it's amazing for me but Denmark will be harder, and we just need to focus on trying to improve."
Spain 2021 will be just the second time the two teams have met at a World Championship, with the Danes winning 37:24 at China 2009.