Home sides secure three titles at IHF Trophy Africa
23 Oct. 2022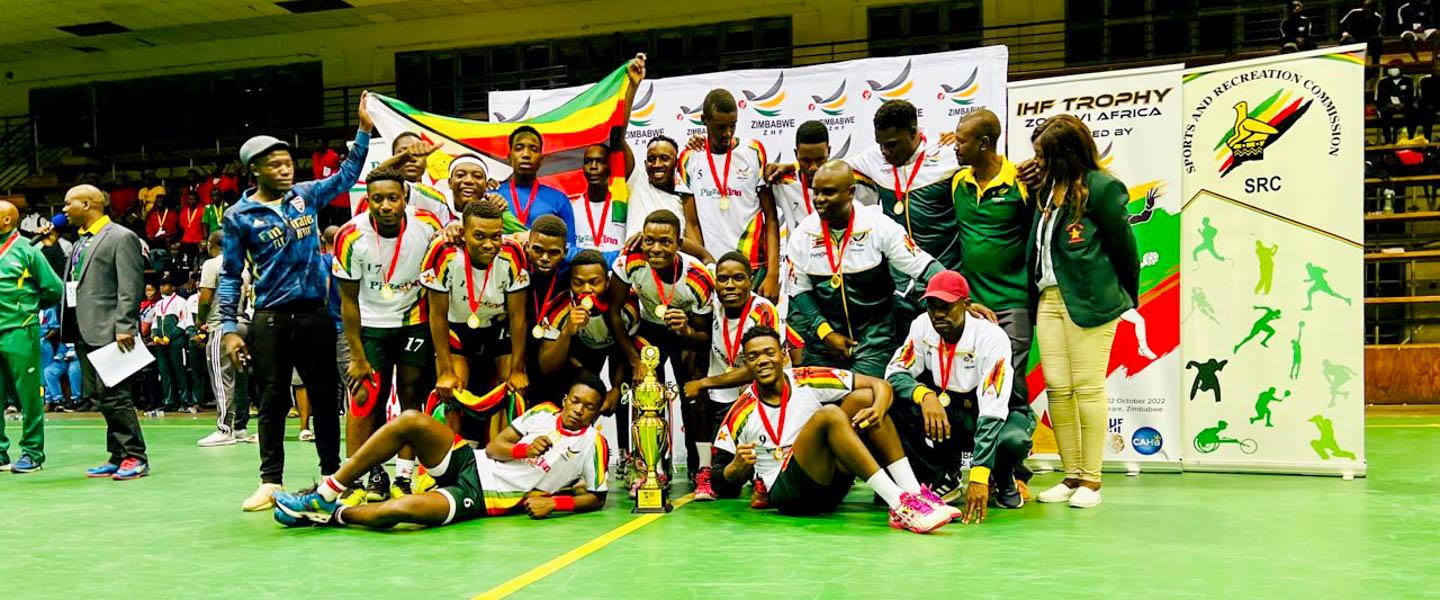 The final day of the IHF Men's Trophy Africa – Zones IV and VI determined the winners in all the events, who also qualified for the Continental Phase of the IHF Trophy. Notably, the home sides won three of the four competitions. 
At Zone IV in Brazzaville, hosts Congo claimed the title in the youth (U18) and junior (U20) age categories. At the youth competition, a 31:21 win against Central African Republic was enough for the Congolese to secure the top position. Cameroon had the upper hand against Chad in the other match, 49:29.
While Congo ended the tournament with a maximum of eight points, DR Congo, Cameroon and Central African Republic finished level with four points. A better goal difference in head-to-head encounters saw DR Congo taking the second place, Cameroon ranked third, and Central African Republic fourth. Chad stayed last-placed with no points.
At the junior event, Congo and DR Congo had enjoyed a 100% record before their direct duel on Saturday. The Congolese derby was really tight and exciting, but ultimately the home team won 29:27 and earned gold. DR Congo finished second, while Central African Republic, who beat Chad 37:36, earned bronze.
At Zone VI in Harare, Zambia, who had already secured the title, maintained their perfect record on the final day, beating Eswatini 60:7. In the other match, Malawi took a commanding win against Lesotho, 50:18, to secure the third position. Zimbabwe, who had played their last match the day before, earned silver. 
And at the junior tournament, Zimbabwe earned the title after beating Zambia in a decisive game, 36:24. South Africa, who beat Eswatini 68:10, finished second, while Zambia took the third position. Malawi and Lesotho competed for the fourth place in a direct duel, and Lesotho won 40:14. 
Final standings
Zone IV – Youth (U18)
1.    Congo – 8 points
2.    DR Congo – 4
3.    Cameroon – 4
4.    Central African Republic – 4, 5. Chad – 0
Zone IV – Junior (U20)
1.    Congo – 8 points
2.    DR Congo – 6
3.    Central African Republic – 4
4.    Chad – 2. 5. Cameroon – 0
Zone VI – Youth (U18)
1.    Zambia – 8 points
2.    Zimbabwe – 6
3.    Malawi – 4
4.    Eswatini – 2, 5. Lesotho - 0
Zone VI – Junior (U20)
1.    Zimbabwe – 10 points
2.    South Africa – 8
3.    Zambia – 6
4.    Lesotho – 4,  5. Malawi – 2, 6. Eswatini - 0
Photo: Handball Federation Zimbabwe