Giant step for beach handball in Africa
14 Jun. 2019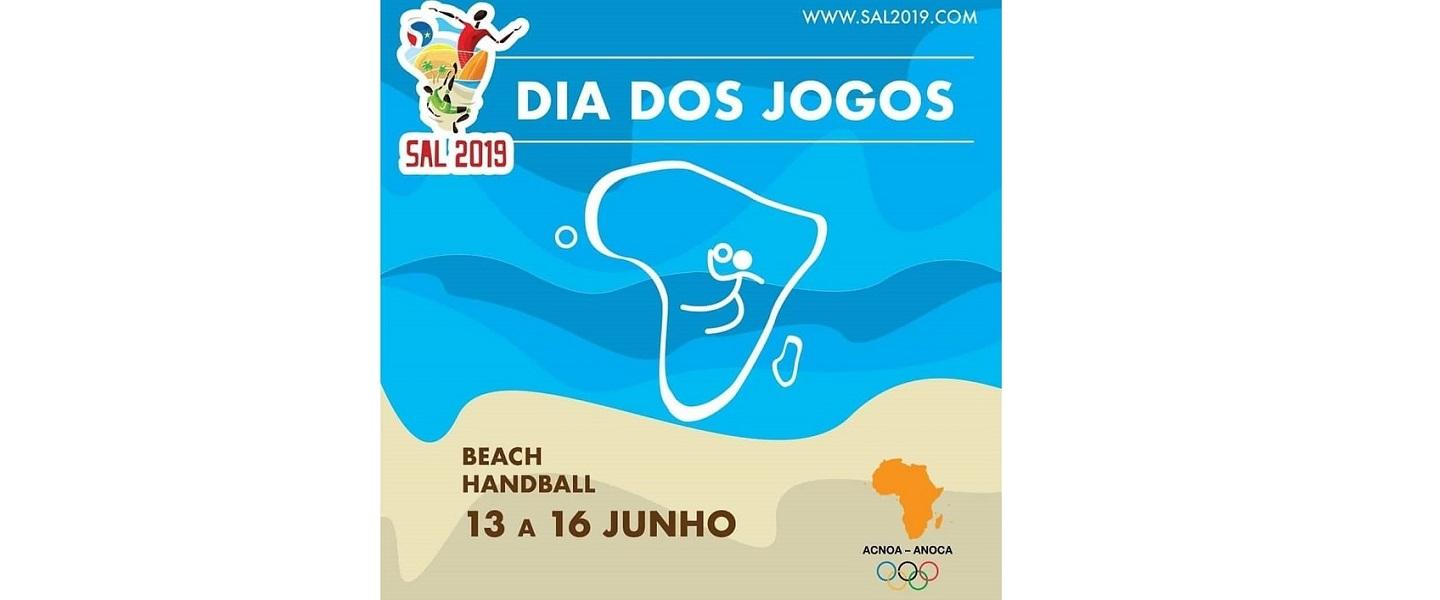 The island of Sal in the West African nation of Cape Verde makes history today (14 June) as the first-ever edition of the African Beach Games gets underway on Santa Maria Beach.
The tournament, which finishes on Sunday 23 June, is the biggest sport event to be held in the country and is set to feature over 1,000 athletes from 54 countries competing in 11 sports including beach handball.
Men's competition
The men's competition features nine teams: Cape Verde (CPV), Sierra Leone (SLE), Morocco (MAR), Tunisia (TUN), Kenya (KEN), Nigeria (NGR), Togo (TOG), Algeria (ALG) and Seychelles (SEY).
The competition sees three initial preliminary groups of three teams each with the winners of each, plus the best runners-up moving through to the semi-finals.
Schedule (local time)
Friday 14 June
08:30 CPV vs SLE
11:00 TUN vs KEN
11:50 TOG vs ALG
15:10 SLE vs MAR
16:00 KEN vs NGR
16:50 ALG vs SEY
Saturday 15 June
10:10 CPV vs MAR
11:00 TUN vs NGR
11:50 TOG vs SEY
15:10 Semi-Final 1
16:00 Semi-Final 2
16:50 5/6 Placement Match
Sunday 16 June
10:00 Bronze Medal Match
11:00 Gold Medal Match
Women's competition
The women's competition features five teams: Cape Verde (CPV), Algeria (ALG), Kenya (KEN), Sierra Leone (SLE) and Tunisia (TUN).
The teams will play in one group in a round-robin format with the winners taking gold, second place grabbing silver and the third team claiming bronze.
Schedule (local time)
 
Friday 14 June
08:30 CPV vs KEN
09:20 SLE vs TUN
13:30 KEN vs SLE
14:20 ALG vs TUN
Saturday 15 June
08:30 ALG vs SLE
09:20 CPV vs TUN
13:30 ALG vs KEN
14:20 CPV vs SLE
17:40 KEN vs TUN
Sunday 16 June
09:10 CPV vs ALG
Qualification for world championships
The multi-sport event also incorporates the African Handball Confederation (CAHB) continental championships with the winners not only taking the first-ever African Beach Games medals but serves as a qualification event for the 2019 ANOC World Beach Games and the 2020 IHF Men's and Women's Beach Handball World Championships.
The start of an African beach handball legacy
The CAHB, led by their Chief of Beach Handball Referees and Delegates Mohamed Kamel Borgi (TUN) organised a training course for referees and delegates ahead of the event.
"The African Handball Confederation has made beach handball one of its priorities for 2019," said Dr Mansourou Aremou, President of CAHB ahead of the event. "We have a strong desire for innovation and a real desire to boost this practice, as a new lever for promoting our sport, with a focus on the YOG 2022 in Senegal.
"Sal 2019 will serve as a legacy for African beach handball and is a major challenge which will guide our future actions. African handball is gradually rising and invites serious ambitions, which is why we would like to see it modernise and diversify to keep pace with international development.  The CAHB with the IHF wants to create a dynamic around African beach handball and Sal 2019 is the start at a continental level.
"I invite everyone to discover beach handball, live the experience and not miss anything."
More beach handball coverage on the Olympic Channel
Following the success of the men's and women's beach handball coverage on the Olympic Channel from the 2018 Youth Olympic Games in Buenos Aires, fans of the sport will be treated to the final two days of matches (delayed coverage) as the competition reaches its climax.
On Saturday 15 June fans can watch the Women's Preliminary Group matches of ALG vs KEN, CPV vs SLE and KEN vs TUN as well as the men's semi-finals and 5/6 Placement Match.
On Sunday 16 June the final Women's Preliminary Group match of CPV vs ALG will throw-off the day's coverage followed by the men's bronze medal match and final.
The coverage can be accessed HERE.
"We are excited to stream our first event from Cape Verde to showcase their premier event to a global audience," said Mark Parkman, general manager of the Olympic Channel.
"The African Beach Games are a great way to provide additional exposure to these growing sports and introduce new sports to our audiences."
"Almost a quarter of the teams that will be participating it will be the first time," said Kenya men's head coach Fareed Mohammed. "We are going to work hard to ensure we win and have done our research well in knowing our opponents, so we are going to surprise them."
Yann Craven, CEO of the Sal 2019 Organising committee, recognises the event and its impact for now, and in the future.
"Except for kiteboarding and freestyle football, where we shall have only men teams, we shall see men and women competitors across all the rest – like beach handball, which is relatively new in Africa, we have women's teams," he said. "We are setting records and precedents and, more importantly, giving an opportunity to African athletes to compete at the top level, which is very rare in Africa,
"Sal 2019 will provide the environment of a multi-sport and give them the familiarisation and experience of competing at top events as they look to compete at the World Games and the Olympics."
Link to the Games
Sal 2019 is providing all the latest information from the event through a variety of channels.
Schedule, live statistics and results can be found HERE.
Olympic Channel streaming: https://www.olympicchannel.com/en/sports/beach-handball/
Official Website at www.sal2019.com, with a dedicated beach handball page at https://www.sal2019.com/beach-handball
Facebook: https://www.facebook.com/salbeachgames/
Instagram: https://www.instagram.com/salbeachgames/
Twitter: https://twitter.com/salbeachgames
Watch the official Sal 2019 song Africa Victory Azagua