Thailand and Indonesia strong in Jakarta
03 May. 2019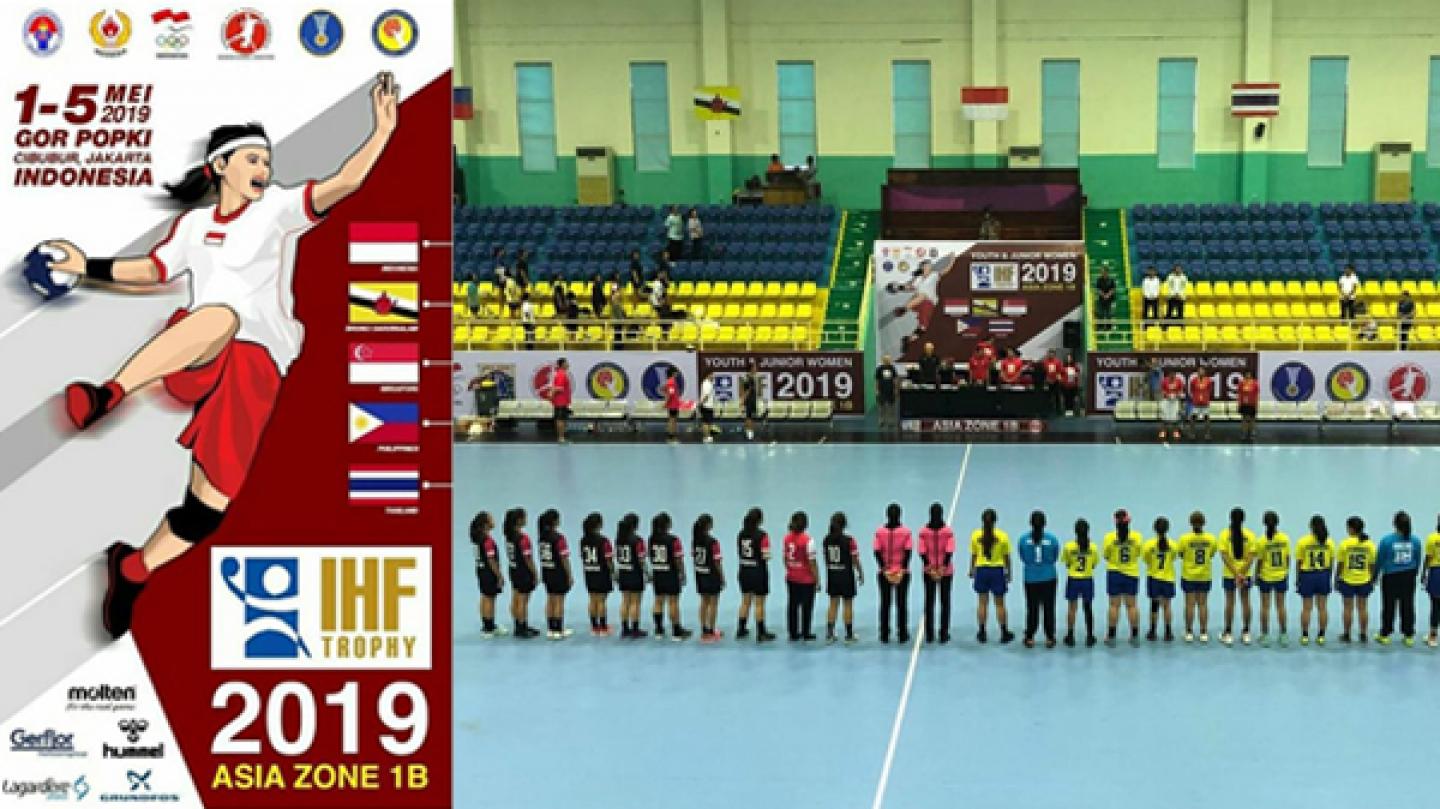 After three days of preliminary group action, the medal matches of the 2019 IHF Women's Trophy: AHF Asia Zone 1B are now known.
The tournament, which features youth and junior competitions running consecutively, is underway in Indonesia's capital city Jakarta.
Singapore (SGP), Thailand (THA) and hosts Indonesia (INA) have teams in both competitions, while Brunei (BRU) have a team in the youth competition and the Philippines (PHI) are in the junior competition.
And it is already a celebration for the hosts, as well as Thailand, who have seen both of their teams go through to their respective age-group finals on Sunday (5 May) and therefore guarantee a medal.
In the youth competition, it looks likely that Thailand will take the honours, after they won all three of the group games clearly, including a 36:7 victory over their final opponents, Indonesia. They restricted all of the teams faced to less than 10 goals in all three encounters, scoring 134 times in total.
Indonesia finished second in the group with two wins, scoring 50 times, but the key game was their low-scoring 11:9 win over Singapore, which means the host side made it to the final, pushing their opponents into third place, meaning that they will now play bottom side Brunei in their bronze medal match tomorrow (Saturday 4 May).
It was nearly the same story in the junior competition with Thailand topping the group with a perfect record, scoring 148 times and conceding just 27, with a more comprehensive group victory over their final opponents Indonesia, 44:9. The bronze medal match will be between Philippines and Singapore, who played out an 18:5 Philippines group victory.
All games are being played at Gor Popki in Cibubur, Jakarta Timur.
The winners of their respective competitions in Jakarta will qualify through to the continental phase of the IHF Women's Trophy 2019-20, and then the winners of that will qualify through to the IHF Women's Trophy: Intercontinental Phase. And for junior teams only the intercontinental phase has been upgraded to a qualification event for the 2020 IHF Women's Junior World Championship, set to take place in Romania.
For more information, click HERE.
Match Schedule
All times local
Saturday 4 May
15:00 Bronze Medal Match: SGP vs BRU (Youth)
17:00 Bronze Medal Match: PHI vs SGP (Junior)
Sunday 5 May
15:00 Gold Medal Match: THA vs INA (Youth)
17:00 Gold Medal Match: THA vs INA (Junior)
Results
Preliminary Round
Youth Competition: Brunei (BRU), Indonesia (INA), Singapore (SGP), Thailand (THA)
Junior Competition: Indonesia (INA), Philippines (PHI), Singapore (SGP), Thailand (THA)
Wednesday 1 May
Youth: SGP vs THA 5:37 (3:18)
Junior: SPG vs THA 6:50 (1:23)
Youth: BRU vs INA 1:21 (1:32)
Junior: INA vs PHI 25:14 (12:4)
Thursday 2 May
Youth: THA vs BRU 61:1 (31:0)
Junior: THA vs PHI 54:12 (25:5)
Youth: SGP vs INA 9:11 (7:6)
Junior: INA vs SGP 31:6 (13:3)
Friday 3 May
Youth: BRU vs SGP 5:28 (3:12)
Junior: PHI vs SGP 18:5 (7:2)
Youth: INA vs THA 7:36 (3:17)
Junior: THA vs INA 44:9 (21:3)
Photo: Asian Handball Federation