Thailand take youth and junior honours in Jakarta
06 May. 2013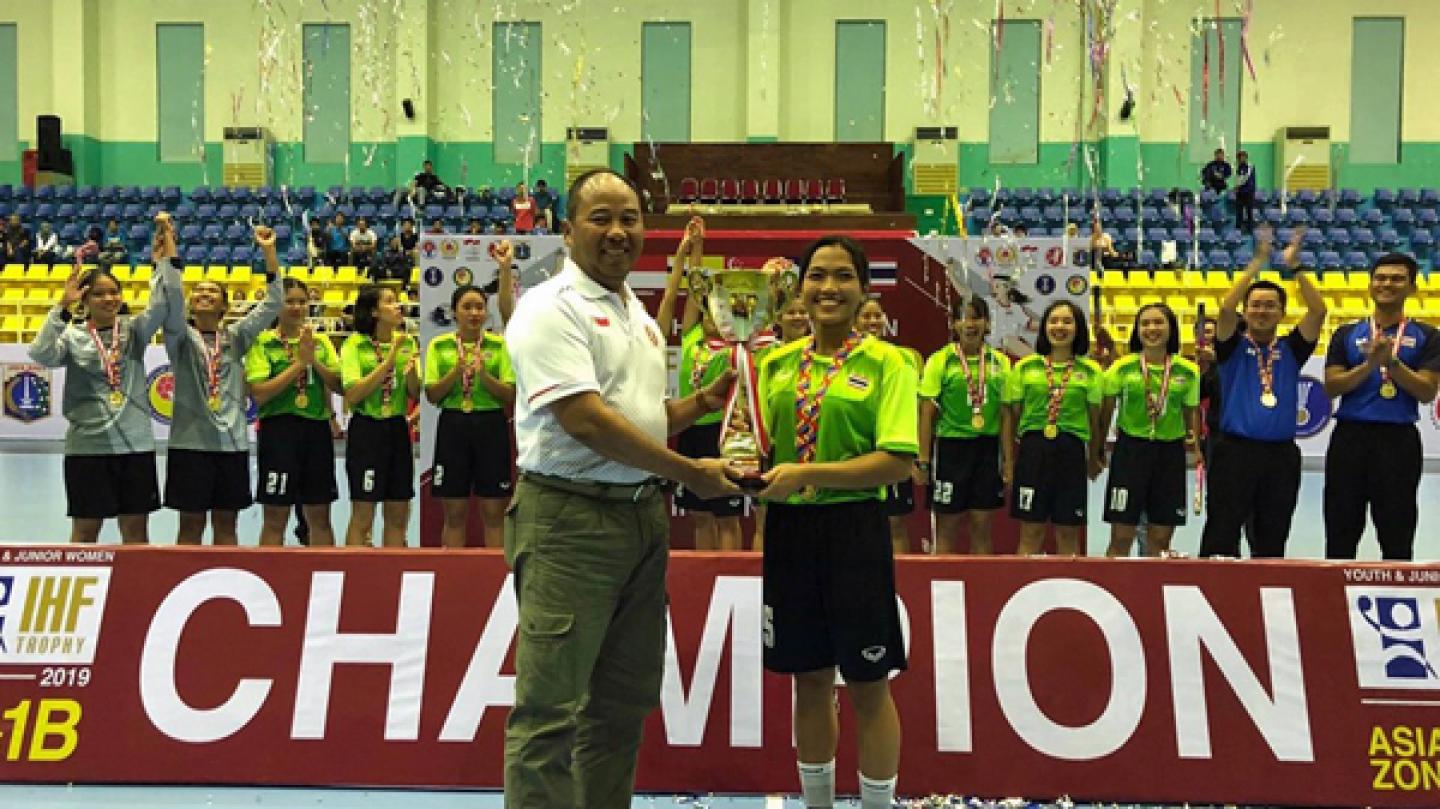 After five days of match action in both the youth and junior competitions, Thailand ended as winners of both age groups in the 2019-20 IHF Women's Trophy: AHF Asia Zone 1B which finished yesterday in Jakarta, Indonesia.
Following a strong preliminary round for both teams they left the competition in no doubt about who was the strongest.
The youth side easily dispatched the hosts by 20 goals (32:12) in the first of two gold medal matches featuring Thailand vs Indonesia. Kaeoluan Mathurada top-scored with five goals for Thailand to end as the tournament's top-scorer with 18 goals, while line player Nadila Agustina Iskandar, who plays her club handball for BBS Club, scored four times for Indonesia.
It was an even stronger victory for the junior Thai side against Indonesia as they won 46:12. Right back Wichaisang Wantanee confirmed her spot as the top scorer in the junior tournament with nine goals for Thailand in the gold medal match, taking her total over four matches to 41, 10 ahead of teammate Sripho Kamonwan in second place. Right back Fauziyah Rahman Jihan top-scored for Indonesia in the final, with the Jabar club player scoring five.
The bronze medal matches saw Singapore take third spot against Brunei in the youth competition (34:6) with centre back Denise Jia Ru Seah top-scoring on seven strikes for the winners. Brunei's centre back Faiqa Solehah HJ Aznan scored five.
Singapore's junior side could not make it a double though as they lost 25:7 to the Philippines in the bronze medal match, with left back Andrea Angela Fernandez scored seven for the winning side.
Both Thailand sides have now qualified through to the continental phase of the IHF Women's Trophy 2019-20, with the eventual winners of that qualifying through to the IHF Women's Trophy - Intercontinental Phase.
For junior teams only the intercontinental phase has been upgraded to a qualification event for the 2020 IHF Women's Junior World Championship, set to take place in Romania.
Results
Saturday 4 May
3/4 Placement (bronze medal matches)
SGP vs BRU (Youth) 34:6 (17:3)
PHI vs SGP (Junior) 25:7 (14:5)
Sunday 5 May
Finals (gold medal matches)
THA vs INA (Youth) 32:12 (18:6)
THA vs INA (Junior) 46:12 (24:7)
Preliminary Round
Youth Competition: Brunei (BRU), Indonesia (INA), Singapore (SGP), Thailand (THA)
Junior Competition: Indonesia (INA), Philippines (PHI), Singapore (SGP), Thailand (THA)
Wednesday 1 May
Youth: SGP vs THA 5:37 (3:18)
Junior: SPG vs THA 6:50 (1:23)
Youth: BRU vs INA 1:21 (1:32)
Junior: INA vs PHI 25:14 (12:4)
Thursday 2 May
Youth: THA vs BRU 61:1 (31:0)
Junior: THA vs PHI 54:12 (25:5)
Youth: SGP vs INA 9:11 (7:6)
Junior: INA vs SGP 31:6 (13:3)
Friday 3 May
Youth: BRU vs SGP 5:28 (3:12)
Junior: PHI vs SGP 18:5 (7:2)
Youth: INA vs THA 7:36 (3:17)
Junior: THA vs INA 44:9 (21:3)
Photos: Asian Handball Federation