USA end on historic high in Malmö
23 Jan. 2023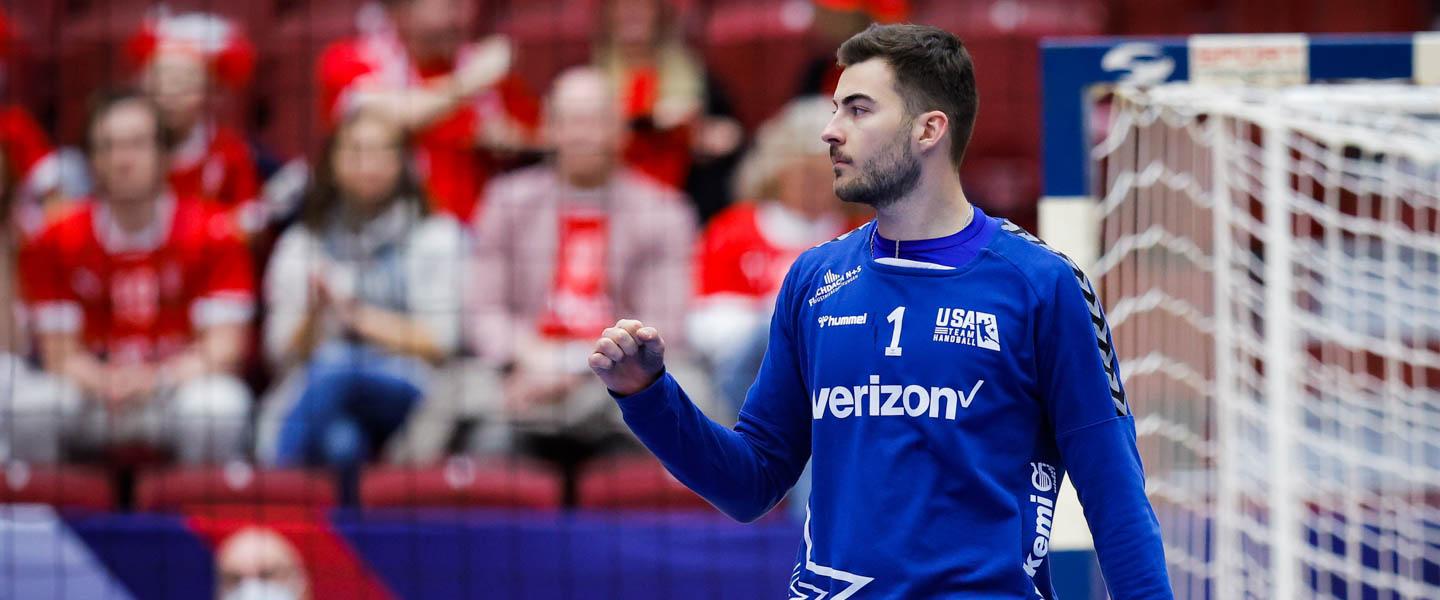 Debutants Belgium fought tooth and nail to end their 2023 IHF Men's World Championship campaign on a high. Still, in the end, a team representing a continent (North America and The Caribbean Confederation – NACHC), the USA, did enough to take home another win, defeating the European side by two (24:22).
Both teams have now finished their Poland/Sweden 2023 experience, playing six matches and getting historic wins.
Main Round Group IV
United States of America vs Belgium 24:22 (14:12)
Ahead of Poland/Sweden 2023, the United States of America had played 25 matches in the IHF Men's World Championship, stretching back to 1964, across six competitions. They had lost all 25.
After six matches at Poland/Sweden 2023, they now have two wins, both historic: their first preliminary round win - against Morocco - and now their first main round win – against Belgium.
In the end, the difference in this match was US goalkeeper, Pál Merkovszki, his 13 saves spread throughout the 60 minutes and at crunch times – a clutch performance.
"It was a really emotional match for me," said Merkovszki after the match. "I wanted to put my talent out on the court and I'm really happy that I managed to do that, but I couldn't have done it without the guys, without the defence. It's just a great success for the team overall."
It was a nice finish for the 1,98m shot-stopper, who was born in Myrtle Beach, South Carolina, and who now lives and plays club handball in Hungary: he was the "hummel Best Player of the Match" in the USA's opening day preliminary group win against Morocco (11 saves) and won the award again today.
Against Belgium, his side went ahead in the third minute and led by as much as four (6:2, 11th minute) in the first period. This caused a time out from Yérime Sylla on the Belgian bench and his side reacted, coming within one throughout the opening period before the North American team went into the break two goals up (14:12).
After finally levelling through Simon Ooms (36th minute), Belgium took the lead (17:16) in the 39th minute through Jeroen de Beule and kept their noses in front until there were just over five minutes left on the clock – the USA took a brief lead through Domagoj Srsen in this period, but the momentum was apparently with the Europeans.
However, step up Merkovszki again. Any number of saves could be highlighted, but his narrowing of angles to cause Nick Braun's penalty shot to hit the post and then a follow-up close-quarter save at 21:21 (54:20 on the clock) proved to be the turning point, and despite another Belgium time out, the US raced to a three-goal lead (24:21) with just over 90 seconds left to take the victory.
"Today was an opportunity for us to get two points and end on a good note," said Belgium coach Yérime Sylla. 
"We missed shots and all the pressure was on the defence. If you don't open the shot, what can you do? The players played well, though. I'm a bit disappointed because we have done well in the first round and won the match we had to win (against Tunisia), but after Bahrain (their last preliminary group match, which they lost 28:30), we faltered a little."
As the US now look to become a regular on the World Championship stage after a break of 22 years, Merkovszki was happy with the Poland/Sweden 2023 experience and was keen to look ahead – although there may be a bit of relaxation time in between.
"We worked really hard," he said. "We wanted to finish the tournament with a victory and wanted to show that we could beat a European team. We managed to do that. I am really happy about my performance and really happy for the team.
"Now is the time to have a little celebration," he added. "It was a long, long training camp and long tournament. It's time to rest and gather the experiences and try to get better where we can and just keep on going."
hummel Player of the Match: Pál Merkovszki (United States of America)