Main Round Group IV: Minds in Malmö on quarter-finals
18 Jan. 2023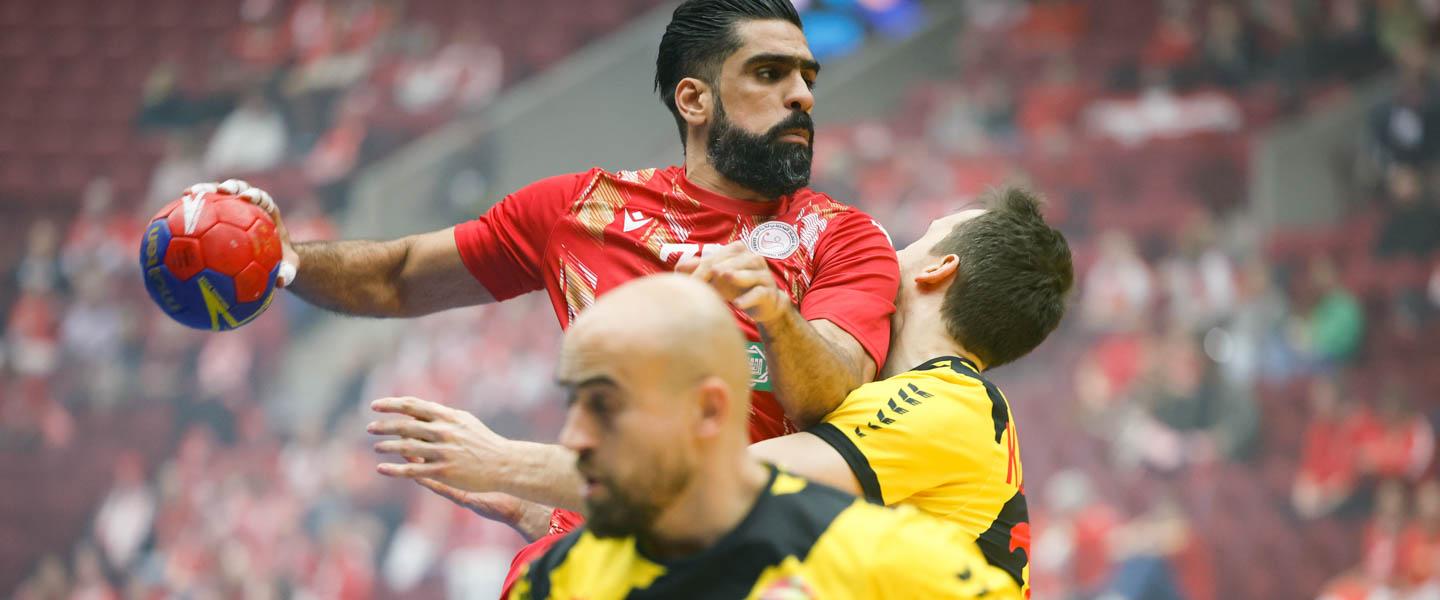 Malmö in Sweden welcomes the main round of the 2023 IHF Men's World Championship with six teams from four continents battling for the tickets to the quarter-finals and, with them, a chance of Paris 2024 Olympic Games qualification.
Denmark and Egypt both bring the maximum of four points each from their 100% preliminary group campaigns, while Croatia and Bahrain bring two points each. 
The United States of America and Belgium have the biggest challenge: they come to the Malmö Arena without points in their pocket. They will face a tough task to finish in one of the top two places when the competition concludes after three matchdays of three matches each on Monday 23 January.
15:30 CET United States of America vs Bahrain
The United States of America not only have the hopes of a nation on their back, but also those of a continent.
After forming the North America and the Caribbean Handball Confederation (NACHC) in 2019, the US have become the first side from the region to appear in the main round of any indoor IHF World Championship.
More importantly for the nation which will host the 2028 Olympic Games (and whose men's and women's teams qualify automatically for the handball competitions), they ended a run of 25 consecutive losses in the competition, finally winning against Morocco, which sent them in place of the African side into the final 24.
An opening main round clash against Bahrain represents an opportunity to get more points on the board for the North Americans, who travelled to Malmö from Jönköping, where they made history.
"For us, it's incredibly important," said USA coach Robert Hedin after their final preliminary group loss against Egypt.
"If we had 20 matches like this a year, we would take some more steps. Maybe we can win against Belgium and Bahrain. We showed too much respect [against Egypt], but we looked good in the second half, so maybe we can take that forward [into the main round]."
"We're taking a good way," added his player Ian Hueter about the progression of his team over the past few years.
"We're developing as a team and I hope we can continue to build as a team. It's definitely going in the right direction. We don't have to be afraid of playing against any team. This championship is exactly what we need to see where we are as a team."
Bahrain will be hoping to finish higher than their 21st ranking at Egypt 2021, with coach Aron Kristjánsson happy not to have to move venues as he looks to get off to a winning start.
"It's a big thing for us in Bahrain two go through with two points," said the Bahrain coach. "I'm very happy to stay in Malmö."
The two teams have never met at a senior IHF Men's World Championship.
18:00 CET Egypt vs Belgium
As debutants at this level, Belgium have never met Egypt at an IHF Men's World Championship and it will be a tough test as they start their main round campaign.
"Malmö likes Belgium," said Belgium coach Yérime Sylla after they confirmed their qualification for the main round.
He will be hoping that his side likes playing there too, but they face a tough test against the 2021 seventh-placed Egyptians, who are warming up nicely in Sweden, having moved to Malmö from their preliminary base in Jönköping.
"Three more matches," said Egypt coach Roberto Parrondo after they completed their preliminary campaign with a clear win against the USA. "We would like to play the quarter-finals."
A common phrase in sports is 'attack wins games, but defence wins championships', and Parrondo can certainly rely on that. 
Goalkeeper Abdelrahman Homayed sits second in the goalkeeping table with a 54% overall save-to-shot rate, while teammate Mohamed Aly lies fourth with 45%. The two are part of a trio that has progressed together at the highest level in their country.
"We work together. It's good for Egypt; if all the goalkeepers are good, the team will be good," said Aly ahead of the main round. "We are all friends. We are three goalkeepers now, and we have worked together for four years. We make our system before the match and help each other, so it's a very good feeling."
20:30 CET Denmark vs Croatia
Two traditional heavyweights in the men's handball world clash early in the main round as these two European handball centres battle in the third and final match of the opening day in Malmö.
But these are two nations going very different ways – the Danes are making history with every match they play at Poland/Sweden 2023 as they go for another record: their third consecutive World Championship title. Additionally, with such a short distance to the Malmö Arena, they have an eighth player at every match – 10,000 passionate fans.
For Croatia, it is a rebuilding process. At Egypt 2021, they ranked 15th, their worst ranking in 14 appearances at the World Championship, in which they have always participated since 1995, collecting five medals on the way.
This decline was evident in their comprehensive 22:31 loss against Egypt in their opening Poland/Sweden 2023 match. An expected win over the USA followed (40:22), but a narrow 15:13 half-time lead against Morocco before ending as 36:24 winners highlighted the frailty within the team.
A key battle will be between Danish goalkeeper Niklas Landin and Croatia captain Domagoj Duvnjak – and they know each other well, playing together as teammates at THW Kiel. 
Overall, Croatia and Denmark have played each other 18 times in major competitions, according to the Croatian Handball Federation, with both teams winning nine each.
They met at the same stage of the 2021 IHF Men's World Championship, with Denmark easily winning (38:26). At the 2022 European Championship in Hungary, the result was closer, with the Danes taking a 27:25 victory. You have to go back to the 2016 Olympic Games for the last time Croatia got a victory, winning 27:24.
"We have to go match by match; our first match is against Denmark, so now we have to concentrate all our efforts on that match," said Hrvoje Horvat, who is in his debut world championship as Croatia's senior coach. 
"After Denmark, we will look forward to prepare for all the other matches, but we have to deal with them first. When you play against such a team, you need all parts of the handball game at the highest level to be competitive."
As if playing the favourites for the title in front of an almost home crowd was not enough, Croatia will also have to deal with the Poland/Sweden 2023 joint top-scorer, Denmark's right back Mathias Gidsel. The 23-year-old has scored 26 goals (76% efficiency) and made 13 assists. He is in the form of his life. 
Denmark had to make one adjustment ahead of this next stage, with left back Lasse Møller returning home to "…prevent a fracture of the calf," according to the Danish Handball Federation website. 
"I am glad that it was discovered in time so that the damage did not have time to grow," he said. "I wish the boys all the luck and success going forward because I leave here with a feeling of still being part of the team and will continue to keep in touch with the boys further into the tournament."