Belgium seal historic IHF Men's World Championship spot
21 Mar. 2022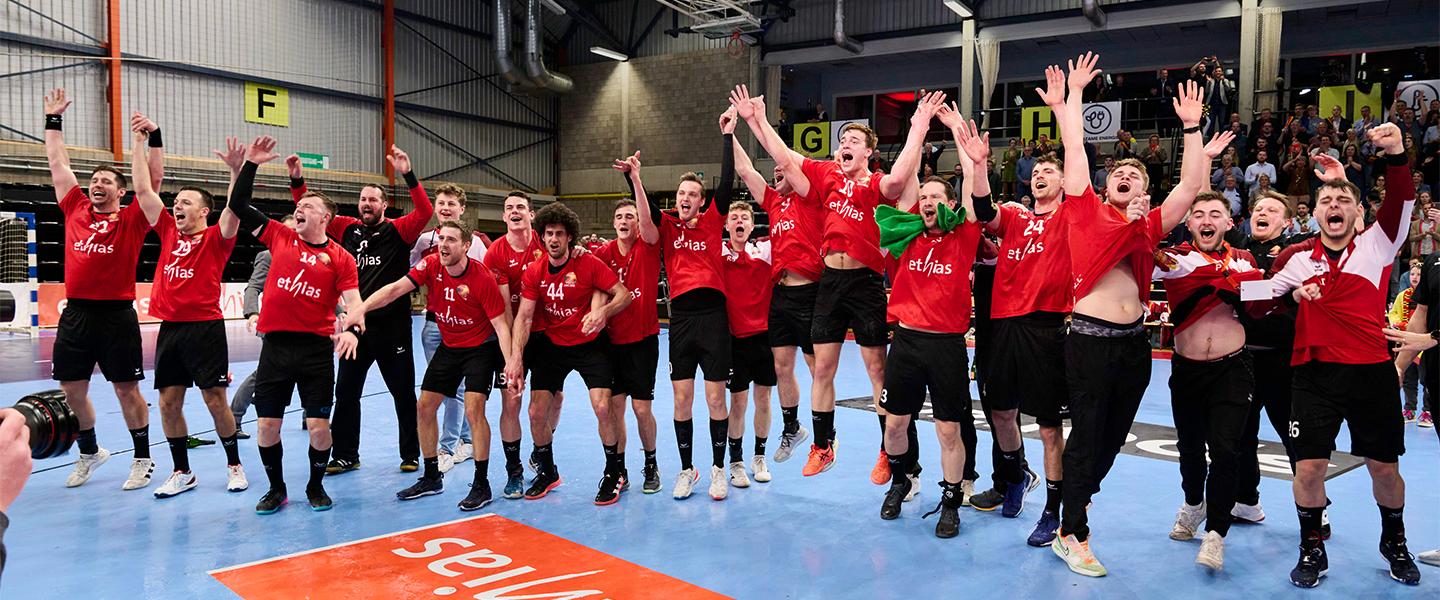 Part 1 of the 2023 IHF Men's World Championship Qualification Europe – Phase 2 concluded this weekend, with huge surprises spread over the card, as Belgium sealed their first-ever berth for the IHF's men's flagship event with a 57:54 aggregate win over Slovakia.
With Russia banned from all IHF and EHF competitions until further notice due to its invasion of Ukraine, Belgium earned safe passage to Poland/Sweden 2023, being handed a 20:0 win over Russia in Part 2 of Qualification Phase 2.
It was an astonishing result in Hasselt, Belgium, as Slovakia had won the first leg 28:26, mounting a serious comeback after being down 10:14 at the break. However, Peter Kukucka's side could not repeat the feature in the second leg on Saturday, failing to improve a meagre 45% attacking efficiency during the match.
Despite the best efforts of veterans Martin Slaninka and Tomas Urban, who each scored five goals, Slovakia conceded a painful 26:31 loss, handing Belgium the IHF Men's World Championship spot, with Yerime Sylla's team becoming the overall 32nd different European side to take part in the competition's history.
Another nine teams progressed to the second part of Qualification Europe – Phase 2 this weekend, with two 20:0 walkovers in the matches Finland versus Ukraine and Faroe Islands versus Belarus, with Faroe Islands registering their best-ever result in the Qualification Phase of the IHF Men's World Championship.
Another big surprise was Israel's 55:49 win on aggregate against Lithuania, which meant they progressed to Part 2 of the Qualification Europe – Phase 2 for the second time in a row. Lithuania lost two consecutive games in the IHF Men's World Championship's Qualification Phase for the first time since their double-header against Russia in June 2014, as their bid to qualify for the second major international tournament in a row, after the Men's EHF EURO 2022, fell short.
On the other hand, the largest gap was registered by Portugal, who trumped Switzerland 66:54, taking two clear wins in only three days. As Paulo Pereira's side are trying to seal a spot at the IHF Men's World Championship for the second straight time, Switzerland could not stop them, despite back Lenny Rubin scoring 13 goals in the two matches.
Slovenia confirmed their superiority over Italy, despite taking only a one-goal win (29:28) in the first leg, which was Uros Zorman's debut as the head coach of the team. A second victory, three days later in Celje, helped Slovenia clinch a clear 57:49 aggregate win.
Acting as the team captain and the team coach, Kiril Lazarov was still superb for North Macedonia, at 41 years old, putting 13 goals past Romania in their 52:46 aggregate win. After a 30:22 home win in Skopje, North Macedonia had a little trouble in the second leg, where they conceded a 22:24 loss, but their qualification was by no means threatened.
Austria's 62:57 aggregate win against Estonia and Greece's 52:43 aggregate win against Bosnia and Herzegovina both came after they swept their opponents, but both sides will face more difficult challenges in Part 2 of the Qualification Phase 2, which will take place on 13 and 16 April.
Greece's centre back Charalampos Mallios was the top scorer of Part 1 of the Qualification Europe – Phase 2, scoring 15 goals in the two matches against Bosnia and Herzegovina, with 13 of them coming in the 24:17 win in the first leg.
2023 IHF Men's World Championship Qualification Europe – Phase 2 
Part 2 pairings
Finland vs Croatia
Slovenia vs Serbia
Portugal vs Netherlands
Austria vs Iceland
Greece vs Montenegro
Czech Republic vs North Macedonia
Israel vs Hungary
Germany vs Faroe Islands
For more information on the IHF Men's World Championship Qualification Europe, visit eurohandball.com.
Photo: Alain Decamps