Teams learn their fate as Men's EHF EURO 2022 groups are drawn
07 May. 2021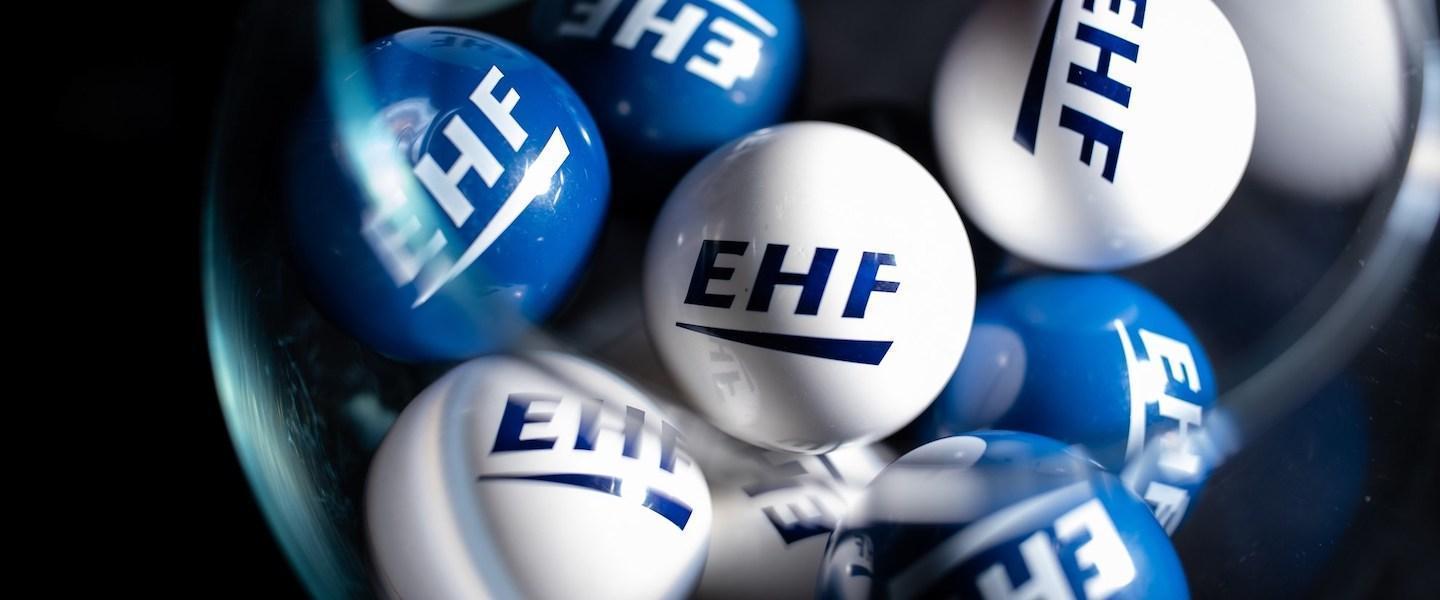 The emotions ran high on Thursday afternoon, as the 24 teams qualified for the Men's EHF EURO 2022 learnt their fate after their opponents in the preliminary round were revealed at the draw in Budapest.
Four players representing the co-hosts and the Men's EHF EURO 2020 finalists – Marian Zernovic (Slovakia), Bence Banhidi (Hungary), Luka Stepancic (Croatia) and Rodrigo Corrales (Spain) – assisted the draw, which was also conducted by European Handball Federation (EHF) President Michael Wiederer and EHF Secretary General Martin Hausleitner.
Reigning world champions Denmark were drawn in Group A, alongside Slovenia, North Macedonia and Montenegro, in one of the most balanced groups of the tournament. The Danish side were eliminated from the preliminary group at the Men's EHF EURO 2020, one of their worst performances in history in the European competition.
Vi får fornøjelsen af Slovenien ??, Nordmakedonien?? og Montenegro??i gruppe A ved @EHFEURO 2⃣0⃣2⃣2⃣ i Ungarn og Slovakiet. Få en reaktion fra landstræner Nikolaj Jacobsen her ?#hndbld https://t.co/cVam1izNxF

— Dansk Håndbold Forbund (@dhf_haandbold) May 6, 2021
Znani so tekmeci naših rokometašev v prvem delu EP 2022. V madžarskem Debrecenu se bodo pomerili s Severno Makedonijo, Dansko in Črno goro!???‍♂️#miSlovenci #ehfeuro2022 #watchgamesseemore pic.twitter.com/OgW1sbXVMt

— Rokometna zveza SLO (@rzs_si) May 6, 2021
"It could have been worse, or it could have been better. I am happy that we avoided France and Iceland, but I would have liked to avoid Montenegro. If we progress, a tough main round group awaits," said Denmark's coach Nikolaj Jacobsen according to the Danish Handball Association website.
Title holders Spain face a difficult challenge against Egypt 2021 silver medallists Sweden, the Czech Republic and Bosnia-Herzegovina in Group E, which will be hosted by Slovakian capital Bratislava.
??? Los #Hispanos ya conocen a sus rivales en el próximo @EHFEURO

? Suecia??, República Checa??, y Bosnia & Herzegovina??, primeros oponentes en la lucha por revalidar el título continental

??? Descubre cómo han quedado configurados los grupos de este #EHFEURO2022

— RFEBalonmano (@RFEBalonmano) May 6, 2021
There will be no room for error in Group B, where co-hosts Hungary face a gritty challenge from Portugal, Iceland and the Netherlands. Portugal and Iceland will rekindle their newly-minted rivalry, having faced each other four times in the last year, including a 25:23 Portuguese win at the IHF Men's World Championship in Egypt last January.
?? Portugal vai defrontar Hungria, Islândia e Holanda no Grupo B do @EHFEURO 2022 ‼️?

Saiba tudo aqui ⤵️#letsgovamos #heroisdomar #superportugal #seleçãonacionalandebol #portugal #andebol #jogossantacasa #aguamonchique #lidlportugal #ehfeuro2022https://t.co/gNKGqBesaj

— Federação de Andebol (@AndebolPortugal) May 6, 2021
"Our group is probably the most balanced one in this tournament. We wanted to avoid Norway, but we got some good teams, Portugal are one of the ones who are very tough to beat. Iceland are also a tough opponent," said Hungary's coach, Istvan Gulyas.
One of the European powerhouses, Germany, will face a sturdy challenge from Austria, Belarus and Poland in a balanced Group D, while co-hosts Slovakia will have their work cut out in Group F, as they play Norway, Russia and Lithuania.
Für euren Terminkalender! ✍️⤵ #WIRIHRALLE #aufgehtsDHB #handball pic.twitter.com/sIi5M98loJ

— DHB_Nationalteams (@DHB_Teams) May 7, 2021
??? ?????? ???? ????????❗

Unser Herren Nationalteam trifft bei der EHF EURO 2022 in Gruppe D in Bratislava auf Deutschland ??, Weißrussland ?? und Polen ??!#HandballAUSTRIA pic.twitter.com/QNYf1UyPYI

— Handball Austria (@HandballAustria) May 6, 2021
? 14.01.2022 ?? Polska - ?? Austria ? Bratysława
? 16.01.2022 ?? Polska - ?? Białoruś ? Bratysława
? 18.01.2022 ?? Polska - ?? Niemcy ? Bratysława pic.twitter.com/HadEbm7Hw8

— Handball Polska (@handballpolska) May 6, 2021
prezident SZH Jaroslav Holeša sa teší na jednotlivé tímyhttps://t.co/j924mCz0Lw

?Ako sa prezident SZH Jaroslav Holeša teší na jednotlivé tímy v skupine Slovákov na ME v hádzanej mužov 2022? ?? A ako je spokojný s ostatnými skupinami? ?‍♂️

— SlovakHandball (@SlovakHandball) May 7, 2021
"There are a lot of unknowns, because we did not face Russia and Lithuania a lot in the last years. I have never played against Slovakia. The most important thing for us in the preliminary round is to perform well and to get the points into the next phase and up our game in the second part of the tournament," said Norway's coach, Christian Berge to the Norwegian Handball Federation website.
However, the biggest battle for the two main round berths is bound to take place in Group C. After being eliminated in the preliminary round at the Men's EHF EURO 2020, France are facing another crisp challenge. Croatia, Serbia and Ukraine will battle to progress to the main round, with France failing to win against Serbia in the Qualification Phase 2, as Toni Gerona's side earned a win and a draw against "Les Experts".
Les ?? connaissent leur programme des poules #EHFEuro2022 ?

➡ https://t.co/2Wuwev0uOV#BleuetFier #WatchGamesSeeMore pic.twitter.com/6pvRnoamsy

— Equipes de France de Handball (@FRAHandball) May 6, 2021
[ @EHFEURO 2022 ?? ]
??‍♂️ ili ??
Luka Stepančić ??#crohandball #iznadsvihhrvatska #ehfeuro2022 #watchgamesseemore pic.twitter.com/ugZ24Oml2h

— HRS (@HRStwitt) May 6, 2021
"We are facing Serbia and Croatia once again, in a group with tough Balkan influences. It is a tough group, with high quality teams," said Guillaume Gille, France's coach to the French Handball Federation website.
The top two sides in Groups A, B and C will face each other in Group 1 of the main round, while the top-two placed teams in Groups D, E and F will progress to Group 2.
Please welcome the Men's #ehfeuro2022 Final groups! Which group is the toughest in your opinion? ?#watchgamesseemore pic.twitter.com/PouJ1KVaCv

— EHF EURO (@EHFEURO) May 6, 2021
65 games are scheduled to take place at the EHF EURO 2022, with the top-two placed teams in each group of the preliminary round proceeding to the main round.
The Men's EHF EURO 2022 will take place between 13 and 30 January 2022 in five venues in two countries. Budapest, Debrecen and Szeged will host the EHF EURO 2022 in Hungary, while Bratislava and Kosice are the venues in Slovakia. 
The final weekend is due to be held in New Budapest Arena. 
For more information, visit the competition website.
Photo: European Handball Federation