Surprise Austria and nine other teams progress to Spain 2021
22 Apr. 2021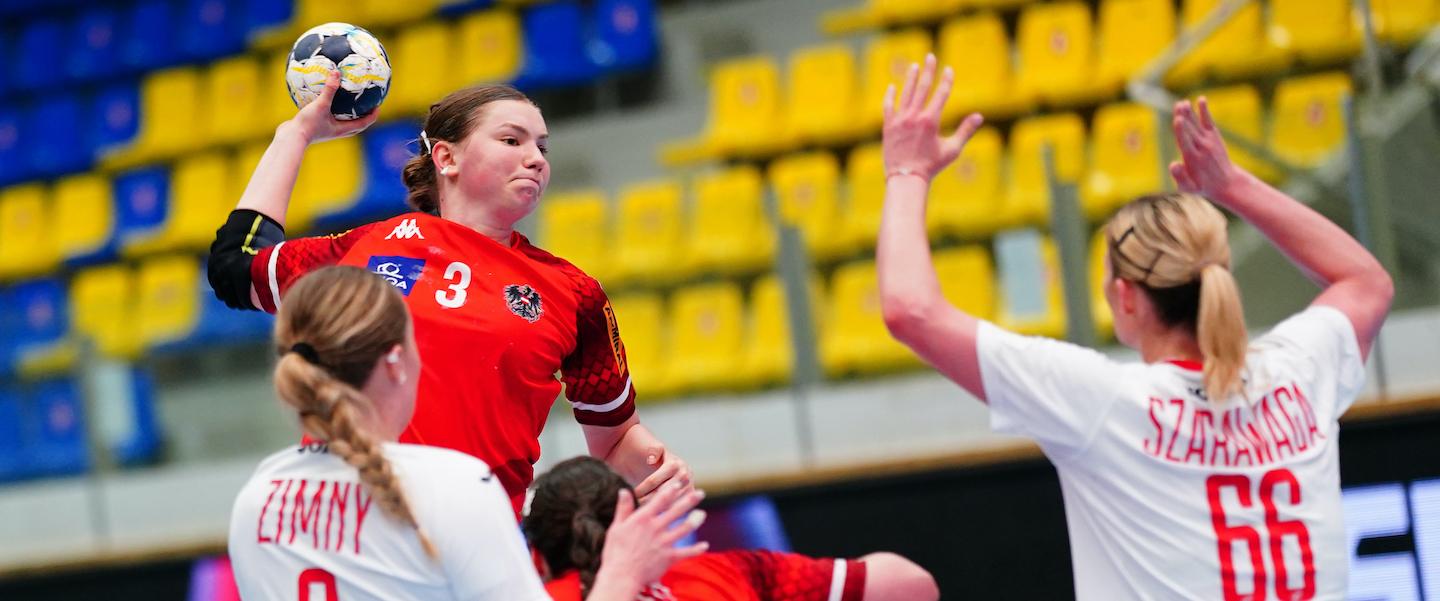 Sixteen teams have now sealed their berths for the 25th IHF Women's World Championship as the Qualification Europe – Phase 2 concluded on Wednesday evening.
There were easy wins for some sides and roller-coaster rides for others, but with this phase completed, half of the teams to take part in the flagship event are now known.
With an 87:31 aggregate win against Italy, Hungary had already sealed their berth last weekend. They are joined by reigning Olympic champions Russia, who beat Turkey in emphatic fashion 80:47. No Russian player combined for more than 10 goals, with left wing Dariia Samokhina leading the pack, in a superb display of team spirit by the Russian side.
The real surprise, however, were Austria, who are back at the IHF Women's World Championship for the first time since 2009, after a blockbuster 58:55 aggregate win against a more experienced Polish side. After the first leg at home ended in a 29:29 draw, few would have earmarked Austria as favourites, yet Herbert Muller's side delivered a superb performance in Poland. Lifted by a 10-goal outing from centre back Sonja Frey, Austria took the lead and never looked back, despite a late comeback attempt from Poland, who tied the game at 22:22 with 10 minutes to go. Scoring three of Austria's last five goals, back Patricia Kovacs sealed the win for Muller's plucky side, who are dreaming once again.
The Czech Republic also shrugged off an unexpected 27:27 draw in the first leg against Switzerland to take an impressive 28:22 away win, thanks to their experience and depth. Thüringer's left back Marketa Jerabkova put in a vintage performance for her side, scoring 15 goals, as the Czech Republic earned their overall seventh IHF Women's World Championship berth and only the fourth in the last 20 years.
Romania and Germany doubled down on their first leg wins, by taking North Macedonia and Portugal by storm in the second game. Four-time IHF Women's Player of the Year Cristina Neagu was mainly rested by the Romanian side in the 35:20 win, scoring only twice, and will take a leave of absence from the national team until Spain 2021. Meanwhile, Germany took a 34:23 win against Portugal to seal their 10th IHF Women's World Championship berth in a row.
In her first doubleheader as the Montenegrin women's national team coach, Bojana Popovic secured two easy victories, jumping to a 55:47 aggregate win against Belarus. Right wing Jovanka Radicevic, who signed for Turkish outfit Kastamonu from next season on, scored 12 times, as Montenegro are now for the sixth straight time at a World Championship.
Boasting six rookies in their side, Sweden lost the away leg against Ukraine 22:26, but their commanding 14-goal lead from the first leg was enough to propel them to Spain 2021. The same applied for Slovenia, who had a superb defensive outing against Iceland in the first leg (24:14), so that the 21:21 draw on Wednesday did not have an impact, despite the Slovenian side missing their captain, Ana Gros.
The 10 European sides are joining reigning champions, the Netherlands, hosts Spain, and the best four-placed teams at the Women's EHF EURO 2020 – Norway, France, Croatia and Denmark – at Spain 2021.
16 places are still up for grabs for the competition due to take place in December in five cities: Barcelona, Castellon, Granollers, Lliria and Torrevieja.
2021 IHF Women's World Championship – Qualification Europe Phase 2
Turkey vs Russia 47:80 on aggregate (First leg: 23:35 / Second leg: 24:45)
Czech Republic vs Switzerland 55:49 on aggregate (First leg: 27:27 / Second leg: 28:22)
Slovenia vs Iceland 45:35 on aggregate (First leg: 24:14 / Second leg: 21:21)
Slovakia vs Serbia 44:58 on aggregate (First leg: 19:26 / Second leg: 25:32)
Ukraine vs Sweden 40:50 on aggregate (First leg: 14:28 / Second leg: 26:22)
Austria vs Poland 58:55 on aggregate (First leg: 29:29 / Second leg: 29:26)
Hungary vs Italy 87:31 on aggregate (First leg: 46:19 / Second leg: 41:12)
Romania vs North Macedonia 68:42 on aggregate (First leg: 33:22 / Second leg: 35:20)
Portugal vs Germany 50:66 on aggregate (First leg: 27:32 / Second leg: 23:34)
Montenegro vs Belarus 55:47 on aggregate (First leg: 29:23 / Second leg: 26:24)
For more information on the 25th IHF Women's World Championship, visit the official event website. 
Photos: ÖHB/Agentur DIENER/Eva Manhart