Nine places for Spain 2021 still up for grabs as Hungary claim World Championship spot
19 Apr. 2021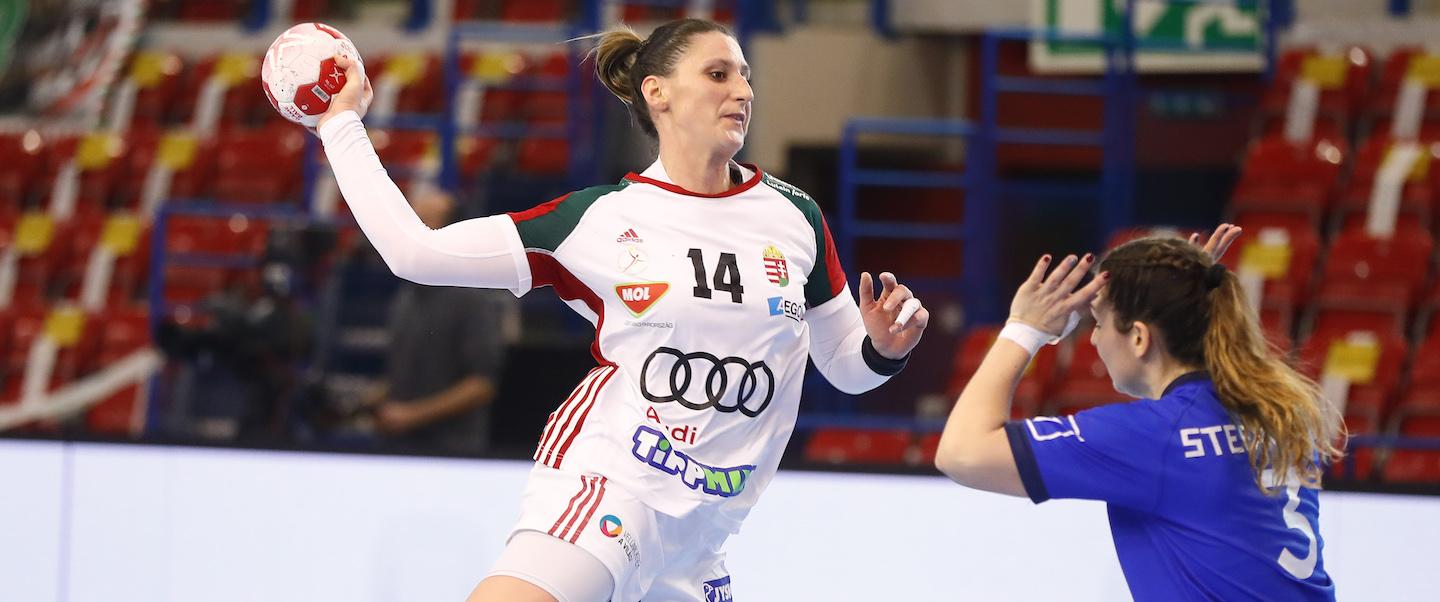 The 2021 IHF Women's World Championship Qualification Europe – Phase 2 is in full swing and this weekend, the seventh berth for Spain 2021 was awarded.
In a one-sided doubleheader, Hungary took a convincing 87:31 aggregate win against Italy, with two compelling victories, 46:19 and 41:12, in Erd. Right back Katrin Klujber was Hungary's top scorer in the two games, combining for 16 goals against an Italian side that had no answer to the Hungarian team.
Reigning Olympic champions Russia made a big step towards their 14th IHF Women's World Championship berth after outclassing Turkey 35:23, with centre back Daria Dmitrieva scoring seven goals. The second leg will take place in Moscow, Russia, on 20 April.
Romania also have all chances to go through to Spain 2021 after defeating North Macedonia 33:22, their biggest win in competitive games in almost four years. Led by a superb Cristina Neagu, who scored 11 times, the Romanian side are on track to keep the record of participations in the world flagship event, taking part in each and every IHF Women's World Championship edition up to this point.
A 14-goal win spurred on by a superb defensive performance and a collective attacking effort, which saw no player score more than four goals, lifted Sweden to a convincing 28:14 against Ukraine, putting them in a comfortable position to seal a berth for the World Championship in December prior to the second leg of the tie, due to take place on 21 April in Lund, Sweden.
Led by a superb effort of left back Jovana Kovacevic, Serbia edged closer to their fifth IHF Women's World Championship edition in a row after taking a 26:18 away win against Slovakia. While leading playmaker Andrea Lekic is still out due to an Achilles injury suffered at the Women's EHF EURO 2020 in December, Serbia relied on Kovacevic and fellow back Jelena Lavko, who scored three goals, but also on experienced right wing Katarina Krpez-Slezak, who added six goals.
Montenegro and Germany also scored important wins, yet their games had ups and downs. The Montenegrin side, in the first competitive game for Bojana Popovic as head coach, enjoyed a six-goal win against Belarus, 29:23, while Germany had an unusual quiet evening against Portugal, securing an easy 32:27 win, with left wing Johanna Stockschläder scoring seven times in her debut for the national team.
After a commanding 24:14 win against Iceland, Slovenia also made a big step towards their third consecutive IHF Women's World Championship berth, led by a vintage game from centre back Elizabeth Omoregie, who scored nine times. The DELO EHF Champions League top scorer, right back Ana Gros, missed the match due to an injury, but the Slovenian side duly delivered even without their captain.
There is everything to play for in the other two doubleheaders of the 2021 IHF Women's World Championship Qualification Europe – Phase 2. Switzerland are closer than ever to reach the final tournament after a 27:27 away draw against the Czech Republic, in one of the most exciting games of the weekend. The Swiss side led by as many as three goals in the first half and the hosts only took the lead for the first time with seconds to spare, only for right back Xenia Hodel to tie the game at the buzzer, with the team to qualify being decided in the second leg.
Austria and Poland also drew, 29:29, in another thrilling game. The two sides traded the lead seven times, but Poland look like the favourites – despite Austria's Claudia Wess tying the first leg with six seconds to go. Austria last qualified for the IHF Women's World Championship in 2009.
Hungary joined hosts Spain, reigning champions the Netherlands and the top four teams from the Women's EHF EURO 2020 – Norway, France, Croatia and Denmark – as the seven teams to have already earned safe passage to Spain 2021.
For more information about Qualification Europe – Phase 2, visit the European Handball Federation website.
For more information about Spain 2021, visit the official website.
IHF Women's World Championship – Qualification Europe Phase 2
Turkey vs Russia (First leg: 23:35 / Second leg: 20 April – Moscow, Russia)

Czech Republic vs Switzerland (First leg: 27:27 / Second leg: 20 April – Gümligen, Switzerland)

Slovenia vs Iceland (First leg: 24:14 / Second leg: 21 April – Hafnarfjordur, Iceland)

Slovakia vs Serbia (First leg: 19:26 / Second leg: 21 April – Belgrade, Serbia)

Ukraine vs Sweden (First leg: 14:28 / Second leg: 21 April – Lund, Sweden)

Austria vs Poland (First leg: 29:29 / Second leg: 20 April – Marki, Poland)

Hungary vs Italy 87:31 on aggregate (46:19 and 41:12)

Romania vs North Macedonia (First leg: 33:22 / Second leg: 21 April – Skopje, North Macedonia)

Portugal vs Germany (First leg: 27:32 / Second leg: 20 April – Hamm, Germany)

Montenegro vs Belarus (First leg: 29:23 / Second leg: 20 April – Minsk, Belarus)
Photo: Anikó Kovács