Group IV: Four contenders for two quarter-final spots
24 Jan. 2021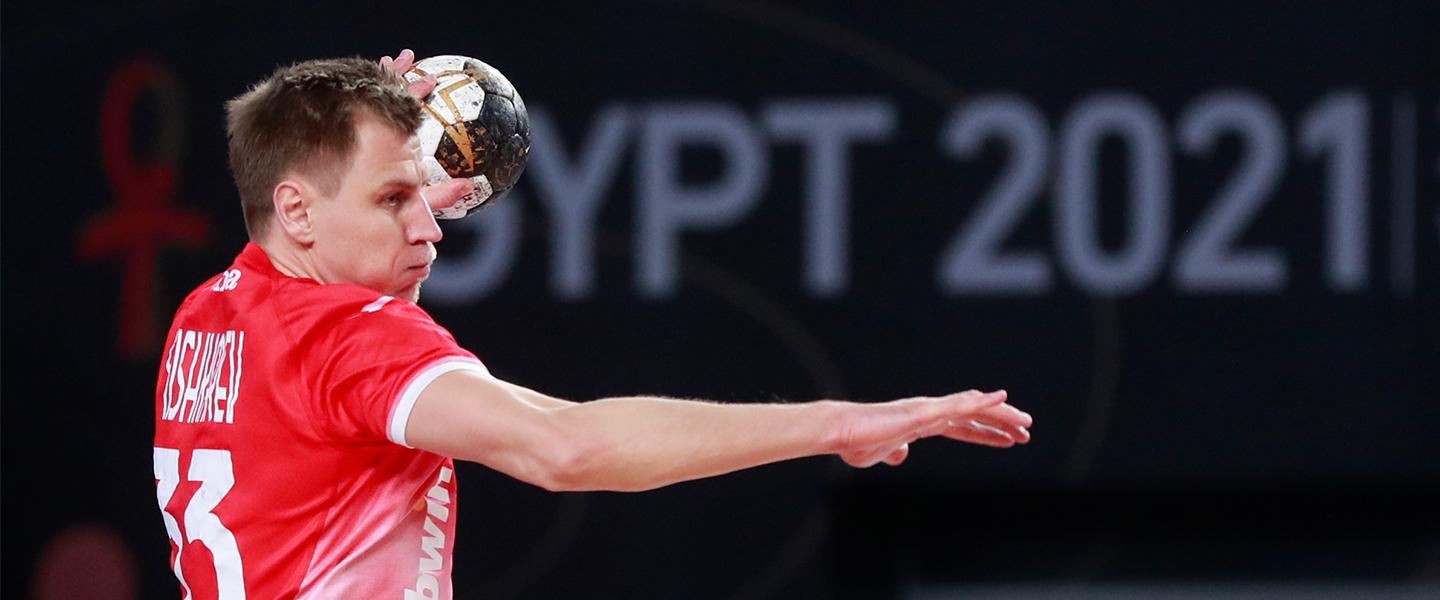 Before the last matches in main round Group IV, four teams are still in the race for two quarter-final tickets. Now, everything will be decided in their direct duels, as Slovenia play against Egypt and the Russian Handball Federation Team face Sweden. 
The situation in the group may look complicated at first sight, but in fact it is not: Slovenia and the Russian Handball Federation team, who are both on five points, face must-win matches, while for Egypt and Sweden, who are tied on six points, a draw will be enough to progress. 
Belarus vs North Macedonia 16:30 CAT
Both sides have already lost any chance to reach the next round, and while Belarus sit on the fifth place with two points, North Macedonia are bottom of the group with zero points.
Belarus still had a chance to go through before their Friday match against Egypt, but the 26:35 defeat put them out of contention.
North Macedonia had lost their hope to advance to the quarter-final even earlier, after a 21:31 defeat in their first main round game against Slovenia, and they went on to lose another game, 20:32 against the Russian Handball Federation team.
However, the Balkan team still have an opportunity to end the championship on a good note. In case they beat Belarus, North Macedonia will pass them to finish fifth in the group, while any other result will keep the Belarusians in their current position.
Slovenia vs Egypt 19:00 CAT
Much more will be at stake in the second match on Sunday, as Slovenia need a win to advance to the quarter-finals, while a draw is enough for their Egyptian opponents to make it to the next round.
Two days ago, the Balkan team demonstrated a strong character, as they salvaged a point in a thrilling match against Sweden thanks to Matej Gaber's last-second goal.
Although the Slovenians left much energy in that game, they hope to recover and upset hosts Egypt. 
"We can play under pressure. Egypt have better chances than us but we will fight to win and make things more difficult," said their coach Ljubomir Vranjes.
The 'Pharaohs', in turn, were able to save some energy on Friday, cruising past Belarus by nine goals.
Roberto Garcia Parrondo's men have been quite impressive on home court, winning four of their five matches in the competition so far, and they certainly hope to continue this way and reach the quarter-finals.
In the past, Slovenia and Egypt met twice at IHF Men's World Championships, and they exchanged victories, as the Pharaohs won 27:26 in 2003, and the European side took a 31:26 revenge ten years later.
More recently, they also faced each other at the 2016 Olympic Games, at which Slovenia claimed a narrow 27:26 win.
Russian Handball Federation vs Sweden 21:30 CAT
The unbeaten Sweden team could have already booked a quarter-final ticket earlier in the World Championship, but they let the victories slip out of their hands in two straight matches, splitting points with Belarus and Slovenia.
Yet, everything is still in Sweden's hands, as a win against the Russian Handball Federation Team will definitely see them through to the next round.
"Russia is a good team, just like all other teams in the main round. We will watch videos, and we have to be well-prepared for this match, because our opponents are really good," said Sweden's left back Jonathan Carlsbogard. 
As Wild Card entry, there were no big expectations from the Russian Handball Federation Team prior to the event, yet Velimir Petkovic's men have been doing quite well and are still fighting for a quarter-final spot.
After a frustrating defeat against Egypt (23:28), they hit back in the following encounter against North Macedonia, claiming a commanding 12-goal win.
Another victory will secure the Russian Handball Federation Team a place in the quarter-finals, and they are determined to fight until the end. 
"Sweden is a good team, but we have enough character and mobility. We have nothing to lose and will try to reach the quarter-final," their coach Velimir Petkovic said.