Egypt claim commanding win against Belarus
22 Jan. 2021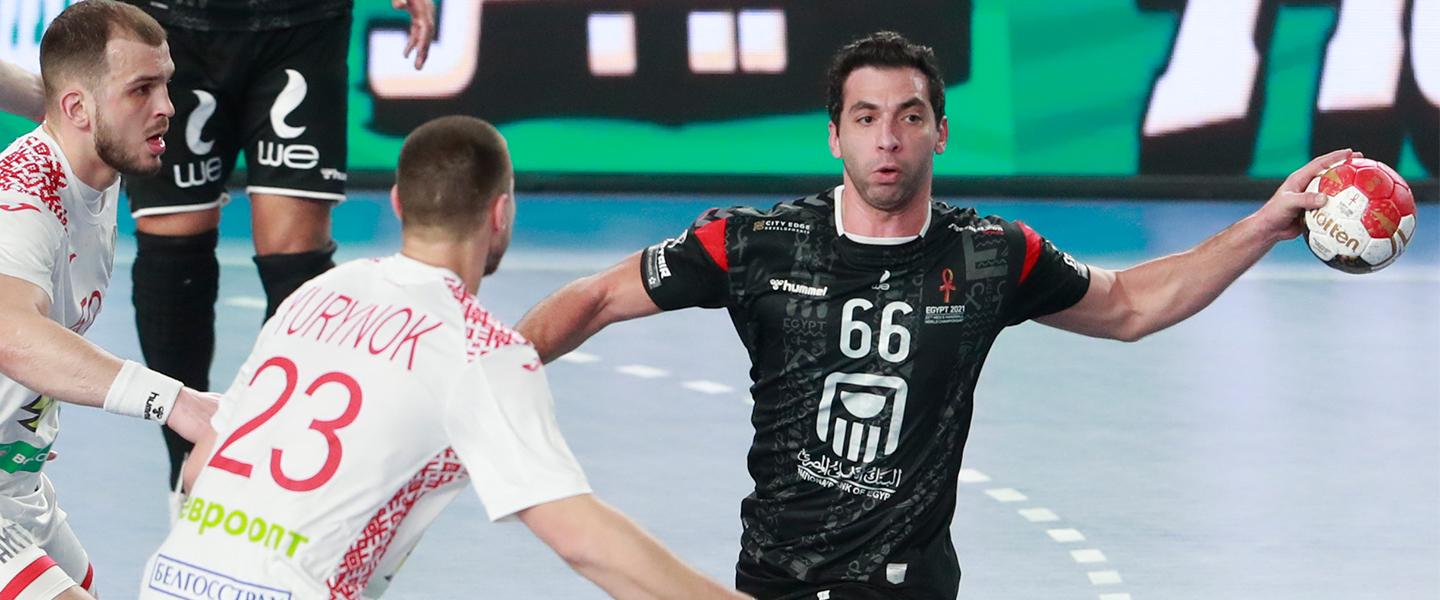 Hosts Egypt took another step towards the quarter-finals, comfortably beating Belarus by nine goals. After this victory, the 'Pharaohs' are – for now – atop of main round Group IV with six points.
Meanwhile Belarus, who stay on two points, no longer have a chance of progressing to the next round. 
MAIN ROUND GROUP IV 
Egypt vs Belarus 35:26 (21:14)
The Pharaohs enjoyed a confident start of the match, as Yehia El-Deraa and Ahmed Hesham put them in front 2:0.
Belarus, who had left much power in their previous match against Sweden (26:26), were struggling to get into the game. Egypt benefitted from their frequent defensive mistakes, as Mohamed Sanad and Ahmed El-Ahmar showed their fire power and propelled the hosts to a 12:5 lead midway through the first half.
"It was not a good game for us. Our defence did not work well, and we could not wake up early in the match. At the World Championship, a team has to show another kind of performance. I think Egypt's victory was quite deserved, even such a big one," said Belarus coach Iouri Shevtsov. 
Following a slow start, Shevtsov took a timeout 11 minutes into the game, and after a while, his team improved, as their leaders Artem Karalek and Mikita Vailupau started to show their skills in attack. 
However, Egypt continued to dominate and went on to finish the first half with 21 goals, their best half-time scoring result at the current event, leading by seven.
Belarus' goalkeeper Ivan Maroz did a decent job, recording quite a number of saves, yet his effort was not enough for the European team.
Ahmed Hesham, who earned the hummel Player of the Match award, worked well in defence, while veteran El-Ahmar succeeded in both scoring and setting up goals, helping the Pharaohs to take a 10-goal lead by minute 45 (29:19).
The game was basically settled, and while Ali Zein had to leave the court due to an injury, some of his teammates were rested by Roberto Garcia Parrondo late in the match, as Egypt cruised to a nine-goal victory. 
hummel Player of the Match: Ahmed Hesham, Egypt