Veszprém claim third straight SEHA Final 4 title
05 Sep. 2022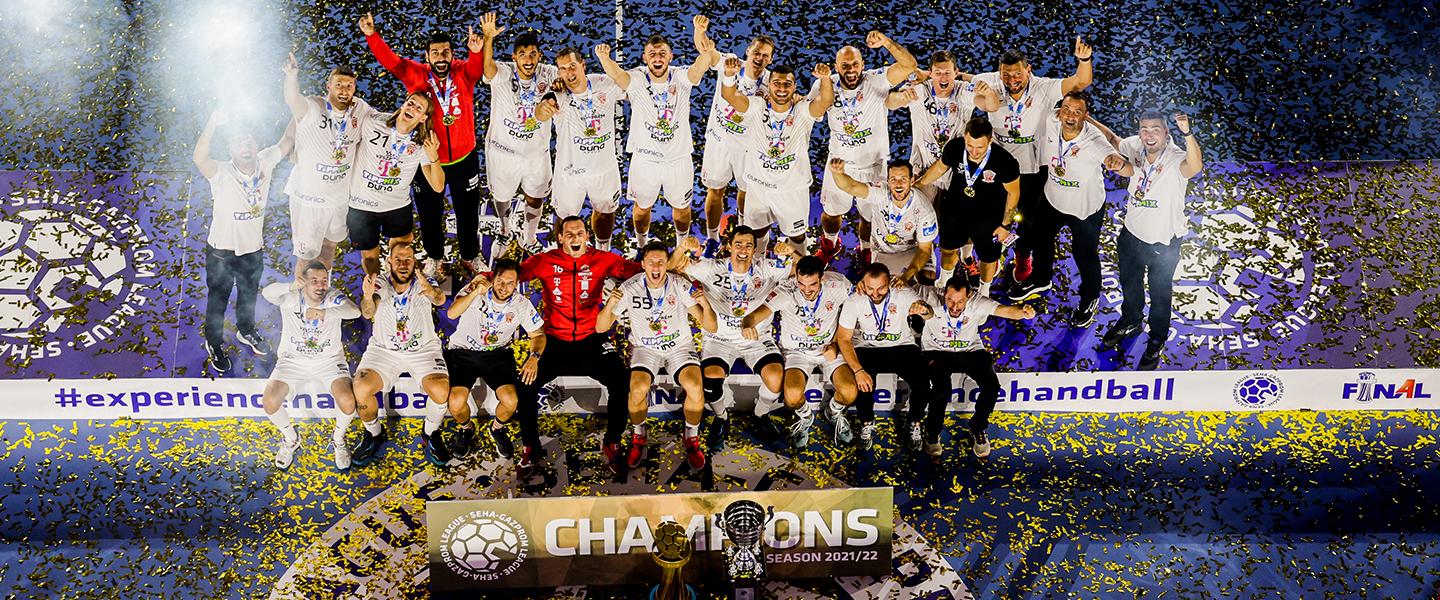 For the third year in a row, Telekom Veszprém HC became winners of the SEHA-Gazprom League and just like in 2021, the Hungarian heavyweights defeated Croatia's HC PPD Zagreb in the final match, 32:30.
Veszprem won their fifth title in the competition after previously clinching it in 2015, 2016, 2020 and 2021. The triumph at the Final 4 held in Zadar, Croatia, allowed the Hungarian team to go level with North Macedonian powerhouse HC Vardar, who also won the SEHA-Gazprom League five times. Beside these two clubs, only Zagreb triumphed in the tournament once, in 2013.
The 11th season of the competition was not an easy one. It started in February 2022 with 10 teams competing, eight of which entered the group phase and two more, Veszprém and Belarus' HC Meshkov Brest, were granted direct quarter-final spots. 
However, after the teams played just a few matches, the competition was suspended in March, following the Russian invasion in Ukraine and the IHF and EHF decisions to exclude Russia and Belarus from competition. After some months of uncertainty, it was finally decided to finish the season with the quarter-finals in August and then the Final 4 from 2 to 4 September. 
After analysing and calculating the average ranking of the teams in all the seasons they participated in the SEHA-Gazprom League, the eight best-ranked teams got an opportunity to play in the quarter-finals. Unlike the previous years, the opponents had to meet just once during this stage, and the pairs were decided by draw.
Veszprém were the first to seal their Final 4 spot after beating Slovakian team TATRAN Presov 35:25, before Zagreb narrowly defeated Serbia's Vojvodina 23:22. Two more quarter-finals were decided in post-match shoot-outs: RK Nexe from Croatia surprisingly beat Vardar (32:30), while the North Macedonian side HC Eurofarm Pelister proved too strong for HC Meshkov Brest, winning 27:26 and denying the Belarusian team their 10th straight Final 4 participation.
For Nexe, it was only the second Final 4 participation after 2019, while Eurofarm had never reached that stage before. In the semi-finals, these two clubs came up short against the more experienced rivals, as Zagreb beat Nexe in the Croatian derby 32:26, while Veszprém enjoyed a big advantage against Eurofarm, resulting in a 41:27 victory.
Eurofarm managed to end the Final 4 on a high, beating Nexe 27:23 to win third place. In a thrilling final, Zagreb seemed to be on their way to a victory, as they led 19:13 at half-time. However, Veszprém's coach Momir Ilic found the right words during the break and his team mounted an impressive comeback.
The Croatian side continued to fight hard, as they were in front 30:29 in the 57th minute. But Kentin Mahé drew level before Rasmus Lauge Schmidt – who was elected the MVP of the SEHA-Gazprom League Final 4 in 2022 – scored two late goals to clinch Veszprém's victory. 
SEHA-Gazprom League Final 4 2022 All-star Team
Goalkeeper: Aljaž Panjtar (PPD Zagreb)
Left wing: Timur Dibirov (PPD Zagreb)
Left back: Zvonimir Srna (PPD Zagreb)
Centre back: Kentin Mahé (Telekom Veszprém)
Right back: Oussama Hosni (Eurofarm Pelister)
Right wing: Mikita Vailupau (Telekom Veszprém)
Line player: Žarko Peševski (Eurofarm Pelister)
Best defender: Jakov Gojun (PPD Zagreb)
MVP: Rasmus Lauge Schmidt (Telekom Veszprém)
For more information on the event, visit seha-liga.com. 
Photo: SEHA / kolektiff / Axel Heimken