India and Pakistan celebrate in Nepal
15 Dec. 2019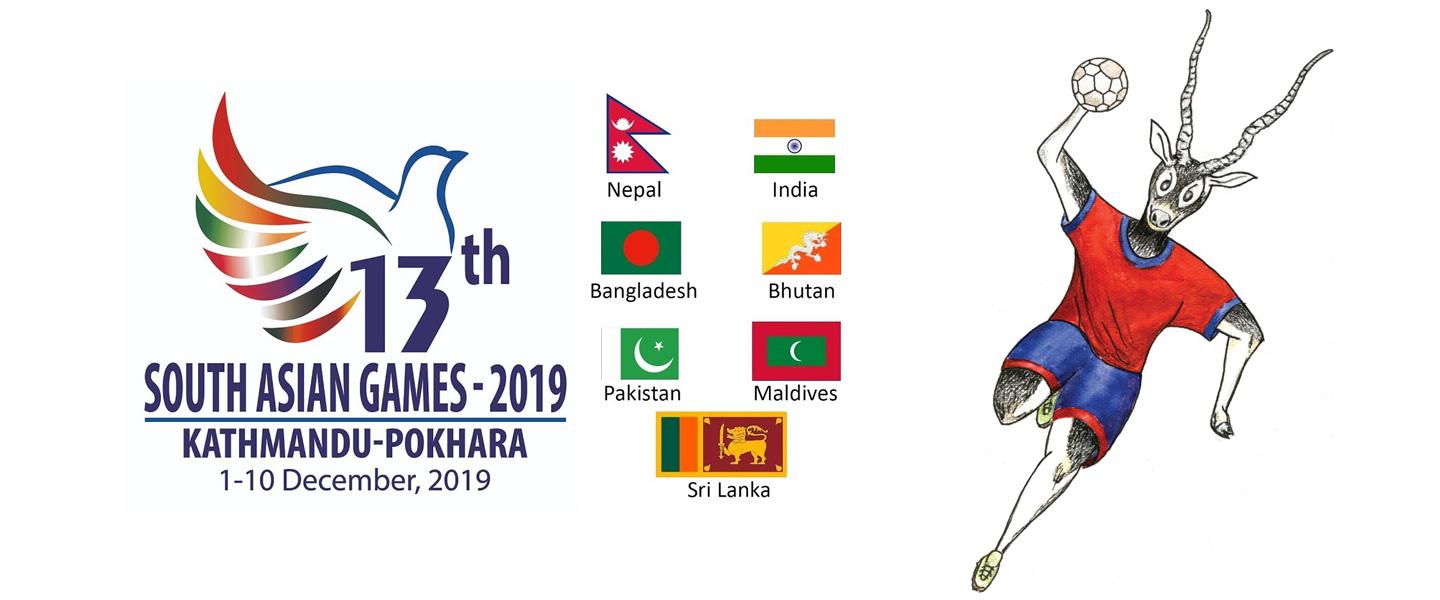 The 13th edition of the South Asian Games has finished in Pokhara, Nepal, with India and Pakistan taking the women's and men's handball gold medals respectively in the multi-sport competition which features teams from seven nations.
From 1-10 December 2019 six teams in both the men's and women's competitions played in two preliminary groups, before the top two in each went through to the semi-finals and then final, all played at the Pokhara Covered Hall.
In the women's competition, India disappointed the host nation fans, defeating Nepal 35:21 in the gold medal match to retain their 2016 title. India had beaten Maldives (41:9) and Pakistan (45:24) in the group stages, while Nepal had dispatched Sri Lanka (29:19) and Bangladesh (26:24). Bangladesh took bronze, beating Pakistan 31:15.
Pakistan defeated neighbours and title-holders India in the men's final, winning 30:29, having seen off Bangladesh (42:33) and Maldives (47:15) in the group stages. Sri Lanka's men won bronze, defeating Bangladesh 26:23 – a significant achievement for the island nation.
"Our handball team have already created a small piece of history by winning our first-ever medal at a South Asian Games during the short history of the sport in Sri Lanka," said the Handball Federation of Sri Lanka Secretary General Gihan Dalpethado to IHF.info after the game. 
"We appreciate the confidence in us by everyone concerned who helped us to add to the medals tally of our beloved country."
More information can be found on the tournament website at www.13sagnepal.com.
RANKING
Women's Competition
1 – India
2 – Nepal
3 – Bangladesh
4 – Pakistan
Men's Competition
1 – Pakistan
2 – India 
3 – Sri Lanka
4 – Bangladesh
RESULTS
Women's Competition
Preliminary Round
Nepal vs Sri Lanka 29:19
India vs Maldives 41:9
Nepal vs Bangladesh 26:24
Maldives vs Pakistan 27:32
India vs Pakistan 45:24
Bangladesh vs Sri Lanka 34:13
Semi-Finals
India vs Bangladesh 41:13
Nepal vs Pakistan 22:21
3/4 Placement Match/Bronze
Bangladesh vs Pakistan 31:15
Final
Nepal vs India 21:35
Men's Competition
Preliminary Round
Nepal vs Sri Lanka 30:37
India vs Bangladesh 42:33
Nepal vs Pakistan 19:43
Bangladesh vs Maldives 38:22
India vs Maldives 47:15
Pakistan vs Sri Lanka 42:20
Semi-Finals
India vs Sri Lanka 39:32
Pakistan vs Bangladesh 28:17
3/4 Placement Match/Bronze
Sri Lanka vs Bangladesh 26:23
Final
India vs Pakistan: 29:30