Austria seal best-ever run with win against Republic of Korea
24 Jan. 2021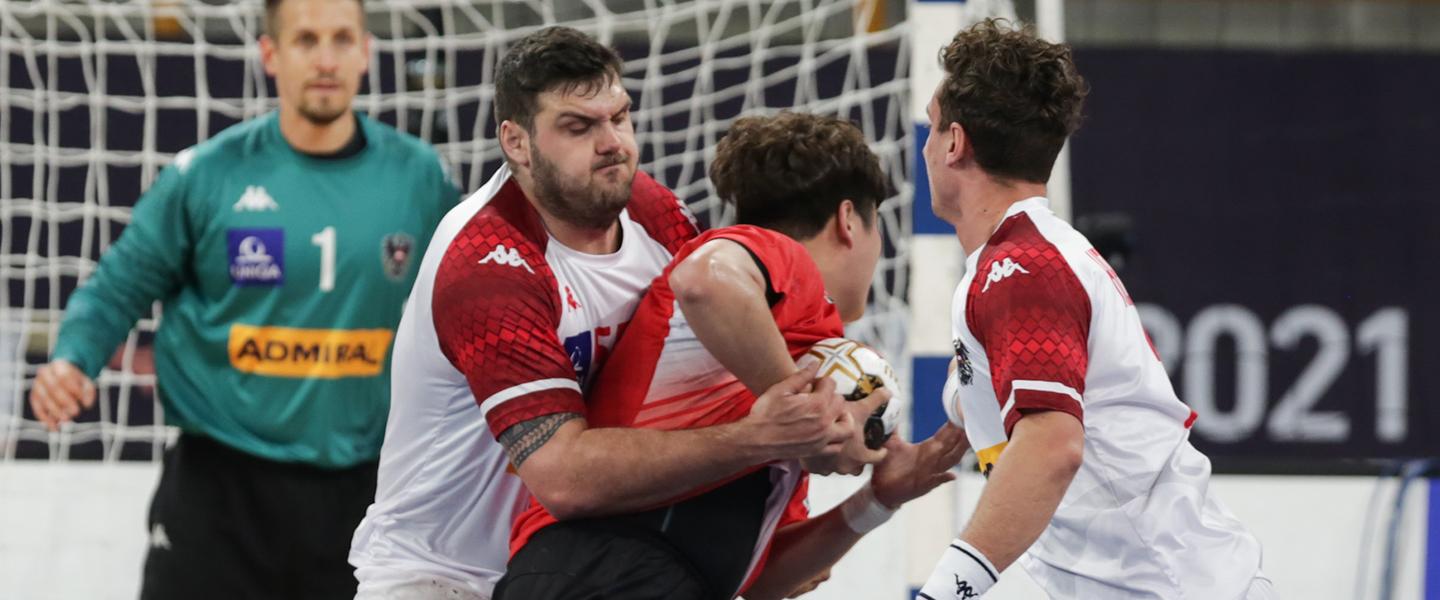 Having never won three games in a row at an IHF Men's World Championship, Austria have broken the curse against Republic of Korea, finishing the President's Cup Group II in style with a 36:29 win.
The Korean side will now finish 31st in the competition, as the 31/32 Placement Match will not take place, due to Cape Verde's withdrawal.
Austria are set to play in the President's Cup final against the winner in Group I, either Angola or Tunisia, on Wednesday.
PRESIDENT'S CUP GROUP II
Republic of Korea vs Austria 29:36 (14:18)
Both teams were playing for pride, as Austria had snatched the first place in the group after their win against Chile, while Republic of Korea were sure of finishing last, after their losses in the previous two games.
Both sides boasted powerful attacks, though, which ensured an exciting game, with a plethora of goals scored.
The Korean side had conceded at an alarming rate prior to the game and they were once again at the receiving end, despite of Austria failing to apply pressure from the start.
With top scorer Kim Jinyoung once again in good shape, scoring four goals in the first half, Korea jumped to a 10:7 lead after 17 minutes, thanks to an aggressive 5-1 defence, that hampered the European team.
As mistakes started happening for the Korean side in attack, Austria replied with a flurry of fast breaks, converted by wings Julian Pratschner and Julian Raftl, who had a combined tally of nine goals in the first half and 17 throughout the game.
An 11:4 run to end the half for Austria was enough for the European side to turn the game on its head, as Ales Pajovic's side boasted an 18:14 lead at the break.
With birthday boy Thomas Bauer, who turned 35 today, performing superbly between the goal posts – 13 saves at a 31 per cent efficiency – Austria were never going to let Korea come back, despite the Asian side putting on the best efforts.
Distributing the attacks well between their wings, line player and backs, Korea remained within fighting distance and cut the gap to two goals (26:28), but a pair of goals from back Lukas Hutecek spurred a 5:0 run that sealed the deal for Austria.
Austria won three games at one edition the IHF Men's Championship for the first time ever, while also having their best-ever run of wins, three in a row, after today's 36:29 win.
Austria can win the President's Cup on Wednesday, provided they secure their fourth win in a row against the winner of Group I, which will be either Tunisia or Angola.
The Korean side are leaving the World Championship with six defeats in six games, ranking 31st, having conceded 225 goals, but with some young talents that could lead them to success in the future.
hummel Player of the Match: Jungu Kang, Republic of Korea
Photo: Egypt 2021