Group D: Bahrain and DR Congo to clash for main round spot
19 Jan. 2021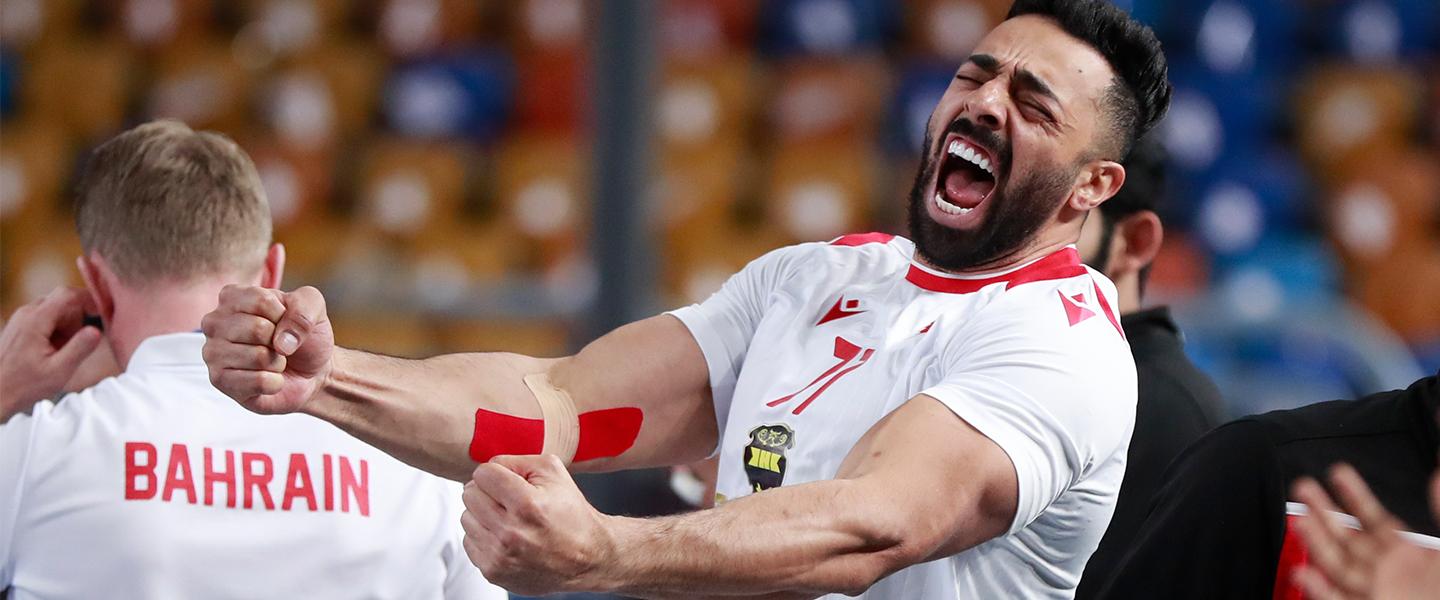 Despite having no points after two matches, both Bahrain and DR Congo still hope to reach the next round, and their encounter will decide which team will go through.
Denmark and Argentina have already secured their main round berths and will play for the top spot in the group. 
Bahrain vs DR Congo 19:00 CAT
While both sides are yet to earn their first points in the group, Bahrain have a better goal difference, which means that the Asian side will finish third and advance to the main round in case of a draw.
On Monday, Bahrain were disappointed by a defeat against Argentina, as they led by three goals midway through the second half but ultimately left the court empty-handed.
Despite the frustration, coach Halldor Sigfusson believes that his team will play a good game against DR Congo and qualify for the next stage.
"The last group match will be difficult, but with the performance shown against Argentina, we will have a chance to win. I hope that we will get better and better with every game," he said.
While Bahrain have already improved compared to their opening game with Denmark, DR Congo did not stand a chance against the defending world champions in their second group match. 
However, the Africans realise that Bahrain are not a team of the same caliber as the Danes, so the chance to progress certainly exists. 
"It will be a tough game, and whoever wants it more will win. We have to change something in our game – in particular, we need to be much quicker when we return to defence," the Congolese goalkeeper Junior Lucau said. 
Denmark vs Argentina 21:30 CAT
In their first two matches at the World Championship, Denmark scored a total of 73 goals and demonstrated that they remain a major handball force despite the absence of some players.
Against DR Congo, head coach Nikolaj Jacobsen rested his biggest stars, goalkeeper Niklas Landin and left back Mikkel Hansen, yet other players stood up for them – goalkeeper Emil Nielsen was elected hummer Player of the Match, and another Hansen – named Johan – became the team's top scorer with eight goals, all in the first half.
"I decided to give a break to some key players, as we hope to come far in the competition, and I will need them in full power later on," Jacobsen said.
Both Landin and Mikkel Hansen are expected to play in the last group game against Argentina, in which both teams want to win in order to start the main round on four points. 
The South American team, who struggled both against DR Congo and Bahrain, are seen as underdogs against Denmark, and this can be confirmed by the results of their previous encounters at World Championships.
The teams faced each other four times, with the European side winning three matches, and the game in 2015 ending in a 24:24 draw. Yet, despite such a record, Argentina are now looking to upset the title holders.
"Playing against Denmark will be big, and we will definitely try to do our best in order to win," said their Spanish coach Manolo Cadenas.