France squeeze past Algeria
20 Jan. 2021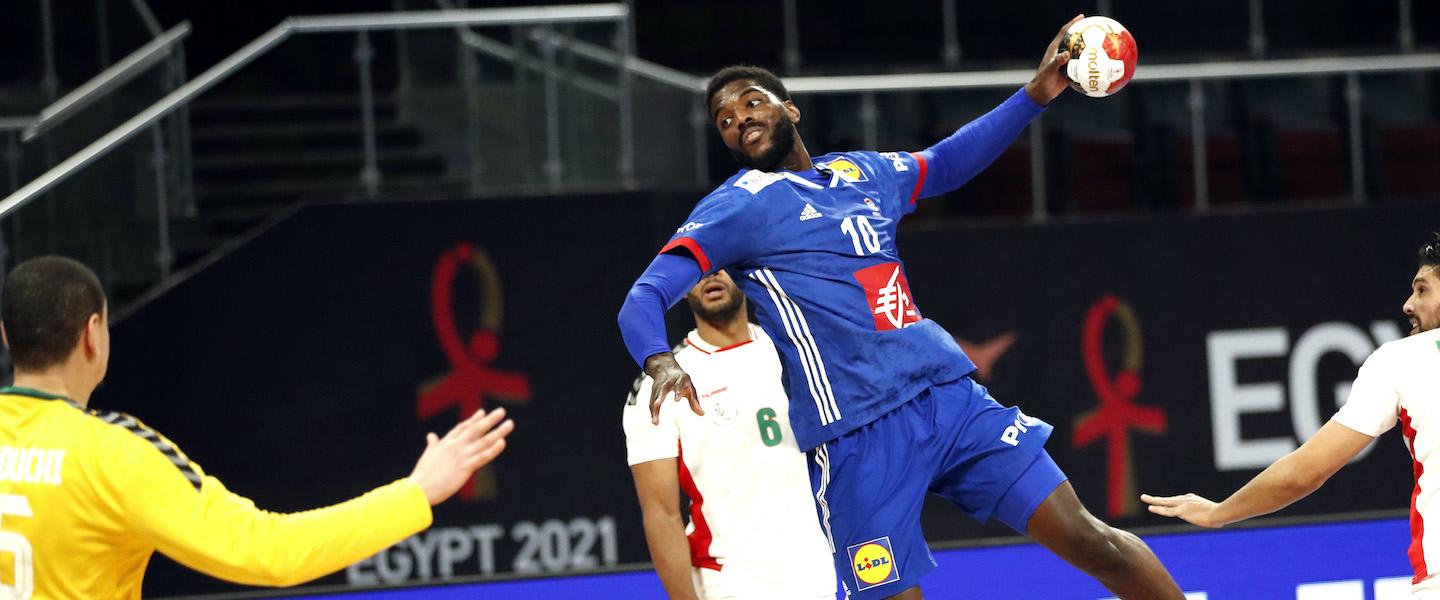 Guillaume Gille's France side did just enough against Algeria to grab the two points and take their main round total to six, going top of their main round group but for their opponents, hopes of a quarter-final place have all but disappeared, as they sit at the bottom on zero points.
 
MAIN ROUND GROUP III
France vs Algeria 29:26 (16:14)
 
"My impression is not so good today, we played a very difficult game we didn't find our level," said Gille after the match. "It was naturally because of the good match from the Algerian team, but also because we didn't manage to play good handball and that's why I'm a little bit disappointed with our performance."
 
2017 IHF Men's World Champions France again showed some flaws but also showed their sheer determination and will to win as they overcame an Algeria side who led numerous times in a high-energy, emotional match-up in Giza.
 
Alain Portes' Algeria side were pumped for this one early on, racing to a 5:1 lead within eight minutes as every celebration appeared to use as much energy as it took to score the goal itself.
 
France were stunned, but they adjusted, causing an Algeria time out in the 17th minute after the score levelled at 9:9.
 
At this point Luka Karabatic, Kentin Mahe and Ludovic Fabregas started warming up, with Fabregas coming on himself to help his side open up some daylight (11:9, 20th minute) with a block and then goal, following a Karabatic steal.
 
By the 26th minute France were four ahead (15:11) and the game appeared to be getting away from the North African side, but they rallied, and a monstrous nine-metre shot two seconds before the break from Algeria captain Messaoud Berkous smashed into the net and with it, the deficit was halved (14:16) to rapturous cheering from his bench.
 
Gille pushed on Kentin Mahe and Hugo Descat for the second half after they did not feature in the first, plus Dika Mem who had only been on court for a minute, while Portes replaced goalkeeper Khalifa Ghedbane with Yahia Zemouchi in goal.
 
And, finally, Algeria came back level (20:20) as Reda Arib finished off a fast-break and then put his side ahead shortly after, as they threatened a shock victory, having shown such resilience to stay in touch.
 
But the ever-buzzing Mahe had other ideas as helped open up a two-goal lead again with a quick double (25:23).
 
Arib himself tried his hardest to pull his side back again, and under passive play tried to cut in from the angle but could not squeeze it in, instead receiving a glare from Vincent Gerard in the French goal who thought the ball went a little bit too close to his head. And after running back to swap over with the bench he pulled up, holding his thigh, the game paused, and he went off for treatment behind the benches.
 
Gille took a time out (55th minute) with his side one ahead (26:25) but the aggressive Algerian defence kept going, rebuffing Mahe at every opportunity with the French centre back pointing and cajoling his attack to little effect.
 
And Mahe was later holding his head in his hands after missing a penalty when his shot struck the post, and with another Algerian nine-metre missile, this time dispatched by Zohir Naim, it was level again (26:26).
 
But Fabregas helped pull the Algerian defence around, something lacking in the first half, and his side went two ahead (28:26) after his goal two minutes from time. And, following an Algerian time out, the French-based Abdi Ayoub saw his shot blocked and Naim saw his nine-metre saved.
Portes' side had given everything, but they fell just short.
 
"At the end they had the resources to go forward," said Portes after the match. "I want to congratulate my players; they went for the victory, but they made mistakes which led to the defeat. I am proud to be coach of this national team."
 
hummel Player of the Match: Messaoud Berkous, Algeria