President's Cup: Chile and Tunisia to fight for consolation trophy
24 Jan. 2023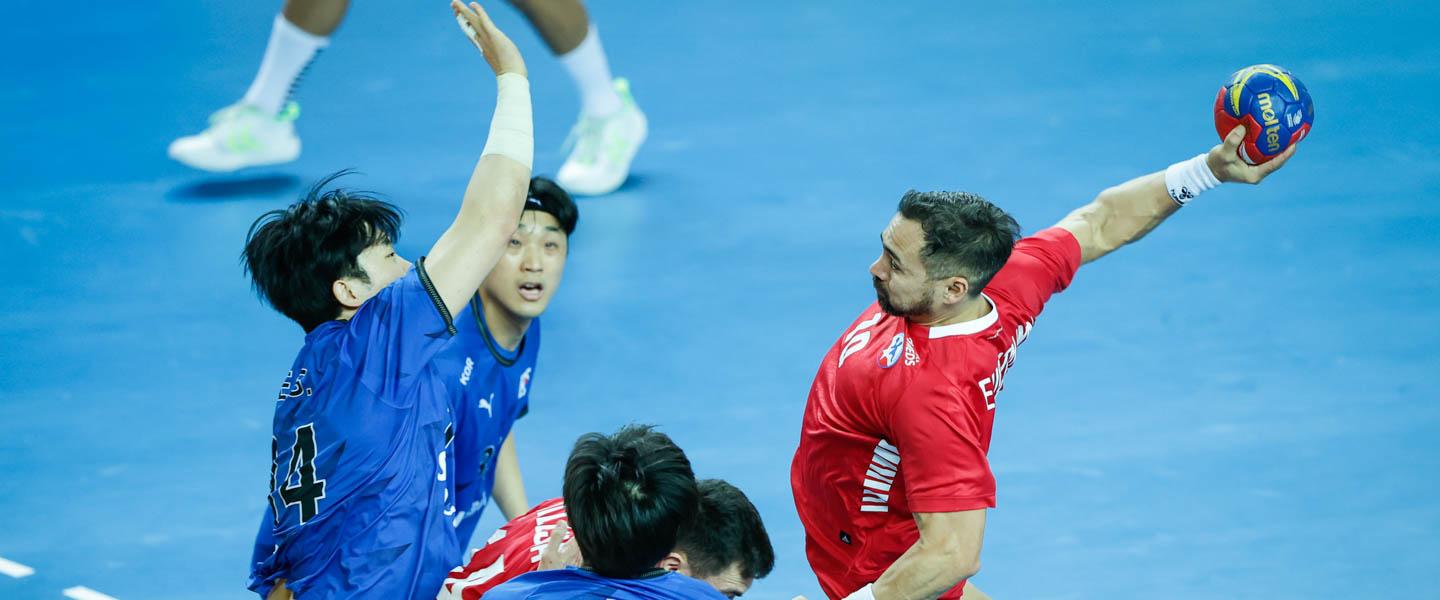 All eight participants of the President's Cup will play their last matches at Poland/Sweden 2023 on Wednesday, as all the 25-32 Placement Matches will take place at the Orlen Arena in Plock.
Chile and Tunisia, who won their respective groups at the consolation tournament, will fight for the President's Cup, while all the other teams hope to end the competition on a high.
13:00 CET: Uruguay vs Algeria (31/32 Placement Match)
Only these two teams have lost all their encounters at the World Championship, but each has a chance to leave Poland with their heads held high. 
In fact, both sides had a chance to grab points already in some of their previous matches of the President's Cup. Algeria felt unlucky after their Group II match with Morocco as they led by two goals in the 59th minute but ultimately lost. And Uruguay fought hard against Saudi Arabia in Group I, losing by the smallest margin (27:28).
Still, they claimed no points and as no team wants to finish last-placed at the event, Uruguay and Algeria will be motivated to end their losing runs. 
The South Americans are still waiting for their first "real" win at the World Championship, as at their debut at Egypt 2021, they only got a 10:0 walkover against Cape Verde – which helped them progress to the main round and ultimately finish 24th.
Algeria also reached the main round two years ago, taking 22nd place, but now both sides have been less successful. However, there is still an opportunity to improve an overall impression, so the match on Wednesday should be exciting.
Both teams seem to have their trump cards, as Algeria's Abdi Ayoub is currently the 10th-best scorer of the competition with 33 goals, and Federico Rubbo from Uruguay takes a joint 16th place with 30 goals. 
15:30 CET: Saudi Arabia vs Morocco (29/30 Placement Match)
Following five straight defeats at the competition, Saudi Arabia finally claimed their first victory on Sunday, narrowly beating Uruguay 28:27. The trio of Al Salem brothers stole the show in that match as Mohammad did a good job in goal, Mahdi became a top scorer with eight goals and Mojtaba added four more goals to the team's tally.
With two points, the Asian side finished third in Group I and will play for 29th place against Morocco, who were third-placed in Group II. After snatching a memorable win against Algeria thanks to a last-second goal, the "Atlas Lions" were not nearly as efficient on Monday, losing to North Macedonia 25:40. 
While Saudi Arabia did not qualify for the previous World Championship in 2021, Morocco finished 29th in Egypt, beating fellow African side Angola 30:29 in the 28/30 Placement Match in a penalty shootout. Therefore, they will match that result in case they defeat Jan Pytlick's team on Wednesday.
Interestingly, the top scorers of both sides, Abdullah Al-Abbas from Saudi Arabia and Rezzouki Reida from Morocco, have 22 goals under their belt. But they are not even among the 50 best scorers of the competition. 
18:00 CET: Republic of Korea vs North Macedonia (27/28 Placement Match)
After comfortably beating Uruguay (37:30) and Saudi Arabia (34:23) in Group I, the Republic of Korea hoped to reach the President's Cup final, but came up short in a crucial encounter against Chile, losing by seven goals (26:33).
"I'm very disappointed because we were determined to play our best game at the championship. However, we made a lot of mistakes and Chile is an experienced team who took advantage of it," Korea's coach Rolando Freitas said.
Now his team will try to bounce back against North Macedonia and finish 26th, but it will not be easy as the only European side at the consolation tournament also hopes to end it on a high.
Before the event, Kiril Lazarov's team wanted to reach the main round, but now they have lost a chance to even win the President's Cup. In Group II, they claimed two big defeats against Algeria and Morocco, both with the same 40:25 score, but a 28:33 defeat in a key match against Tunisia left them out of contention for the consolation prize. 
Still, North Macedonia are determined to fight for 27th place. "We will prepare as much as possible for this match. Every match is important for us, because our team is young and we need as many matches at this level as possible," Lazarov said. 
20:30 CET: Chile vs Tunisia (25/26 Placement Match)
It is always an honour and a positive experience to claim a trophy at a major international competition; even if it is merely a consolation prize. So no doubt Chile and Tunisia will do their best to win their last match at the competition.
Two years ago at Egypt 2021, the Tunisians actually won the President's Cup by beating Austria in the final (37:33). Chile also ended up at the consolation tournament and took 27th place then. 
Both sides started Poland/Sweden 2023 hoping to reach the main round, and although they were quite frustrated by not reaching that goal, they fully focused on the President's Cup and boasted a perfect record at its group competition.
In Group I, Chile beat Saudi Arabia (26:23) and fellow South American side Uruguay (34:24) before a win against the Republic of Korea (33:26) secured their top position.
In Group II, Tunisia were certain of finishing first already after two matches as they proved too strong for Morocco (30:25) and North Macedonia (33:28). In the last match against continental rivals Algeria, they somewhat relaxed their approach and had a slow start, but ultimately took another five-goal victory (30:25).
In their only previous meeting at the World Championship, Tunisia beat Chile 36:30 at Germany/Denmark 2019. Probably now, they will be favoured to win again, but the South Americans definitely have a chance as well. 
After all, the competition's top scorer Erwin Feuchtmann, who has 46 goals under his belt, plays for "La Roja" and Tunisia should focus on holding him back if they want to win on Wednesday. 
"Reaching the President's Cup final is a historic moment for us. Tunisia are a team with many players from European clubs, so it will be a tough opponent for sure," Feuchtmann said.