Tunisia extend winning run to three games
23 Jan. 2023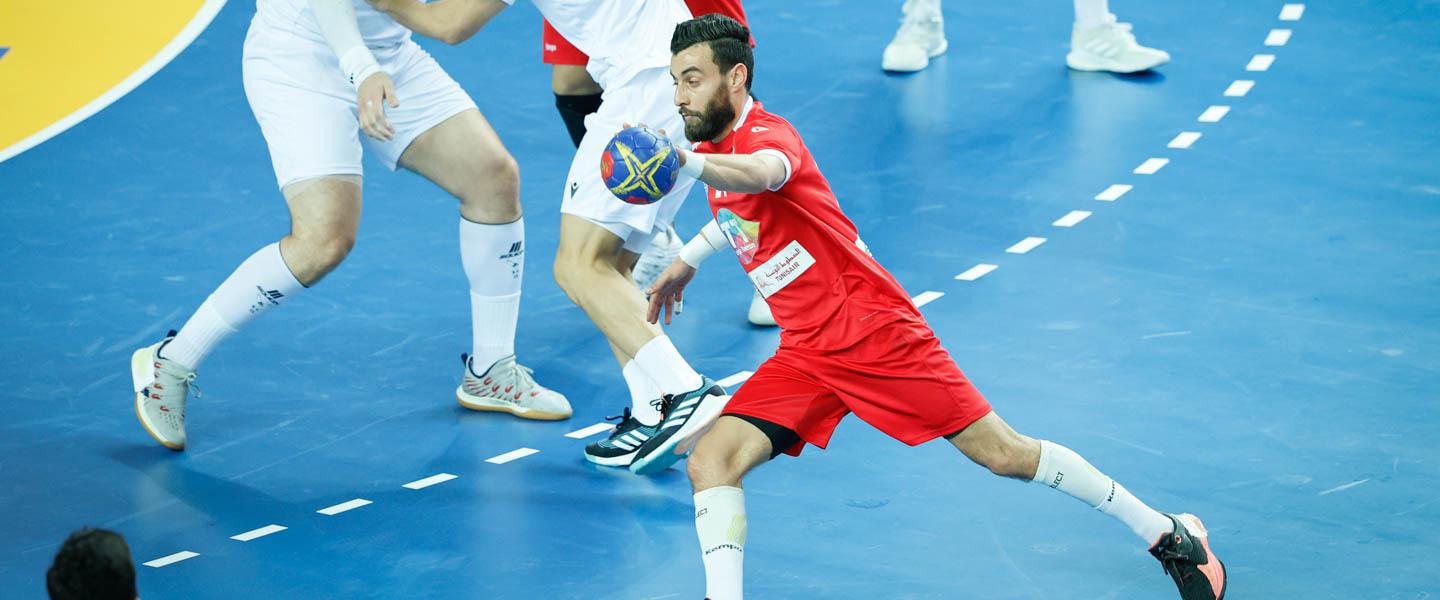 Both participants in this all-African clash had already secured their final positions in the President's Cup Group II, as Tunisia were certain to finish first. In contrast, Algeria had no chance to avoid the fourth position.
And in their mutual encounter, Tunisia confirmed their superiority as a five-goal victory saw them extend their winning run to three matches. 
President's Cup Group II
Tunisia vs Algeria 30:25 (15:12)
Tunisia looked somewhat nonchalant early in the match, so Algeria enjoyed a better start. Five minutes into the match, three straight goals by Abdi Ayoub lifted them to a 4:1 lead.
The Tunisians improved their attack as the match progressed, but they could not seize the initiative in the following minutes as Algeria continued to keep the game under their control. 11 minutes from half-time, left back Zohir Naim scored his first goal in the match to put his team in a 12:10 lead.
However, it was Algeria's last goal in the opening half. They lost many balls and the turnovers resulted in swift Tunisian counterattacks. Besides, the Tunisian goalkeeper Asil Namli shut up shop, increasing his save rate to 40% by the break. Propelled by Youssef Maaref and captain Oussama Boughanmi, who combined for nine goals in the first half, Patrick Cazal's team used a 5:0 run to open a three-goal gap.
In the 33rd minute, Bendjilali Sofiane finally ended Algeria's goalless run, which lasted more than 13 minutes. But as Namli made some further saves, Tunisia continued to dominate on the court, leading 22:17 in the 40th minute and 25:20 midway through the second half.
Although the match stabilised for a while, Algeria did not give up and closed the gap to 24:26, followed by a 3:0 run propelled by Ayoub. Tunisia had to endure some nervous moments, yet they ultimately weathered the storm to secure a win. Namli ended the match with 17 saves and a 40% save rate, while his teammate Boughanmi netted eight times. 
On Wednesday, both sides will play their last encounters at Poland/Sweden 2023: Tunisia are scheduled to face Chile in the President's Cup final (25/26 Placement Match), while Algeria will meet Uruguay in the 31/32 Placement Match. 
hummel Player of the Match: Asil Namli (Tunisia)