16 Mar. 2020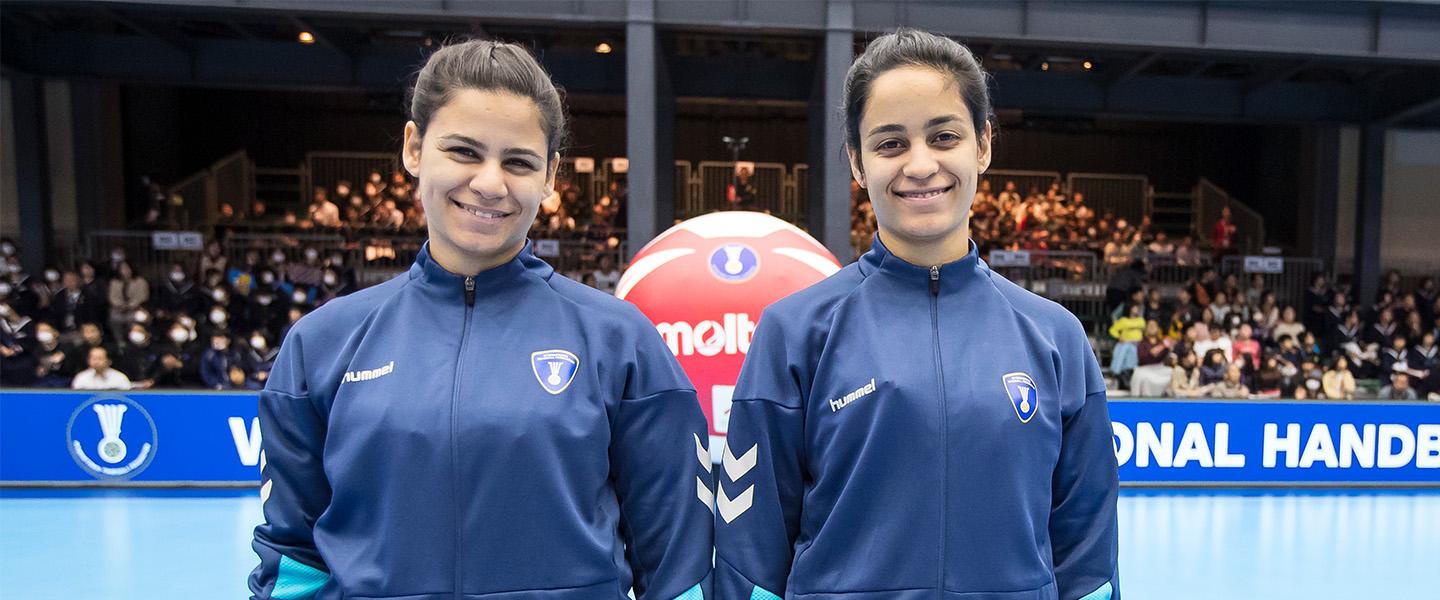 Throughout Gender Equality Month in March, the IHF celebrates women in various roles in handball in a special series. Part three focuses on Egyptian referee pair Yasmina Elsaied and Heidy Elsaied, who whistled their first Women's World Championship in December. 
Three years ago, at the 2nd IHF Men's Emerging Nations Championship in Bulgaria, Egyptian sisters Yasmina Elsaied and Heidy Elsaied earned their IHF referee badges as part of the IHF Global Referee Training Programme (GRTP). "I feel now that I have more responsibility – it is the first step in my career," Heidy Elsaied told ihf.info at the 2017 event. 
At the time just 22 and 20 years of age, respectively, the sisters were quickly noted by members of the IHF Playing Rules and Referees Commission as a pair with potential, and they have developed rapidly since then. 
"We whistle tough matches like any other couple"
Following their participation in the Emerging Nations Championship in 2017, Yasmina Elsaied and Heidy Elsaied were nominated for their first IHF World Championship in 2018 – the Women's Youth World Championship in Poland. In 2019, they attended their first senior World Championship – the women's event in Japan in December.  
Prior to that nomination, Yasmina Elsaied and Heidy Elsaied were one of the couples included when the IHF PRC chairman Ramon Gallego implemented the referee mentorship project. 
The goal of the mentorship project is for talented young referees to become top-level referees as quickly as possible. The project involves top IHF referees assisting developing referee pairs with all aspects and circumstances regarding their refereeing career, such as federation matters, continental championships versus IHF events, mentality, behaviour and handling crowds.
Yasmina Elsaied and Heidy Elsaied were paired with Russian couple Viktoria Alpaidze and Tatiana Berezkina, who have whistled all major international championships for women in recent years and were part of the Olympic Games for the first time in 2016. 
Like Yasmina Elsaied and Heidy Elsaied, Alpaidze and Berezkina started as referees young, just one year out of school. Alpaidze and Berezkina's first match was a men's game in the St Petersburg championship, and they continue to whistle various men's championships as well as women's. Yasmina Elsaied and Heidy Elsaied also regularly referee top-level men's matches. 
"In Egypt, we whistle for senior men in the first and second divisions. In Africa, we whistle for men, women, girls, boys. We participate in all the competitions, such as All-African Games, African Nations, Super Cup, African Champions League and African Winner's Cup. Although we are a female couple and still young, we whistle tough matches like any other couple," says Yasmina Elsaied.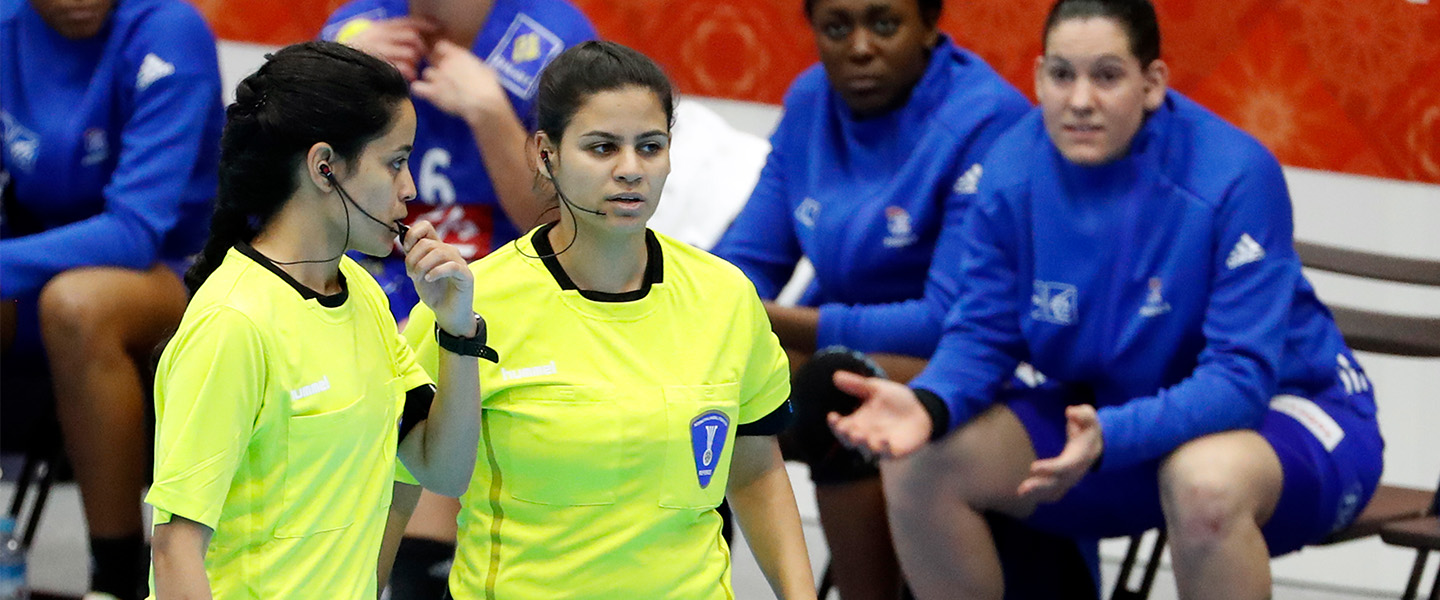 So what do the players in these tough matches think? One who has played many matches whistled by the sisters is MVP of the 2020 African Championship won by Egypt, Yehia Elderaa, who plays for current African club champions Zamalek. 
  
"They are good referees. They always whistle the most important games – finals, semi-finals, the derbies between Zamalek and Al Ahly. They're good – their decisions are good. They have the vision and the thinking and the decisiveness. They're firm and they don't make a lot of mistakes. That's what I saw in my games," says Elderaa.  
Alongside their refereeing, the sisters have professional work. Yasmina Elsaied is a pharmacist, and Heidy Elsaied has recently graduated. "I am just graduated this year from the Faculty of Language and Mass Communication," says Heidy Elsaied. "My dream is to be a sport journalist." 
They also both hold licenses as certified fitness trainers in Gold's Gym. 
Responsibility as leaders in their field
Men's handball in Egypt is well developed and the national teams have enjoyed considerable success, winning seven African championship titles including the most recent. On a youth and junior level, the men's teams reached the semi-finals at both the U19 and U21 World Championships in 2019, and the youth squad became the first non-European nation to take the title at their event in North Macedonia. 
Women's handball in Egypt is not in the same position – yet. However, there have been recent developments, particularly in the young age categories. Egypt debuted at the African Women's Youth Championship in 2015, claiming the trophy, and have now won three titles in a row. The junior representation is not staying consistently as strong, but Egypt clinched the bronze medal at the continental event in 2015 and the silver in 2017. 
In 2016, the women's junior and youth sides both debuted at the IHF World Championships. The U20 team placed 20th at their maiden event in Russia, while the youth squad made it to the eighth-finals and ultimately ranked ninth. The success of the U18 team at Slovakia 2016 was significant news in Egypt. 
"For sure we remember these historical moments. We were very proud of our youth women's national team when they took ninth place in the World Championship. We hope that they continue on this track. This was the first time for any Egyptian women's handball team to be African champions and also to make a great performance in World Championship," says Yasmina Elsaied.
The national team's success has had considerable impact in Egypt, but it is not only the players who are inspiring girls and young women to follow in their footsteps.  
"In Egypt, the number of women who are participating in handball has increased since our national team made a great result in Africa and the World Championship, and also the number of women referee couples has increased since we started to participate in different competitions. Many of them follow us in each single match in every competition, and this makes more responsibilities on both of us and also makes us very happy." 
There may be a difference in the success so far between the men's and women's national teams, as well as fewer female referees, but the situation is  changing and developing in the right direction. For Heidy and Yasmina Elsaied, the path is there waiting to be walked, and there is no reason their gender will be a limitation, considering women are already a strong presence in handball in roles off the court. 
"Globally, we don't see any difference between men and women. Women participate in all the fields of handball."